WWE WrestleMania 28: The 10 Best Dressed WWE Superstars of WrestleMania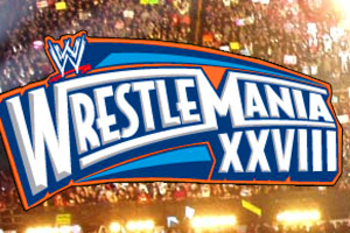 WrestleMania 28 is over. The matches were epic, there were some big surprises and great moments. The superstars and divas were putting on a show in what is the biggest week for the WWE all year.
With the WWE Hall of Fame Ceremony and the actual matches on wrestling's grandest stage the Superstars and Divas have a chance to dress up and impress the masses, whether it's entrance attire, in-ring attire, or a tux, there were some definite winners. Who dressed the best? Here are the 10 best-dressed superstars/divas from WrestleMania 28 weekend! Enjoy!
Worst Dressed: David Otunga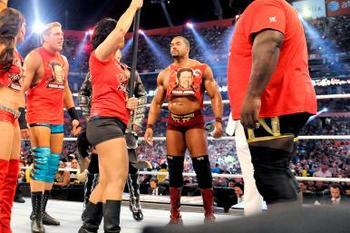 Did he steal that shirt from an infant?
I know this list is supposed to be the best-dressed, but did you see Otunga's shirt, if you can even call it that? The captain of Team Johnny got the victory but looked absolutely foolish with his tiny, half-shirt, dangly...thingy.
Honorable Mention: Justin Roberts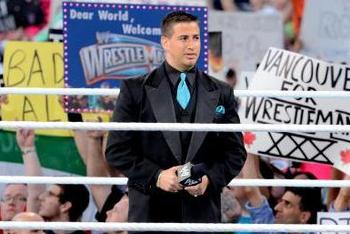 You stay classy Miami
Justin Roberts, although he doesn't wrestle, looked dang classy and barely missed the cut.
Honorable Mention: David Otunga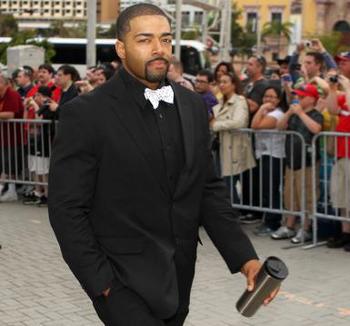 Same guy?
I know, I know. "But Daine, I thought David Otunga was the worst-dressed?!" Yes, he was, but look at him the night before at the Hall of Fame ceremony! Otunga looked good enough to make the list...until he showed up with his half-shirt on Sunday.
10. Johnny Laurinaitis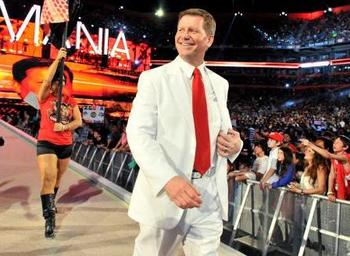 Colonel Sanders?
Now many of you may think Johnny's attire at WrestleMania was a little "silly" or even "wacky," but that's why he made the list. Laurinaitis is known as boring and awful, but he went for it. He looked different and flashy. Definitely an outfit worthy of the 10-spot.
9. John Cena
Obviously before the loss....
While I was a fan of John Cena's black "Rise Above Hate" T-shirt, I liked the green change on Sunday. A reference to his almost-hometown Boston Celtics in Miami was bold and not half-bad-looking. Keeping it simple worked for Cena...too bad he got a little too flashy in the ring.
8. Natalya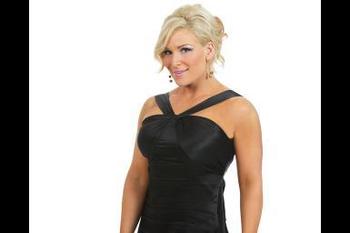 Little Black Dress.....That's a Thing Right?
Natalya is the first of three divas to make it on the best-dressed list. Natalya slipped on her simple black dress at the WWE Hall of Fame ceremony and pulled it off. Even though the diva who once sat at the top of the division has now been reduced to fart jokes, she looked stunning at the Hall of Fame ceremony.
7. Eve Torres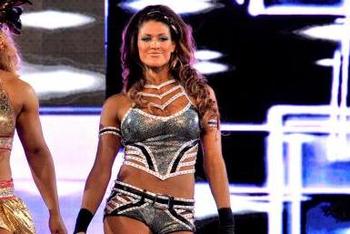 Even though Eve didn't change her attire up too much at WrestleMania 28, her silver, revealing attire was easily the best in-ring attire for any of the divas at 'Mania.
6. Zack Ryder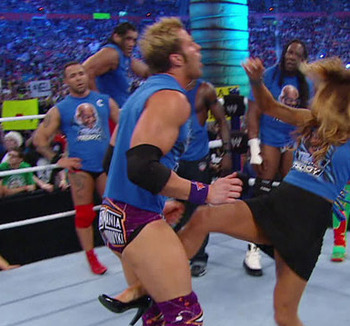 Right in the little Broskis....
Zack Ryder hasn't had the best few months. He's been getting dominated by Kane, messed with by Eve and replaced by Santino, though now he'd finally made it onto the WrestleMania card.
Maybe things were going to turn around for Long Island Iced Z! He was about to deliver the Broski Boot and was instead on the receiving end of a low blow from the heel-acious hoski Eve. If you can look around Eve's leg, however, you can see that Ryder had some awesome trunks. Ryder was rocking his "RyderMania" trunks, which were unique and a nice break from the QR code on his...well, right around where Eve kicked him.
5. Good Ol J.R.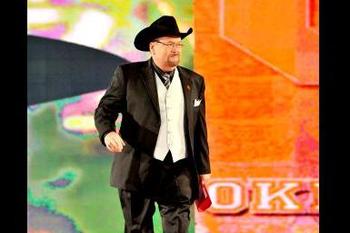 Nice goatee!
It was no surprise that J.R. would come out to announce the "End of an Era" match between Triple H and the Undertaker, but the fact that he looked so suave with his awesome suit and surprising goatee—HOLY COW! J.R. always looks classy, but he stepped it up a notch at WrestleMania and called one of the best matches of recent history.
4. Rosa Mendes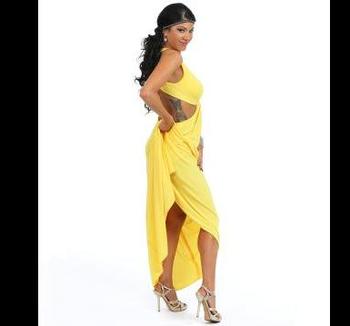 ....
Not only did Rosa Mendes help her boys Epico and Primo maintain the Tag-Team titles before WrestleMania 28 went on air, she dressed to impress at the WWE Hall of Fame ceremony, and impress she did. Rosa put on a smokin' yellow dress and was easily the best-dressed diva of WrestleMania weekend.
3. Chris Jericho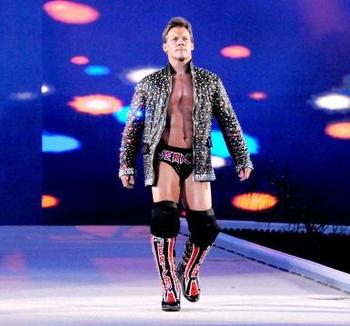 Since Y2J's return we've seen a lot of his light-up coat, but his coat at WrestleMania was AWESOME. Total light overload and had comparable flashiness and spectacle to the show of shows itself. Jericho would've had a serious case for No. 1 if both sleeves lit up!
2. The Rated-R Superstar, Edge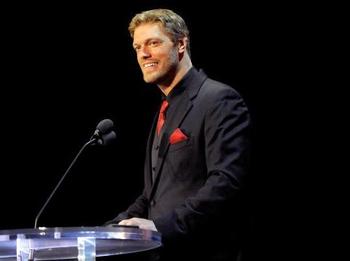 Short hair?!
It was impossible not to have Edge on this list. Edge accepted his entrance into the WWE Hall of Fame with a great speech and a great tux (along with a classy haircut). He was one of the best-dressed Hall of Fame inductees being honored on Saturday.
1. The Undertaker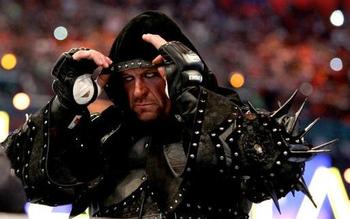 He's a...SUPER Shredder!
I don't care if you think it looks silly, The Undertaker had the best outfit of the whole WrestleMania week. He somehow looked more awesome than he usually does with his spiky, demonic robe on Sunday. He looked the part and set the tone for one of the best matches in recent history.
How'd I Do?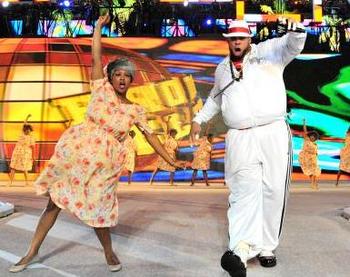 Crazy how his mom and all her friends were professional dancers...
How did I do? Did I leave someone out who definitely should've been in or did I put someone in who DEFINITELY should've been out? Should Brodus and the bridge club be on the list? What do you think?
Thanks for reading!
Keep Reading