Manchester United vs. Blackburn Rovers: Rating the United Players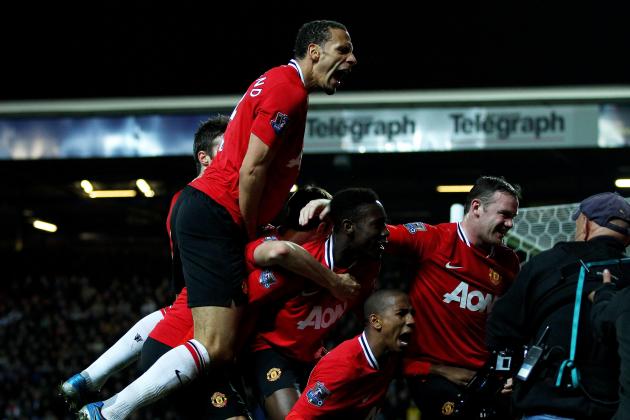 Clive Brunskill/Getty Images

"And Valencia has won it."
It was a particularly frustrating, nerve-wrecking night at Ewood Park, especially if you were a Manchester United supporter. Despite dominating large portions of the game, United seemed unable to break the deadlock.
Blackburn were intent on defending as a unit, and seemingly frustrated, United were looking for a crucial win to extend the rift between them and crosstown rivals and noisy neighbors, Manchester City, by five points.
Finally in the 81st minute, Antonio Valencia scored a fantastic goal that saw Paul Robinson beaten.
It was no surprise that Valencia registered himself on the score sheet, as most of the attack was channeled through him. And when crosses did not work, he had a go at it himself. However, whether the goal was actually intended as a cross is anyone's guesswork.
Another goal from Ashley Young in the 86th minute meant that United had won by two goals to nil.
The win means United remain firmly ensconced in the driver's seat ahead of City.
Here are the player ratings from the game.
Begin Slideshow

»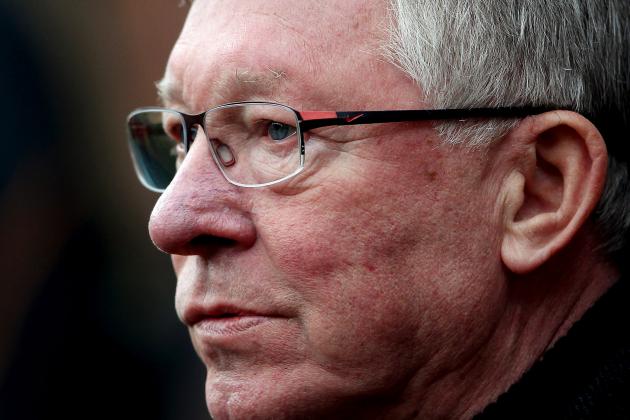 Scott Heavey/Getty Images

| | | |
| --- | --- | --- |
| Blackburn Rovers | | Manchester United |
| 0 | Goals | 2 |
| 27% | Ball Possession | 73% |
| 11 | Total Shots | 13 |
| 4 | On-Target | 5 |
| 5 | Off-Target | 5 |
| 0 | Offsides | 1 |
| 11 | Fouls | 5 |
| 2 | Corners | 10 |
Goals:
Antonio Valenica: 81st Minute (Assist by Rafael)
Ashley Young: 86th Minute (Assist by Antonio Valencia)
Statistics Courtesy of: whoscored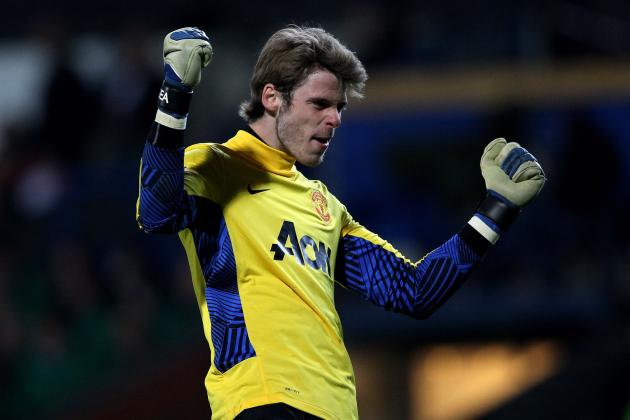 Alex Livesey/Getty Images

David de Gea:
David de Gea was simply phenomenal in goal today, showcasing the world-class reflexes and shot-stopping ability he was brought for.
Marcus Olsson's half-volley looked destined to enter United's goal. Thankfully, de Gea produced the sort of saves he has been producing recently.
Rating: 8/10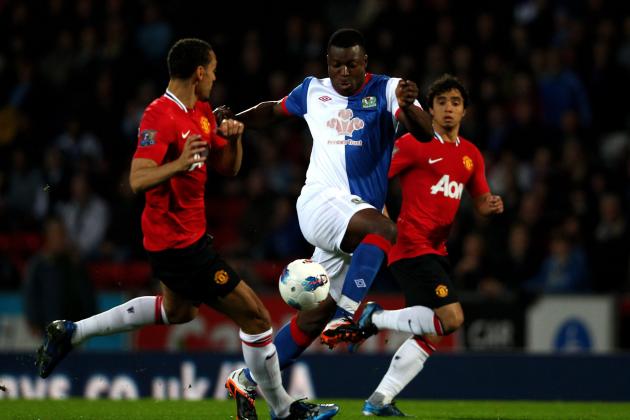 Clive Brunskill/Getty Images

The defenders had very little to do today but were sharp on the counter-attacks by Blackburn that looked highly threatening.
Right-Back: Rafael
Rafael had another great game at right back, making exquisite runs and combining well with Antonio Valencia on the right flank.
Rating: 8.5/10
Center-Back: Rio Ferdinand
Rio Ferdinand also looked sharp throughout and held the back-line well. He had one well timed tackle at the opportune moment which thwarted Blackburn's play.
Rating: 7.5/10
Center-Back: Jonny Evans
Another splendid game from the Irishman. His positioning was adequate, but he also ventured forward and provided United with an extra man in offense.
Rating: 7/10
Left-Back: Patrice Evra
Perhaps it's his hairdo, but Evra was impressive today. He attacked especially well, but he leaves people frustrated by not releasing the ball quickly enough.
Rating: 7/10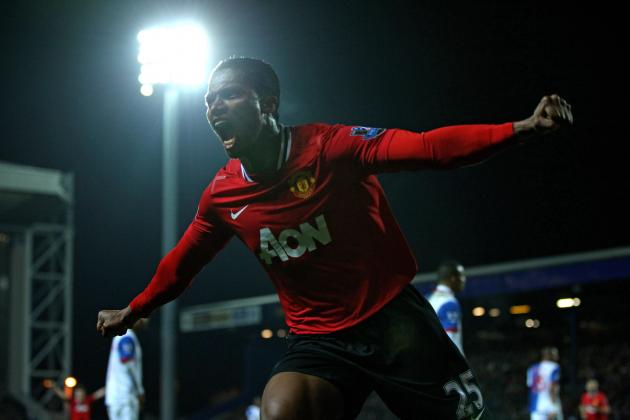 Clive Brunskill/Getty Images

The central players—Paul Scholes, Michael Carrick and Phil Jones—all played their part in midfield. However, the creativity was lacking in them.
In my opinion, they simply did not work hard enough to try and break the deadlock and kept passing to Valencia.
Ratings:
Paul Scholes: 6/10
Phil Jones: 6/10
Michael Carrick: 7/10
Wayne Rooney:
Rooney was deployed as a left attacking midfielder for today, and I was surprised that he did not under-perform. He could have left his mark on the game a bit more profoundly and influence the game a bit.
Rating: 7/10
Antonio Valencia:
What a player Valencia is turning out to be.
He has been my favorite player to watch all season long, and he has not disappointed in the slightest. Today, United turned to him again to break the impasse.
He combined well with Rafael in the right-hand side. When crosses seemed to be ineffective, he took a shot (or did he) which fortunately ended in the back of the net.
One particularly impressive feature of his game is his selflessness. While inconsistent players like Luis Nani seem to hog the ball, Valencia releases the ball to teammates in better positions.
He also came back and defended quite astutely, making a total of four tackles, the second highest after his compatriot on the right, Rafael, who made six.
He was the man-of-the-match for today.
Rating: 10/10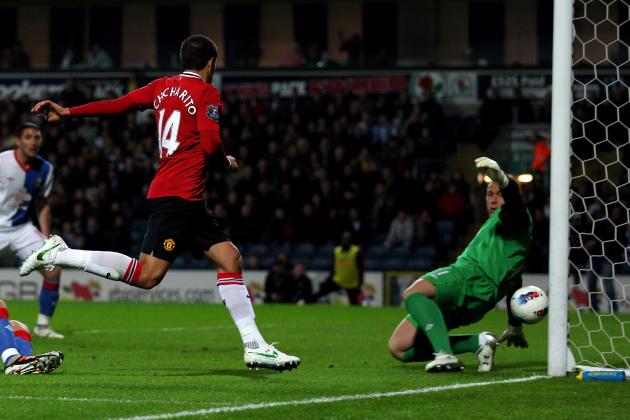 Alex Livesey/Getty Images

Javier Hernandez:
He did make some quite beautiful runs and found himself at the end of some beautiful passes; however, he failed to convert.
He would have gotten on the score-sheet off of a Valencia cross, but Paul Robinson, and the woodwork, was equal to it.
Rating: 7/10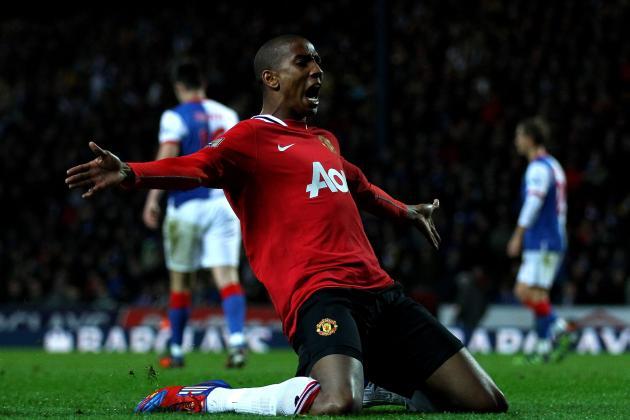 Clive Brunskill/Getty Images

Danny Welbeck for Javier Hernadez: 4/10
Danny Welbeck was awful, giving the ball away on one too many occasions.
Ryan Giggs for Phil Jones: 6/10
Ryan Giggs had a good game, coming on for Phil Jones, and he provided at least one delicious cross which was latched onto by no one.
Ashley Young for Paul Scholes: 8/10
Ashley Young scored the second goal, an absolute beauty which left Blackburn dumbfounded.
Follow me on Twitter: @BrenGoetze