20 Beers to Sample During the College Football Season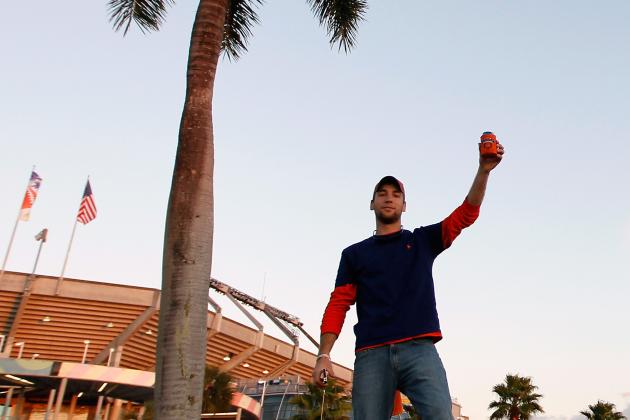 Mike Ehrmann/Getty Images

It's the offseason for college football. Writers are desperate for news to write about. Fans are desperate to read about their team.
I think there are only three things worth doing in the offseason while we wait for fall.
No. 1: Read Bleacher Report and argue with fans from other, lesser, teams than yours.
No. 2: Follow all your favorite players on Twitter and hope they are staying out of trouble (I'm guilty of this).
No. 3: Prepare yourself now for the upcoming college football season. How best to do that? By figuring out what beer you're going to drink this year, of course.
Here are some ideas from across the country.
Begin Slideshow

»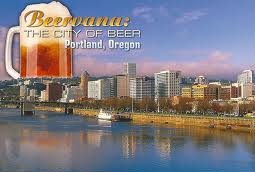 google images
First, you need to know that I live in Portland, OR, whose nickname is "The Rose City." That nickname is for the city's fathers.
The real nickname of Portland is "Beervana." That's because the Portland metro area is the largest craft brewing market in the U.S., with 61 breweries. Within the Portland city limits there are 47 breweries, more than any other city in the world.
The other reason we're called Beervana is because, well, we like our beer here.
So, while I've scouted the country for beers you should sample and include many great ones, please forgive me if this list is a little Oregon centric. You could always move here.
While there is absolutely nothing wrong with the high life or PBR—if that's what makes you happy—the focus here is on micro-brews. I know, I know, it's a beer snob thing.
No. 1: Coalition Brewing Co. Two Dogs IPA or Mr. Pigs Pale Ale. Coalition is a fairly new Portland brewery whose beer reflects the traditional English style with a northwest influence—well balanced and highly drinkable. My favorite is the Two Dogs IPA.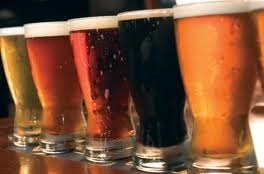 Oregon does not have a monopoly on craft beer, of course. Alabama has a growing love of craft beers.
People say that the Good People Brewing Co. is one of the most popular in Alabama, and I think it's because of their beers' names. How could you possibly resist their "Bubba," "Mumbai Rye" or "Hawg Wash"?
Two of the founders of Good People Brewing Co. are Auburn graduates.
It's hard to pick a favorite for you to try if you live in that part of the world, but I'm going with "Skeeter Bite."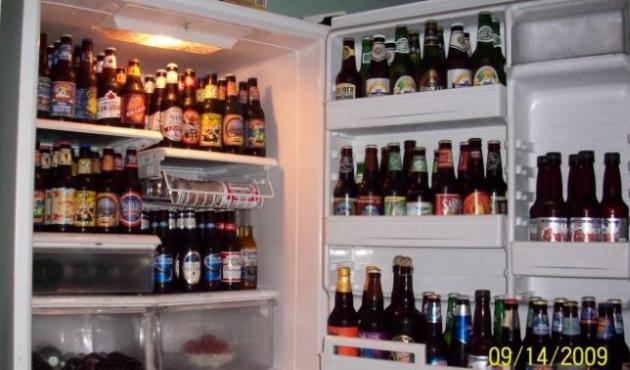 google images
If you are the adventurous sort, try Southern Tier Brewing Company's Creme Brulee Imperial Milk Stout. This offering from the Lakewood, NY, brewer tastes exactly like creme brulee.
Maybe for dessert.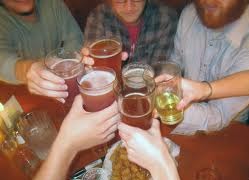 google images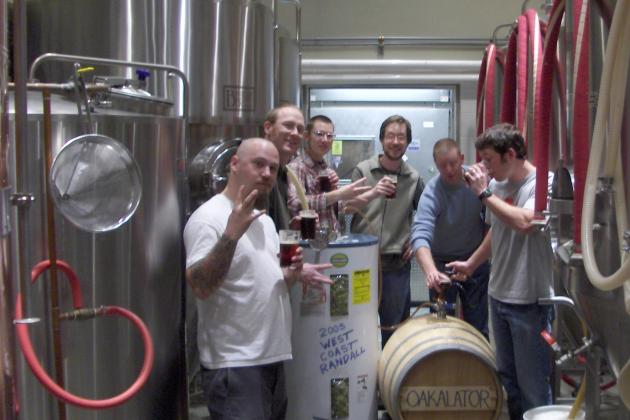 google images
Great Lakes Brewing Company in Cleveland, OH, brews two of the state's most popular beers.
Blackout Stout is a Russian imperial stout with a hearty malt body and bold hop flavor.
Edmund Fitzgerald Porter is dark as night, with a great aroma and finish—you might think you've just had a brownie. Some people think Edmund Fitzgerald Porter is the second best American porter.
What's the best porter made in America? Read on.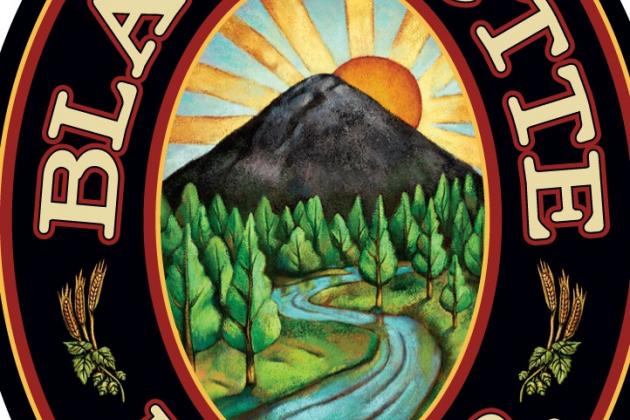 pitchengine.com
From Bend, Oregon, comes the classic Black Butte Porter from Deschutes Brewing. This beer is beloved by everyone who is fortunate enough to get their hands on it. It is the No. 1 selling craft porter in the U.S.
Don't ask questions; just get some and drink it.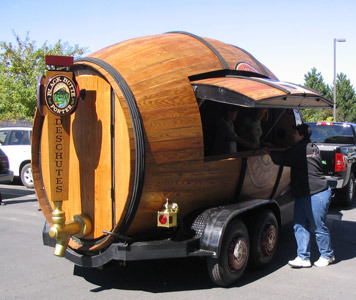 realbeer.com
Some people think Deschutes Brewing's The Abyss is the best craft beer in Oregon. It has won numerous national and international awards, including the 2011 World Beer Award.
Unfortunately, this deep, dark Imperial Stout is in limited quantity. Surely they will make more.
And I can't leave off my personal Deschutes Brewing favorite, Mirror Pond Pale Ale. It's not summer in Oregon until I've had my first Mirror Pond. It's just "right."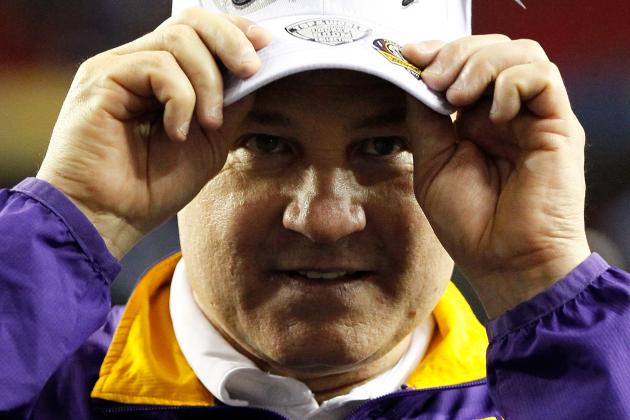 Kevin C. Cox/Getty Images

For our No. 10 beer we jump across the country from Oregon to Louisiana. Precisely, to Abita Springs, LA, nestled in the piney woods about 30 miles north of New Orleans.
My choice of Abita's excellent offerings is "Purple Haze," a crisp, American style wheat beer with raspberry added after filtration.
Wonder where they got the name?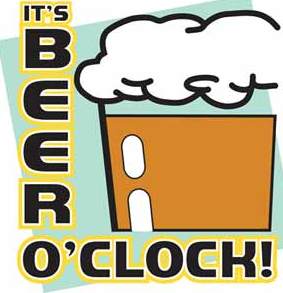 google images
Firestone Walker Brewing Company in Paso Robles, CA, brings us the delicious Union Jack IPA. Firestone is snug in the coastal mountains of central California, and I think it's beautiful location contributes to how good this beer tastes.
Union Jack IPA is a western IPA, loaded with hops aroma and character. It's a multi-award winner on the international scene, and is popular throughout the western U.S., where it's mostly available.
Donald Miralle/Getty Images

OK, so maybe these guys shouldn't have any more beer. But on a better day, they will probably pound back a couple of Mustang Brewery's options.
Mustang's Washita Wheat is a perfect wheat beer. It's brewed with Oklahoma Red Wheat, American and European barley, and Cluster and German Hallertauer hops. I understand that Mustang's Golden Ale is also extremely popular with the locals.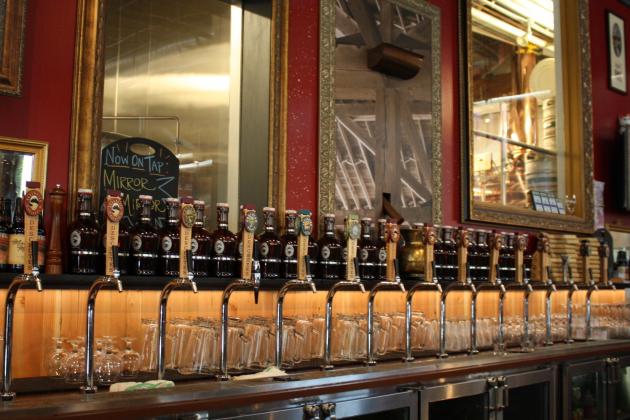 Google images
Oklahoma City's COOP Ale Works is known for their small, experimental batches.
COOP likes to explore into the craft of brewing. Their 2010 Oak-Aged Imperial Stout is an interesting collaboration between COOP and Templeton Rye Whiskey. I haven't tasted this one personally, but it appeals to me on so many levels.
The next time I'm in Oklahoma it's the first thing I'm doing.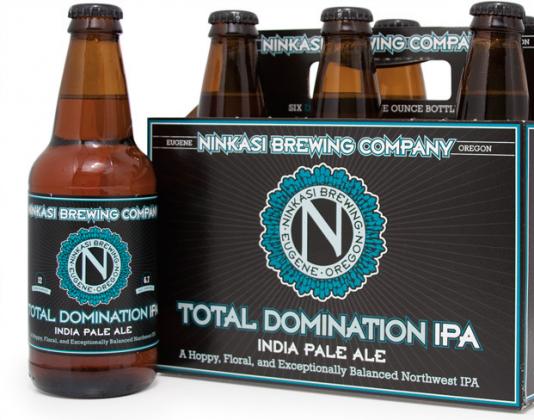 thesmokeypint.com
From the Pacific Northwest, birthplace of the modern IPA, comes a beer whose name says it all: Total Domination IPA, another one of my personal favorites. To me, it's just a perfect beer.
I am, however, overruled by the experts who prefer Ninkasi Tricerahops Double IPA. This is a huge, well-balanced beer, and it is yummy. The people at Ninkasi say this beer is double everything you love in an IPA.
In case you're wondering, Ninkasi is the Sumerian Goddess of beer. I have no idea if that is true or not, but that's what it says on the Ninkasi website.
Ninkasi Brewing is located in Eugene, OR, where that team that's pretty good plays.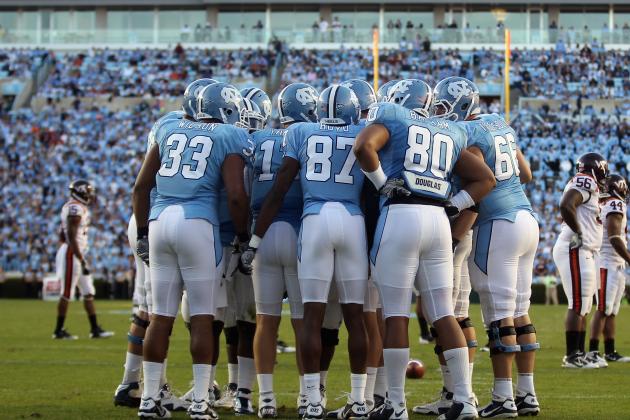 Streeter Lecka/Getty Images

Ole Well White is the most popular beer from Top of the Hill Restaurant and Brewery in Chapel Hill, NC.
Top of the Hill is a medal-winning brewery, and the first establishment in the South to have a full-time cask-conditioned ale program on premise.
Just step in the Back Bar and have a pint of real ale. Top of the Hill has also been voted the "Best Place to People Watch While Drinking a Beer," if you care about that sort of thing.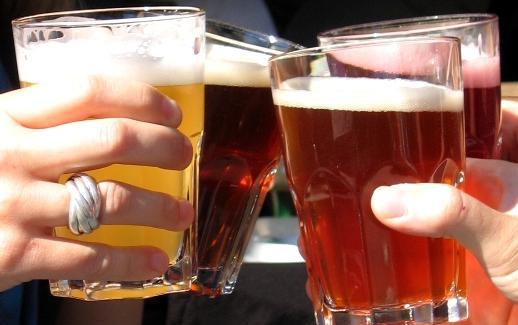 pulsd.com
In Charlotte, NC's Olde Mecklenburg Brewery, you will discover OMB Copper, a classic German style lager ale.
This beer is brewed the old-fashioned way with actual Bavarian hops. Slow brewing makes this beer a local Charlotte favorite.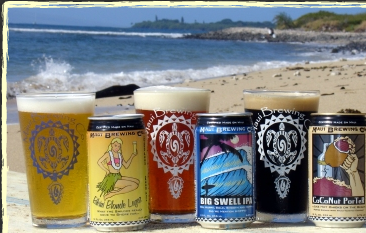 beerstreetjournal.com
Now where do you suppose a beer named CoCoNut Porter is made? That would be Maui Brewing Company in Lahaina, Maui.
Maui Brewing's website says that fresh, robust CoCoNut Porter is like hot chicks on the beach. I will take their word for it.
Shall we fly to Maui and taste it as it was meant to be tasted? We have time before the football season starts.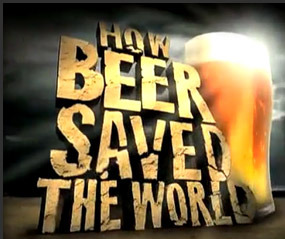 snobsofbeer.com
1554, an Enlightened Black Ale, according to New Belgium Brewing Company in Fort Collins CO's website, is redefining what dark beer can be.
New Belgium's brewmaster traveled to Belgium to retrieve this unique style when their recipe was lost in a flood.
This is a favorite brew of my step-son, William, who helped me enormously with this article and has been known to brew his own wonderful beers.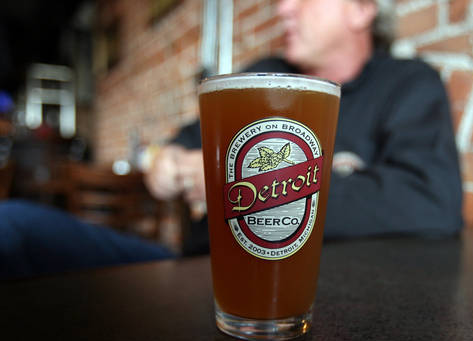 detroit.metromix.com
Starting a micro-brewery in the heart of downtown Detroit, long known as the home of "fire brewed" Stroh's, seems like a bold move. If Detroiters didn't drink Stroh's, they popped across the Canadian border and brought back old favorites Labatt's Blue and Molson Export Ale.
But since 2003, Detroit quaffers could choose Local 1529 IPA. The orange/copper colored beer is served unfiltered in the American micro tradition. The Detroit Beer brewer says that Local 1529 IPA has a BIG hop character supported by lots of sweet malt.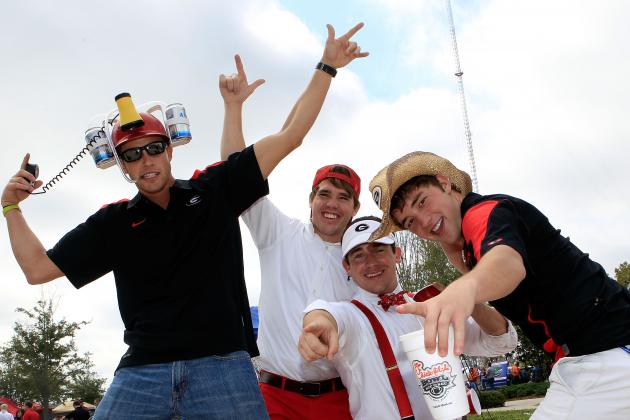 Sam Greenwood/Getty Images

I hope this exhausting research I did on your behalf will help you in your preparation for the upcoming college football season.
I would like to thank Bleacher Report's finest—Eric, Jonathan, Michael, Joel, Jake and Kyle—for their most excellent contributions. I couldn't have done it without you, guys! What a great country.