Philadelphia Eagles: Is QB Ryan Tannehill Worth the Price of Trading Up?
April 2, 2012

Bob Levey/Getty Images
The Philadelphia Eagles will be on hand on Monday for a private workout with Texas A&M quarterback Ryan Tannehill. With all the buzz about the Eagles and quarterbacks this offseason, one has to wonder if they have a serious target with one of their top three selections in the 2012 NFL draft.
I recently wrote about why the Eagles should avoid taking a quarterback with either a second or third-round pick. After looking at every QB taken in the second or third round of the draft between 1996 and 2010, only three out of a total of 34 turned out to be worthwhile starters.
In other words, it has been a mere nine-percent success rate if you think you'll get a future quality starter with QBs taken in those rounds.
However, Ryan Tannehill is the only QB prospect left on the board that has a true first-round grade and who hasn't been "spoken for" yet (as compared to Andrew Luck and Robert Griffin III).
The problem is, the Eagles would have to trade high into the top 10 in order to secure Tannehill. There is no way that he will get past Miami at No. 8, unless the Dolphins continue their mystifying actions this offseason.
The Cleveland Browns, who own pick No. 4, seem to be trying to create a market for Tannehill at their spot in hopes to land a king's ransom, just as the Rams did for the No. 2 overall pick.
There is some thought that the Browns may actually take Tannehill at No. 4, but they have also reiterated that they like Colt McCoy. Given McCoy's performance, I can see them going either way if they end up picking at their spot.
If Tannehill is the target, the Eagles would be in a trade-up competition with the Dolphins, Seahawks and possibly even the Chiefs. The Browns' No. 4 pick seems like the safest spot to secure him, but it will cost the Eagles a lot should they move up that far.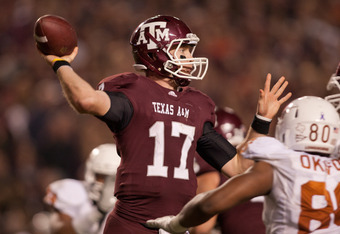 Darren Carroll/Getty Images
According to the draft value chart, the No. 4 pick is worth 1,800 points. The Eagles' pick at No. 15 is worth 1,050. Therefore, they have to give up a rough approximate value of 750 points in order to move up that far.
The Eagles' two picks in the second round at Nos. 46 and 51 are worth 440 and 390 points respectively. Per the chart, that would be more than enough value to move up.
The Eagles' third-round pick is valued at 150, so if you combined picks 15, 46 and 88, it would come out to roughly 1,640 points. That is 160 points short of the perceived value of pick No. 4, which equates to another-third round pick.
Since they would be in competition for this trade, the Eagles would likely have to at least give up both of their second-round picks. Therefore, is it worth it?
Is Ryan Tannehill so good, and the Eagles so desperate, that they would need to sacrifice two good second-round draft picks to get him?
The answer is no and no.
Ryan Tannehill is good and would be a good fit for Andy Reid and the Eagles, but he is not Andrew Luck-good or RG3-good. I would give up a ton for Luck or RG3 because they appear to be truly special players, but not for Tannehill.
Simply put, he is not on their level. Plus, the Eagles still have Michael Vick and with another season of championship expectations coming, Vick does not need to be distracted by having to look over his shoulder at his heir apparent.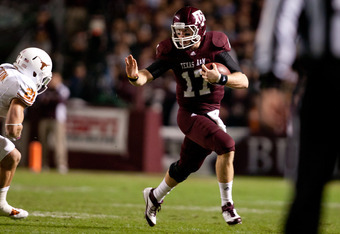 Darren Carroll/Getty Images
Furthermore, let's not forget that Tannehill, despite all of the recent buzz, is really a project player. Lost in all the hyperbole is the fact that he has only played 20 games as a college quarterback.
Tannehill was actually a wide receiver for the first 2.5 years of his college career. He didn't take over at QB until about mid-way through his junior season.
At the end of this past season, Tannehill was not looked at as a first-round pick. However, due to the over-drafting of his position, his perceived "promise" as a player and a good pro day, he has vaulted from a likely second-round grade to being considered at No. 4 overall.
That's one hell of a jump for a guy who has a limited resume at the QB position, missed the scouting combine because of a broken foot and looked good throwing in shorts at his pro day.
Here is a good scouting report on Tannehill from Sideline Scouting:
Positives -- Ideal height for an NFL quarterback...Throws well on the run, does a good job of resetting his feet to make a strong, accurate throw...Quick release, mechanics look fine...Good scrambling ability, has great top end speed for a quarterback.

Has a strong arm, gets great zip on his deep out...Very high upside, has all the athletic ability and tools that teams covet...Will rise in post-season workouts due to his athleticism, arm strength, and overall physical tools...Intelligent and a good leader, a high intangibles guy who will impress in interviews.

Negatives -- Has some accuracy issues, makes his receivers adjust to the ball too frequently. Has serious fumbling problems, fumbled 10 times in his career at Texas A&M, had the smallest hands of any quarterback at the combine at nine inches...Doesn't have a ton of experience, has only a year and a half of quarterback experience...Will try to force throws that he shouldn't, trusts his arm too much.

Struggled towards the end of 2011, threw nine interceptions in his final six games, and Texas A&M ended the year losing four of their last five...Some of his interceptions came at crucial moments in games...Will need time to develop, is not ready to step in and start at the NFL level, will take a year or two of coaching to be ready.
I'm not saying Tannehill is, or will be, a bad player in the NFL. If the Eagles didn't have to trade up to land him, I'd be okay with selecting him at No. 15 just based on his future potential.
However, he's just not worth giving up the farm for in a draft day trade-up. I still think the Eagles would be better served looking elsewhere in the first round.
The Eagles have other needs to address, especially now that Jason Peters will be out for the season. Ultimately, they can't afford to give up multiple picks for a QB who will either ride the bench all year or create a QB controversy every time Vick makes a bad play.
Tannehill is a decent prospect and has good potential, but he's not the right choice for the Eagles at this time.