Oakland Athletics: Exhibition vs. Sacramento River Cats Highlights and Blunders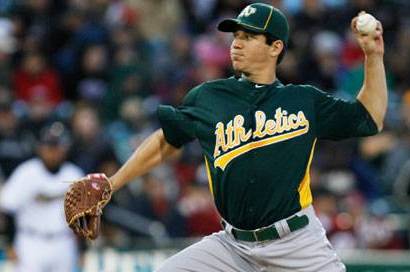 Photo Credit: CSNBayarea.com
The Oakland Athletics defeated their Triple-A affiliate, the Sacramento River Cats, in an annual spring training exhibition.
A walk, a bloop and a bomb. That seemed to be the pedigree the offense utilized, while the pitching was nearly perfect.
Though Oakland won, 9-0, there were many areas of concern for the organization. Most of the runs came via walks and errors.
The impressive pitching and final score hid the reality that the A's soundly handled a minor league team. If only it counted.
Here are the winners and losers from the Saturday night contest.
Begin Slideshow

»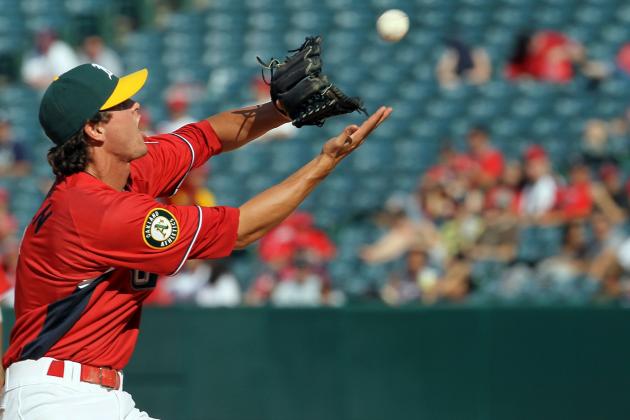 Stephen Dunn/Getty Images
Prospect Grant Green
The third-best prospect in the Oakland Athletics' system, Grant Green played less than big league ready.
The converted shortstop has played center field in Sacramento since his arrival. Saturday showed there is still work to be done.
With the bases loaded, a deep fly ball was hit to center field.
Green initially froze before flailing a bit to get back for the ball. The ball careened off his glove, allowing three runs to score.
A few innings later, he nearly misplayed a second ball.
A deep fly ball got over Green's head yet again. He did all he could to save himself, awkwardly jumping to snare the ball.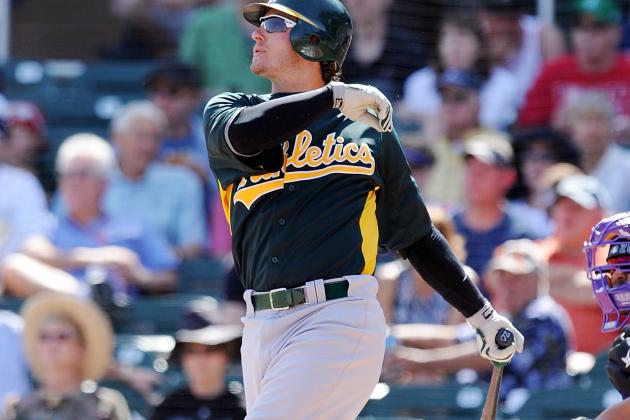 Norm Hall/Getty Images
Third baseman, Josh Donaldson
Heading into 2012, Josh Donaldson sat third on the depth chart at catcher. He likely would have started in Sacramento.
However, third base opened up, and Donaldson was given a shot.
If he hits like last night (2-for-2 with a home run and two RBI), he should do just fine.
Granted, it was in Sacramento, the field he's accustomed to, off a minor league team.
Still, it was impressive.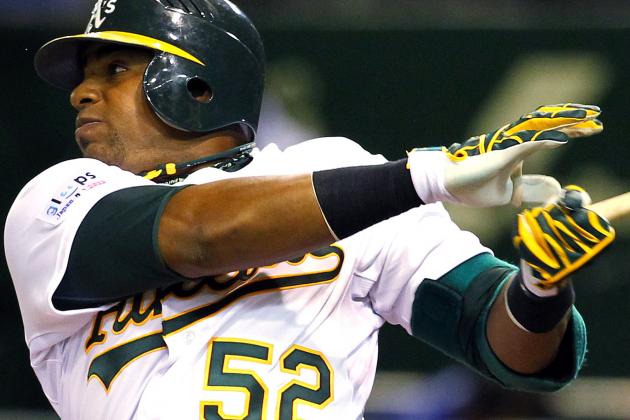 Koji Watanabe/Getty Images

Center fielder Yoenis Cespedes was one of the few players on the Oakland Athletics given all four at-bats.
It's not that he failed. It's more that he didn't do anything really.
In his first plate appearance he flew out. In his second, Cespedes cleared the bases with an ugly bloop that just landed fair.
The ball looked to be catchable, but was let go in hopes of being a foul ball.
Cespedes walked in his third attempt.
He delivered a line drive shot that headed toward the stands, but right fielder Michael Taylor caught it at the wall.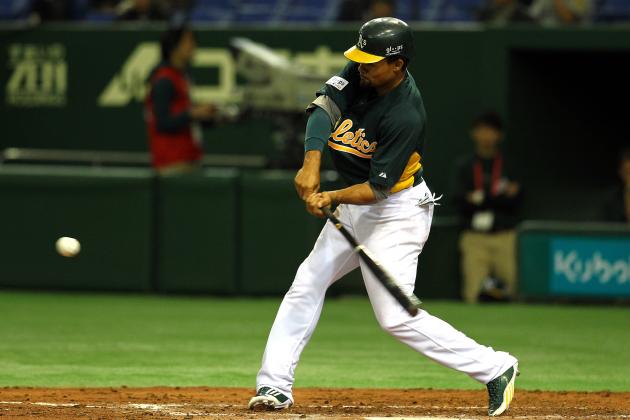 Koji Watanabe/Getty Images

Of the nine runs scored, at least half were on errors.
There's no denying Coco Crisp's three-run home run, though.
Crisp provided the game's most impressive offense of the night. As soon as the bat hit the ball, everyone knew it was gone.
Hitting Crisp in the three-hole this year might not be such a bad option after all.
Christian Petersen/Getty Images
Jarrod Parker
Once thought to be a lock for the No. 3 starting spot in the Oakland Athletics rotation, Jarrod Parker was optioned to Triple-A Sacramento.
On the hill against the A's Saturday night, it looks like Parker needs to stay awhile.
The best prospect within the organization, Parker had a difficult time with his command.
He walked Jemile Weeks and Cliff Pennington to open the game, then loaded the bases after hitting Kurt Suzuki in the back.
The Grant Green error scored three runs.
Parker later gave up a three-run home run to Coco Crisp. His night ended after two innings.
Koji Watanabe/Getty Images