NFL Has Its Version of Michael Jordan: Super Cam Has Arrived
March 30, 2012

Dilip Vishwanat/Getty Images
I still remember the first time I saw Cam Newton play.
It was the 2010 Iron Bowl against Alabama. The Auburn Tigers trailed Alabama by a 24-0 deficit. Auburn needed a spark or it was likely that they could kiss their National Title hopes goodbye. It was one man's play--but even more his presence--which willed them back almost seemingly single-handed to win 28-27.
That day I said to myself that I had just been looking at Michael Jordan in Under Armour cleats. He had every quality you look for in a superstar: arm strength, build, speed, huddle command, field presence and a certain demeanor that you can't teach over the course of time and it's not a tool that NFL scouts routinely grade out when looking at incoming college prospects.
Super Cam had a swagger about him that had really captured my interest. I felt that I had to find out the next time he was going to be on television. Cam didn't disappoint the next time he found his way to my living room flat screen by going out and demolishing South Carolina in the SEC title game 56-17. There he was in the closing minutes of the game on the sideline when the outcome had been decided--telling us all about "Cammy Cam Juice."
This kid wasn't just good between the white lines, he was a character that could captivate the viewer and leave an audience wanting to know more. Next came the Heisman trophy and a BCS National Championship victory over Oregon.
In the days leading up to the NFL draft, where he would be selected first overall by the Carolina Panthers, I just couldn't dismiss the strong feeling I had that we were looking at a superstar lock at the next level. I'm not just talking about a guy who can captivate a large following for an era like a Donovan McNabb, a Mike Vick or a Tim Tebow. This player was a different animal; a gem of an entirely different rarity who was about to change the game forever.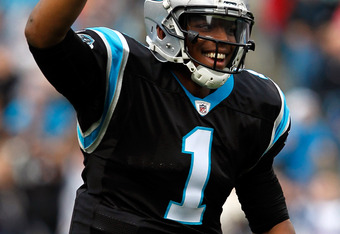 Streeter Lecka/Getty Images
I had a strong feeling for the first time since I have followed the NFL that we were looking at a generational talent. The type of player who your grandchildren would ask you about with wonder and intrigue. With every game Cam Newton is under center I feel like we're all being allowed a succinct privilege that comes along once in a lifetime. If you choose to do something else with your Sunday's in the fall, you're probably going to miss out on a "wow" moment provided that you'll never have the chance to see again.
That makes everything surrounding Cam Newton in demand. His talent invokes thoughts for the first time. You only get so many opportunities to see Cam Newton play. You get even fewer opportunities to see him live and in the flesh if you live within distance of an NFL stadium. Your curiosity about the ingredients of Cammy Cam Juice leads you to Google it until you find it. You learn that Superman survives on a sugary concoction of Gatorade that would cause the normal human to crash or cramp.
You begin to think about ordering NFL Sunday Ticket so you don't miss a single rocket throw. You want to read more about this superstar until you've read every word in print about the guy. Yet, you still aren't sure you've consumed enough to feel satisfied. That's how you know you're dealing with a rare superstar--and the last time I can remember feeling this was was in the 90's when I was a kid with Michael Jordan.
Cam did nothing in his rookie campaign to disparage the superstar label. He began his career with two 400-yard passing performances, and broke many rookie Quarterback records that have stood across generations. Of course there are going to be people who don't know how to embrace and accept a player who throws for more yards than Dan Marino did as a rookie and rushes for more touchdowns that Bo Jackson in his own debut season.
The NFL knows how to embrace and promote a superstar like this like no other league. From behind the curtain, they'll happily present to you "The Adventures of Super Cam" and they're probably sitting secretly with their fingers crossed waiting for Cam to win the Madden '13 cover vote.
It all means more buzz, more Google searches, more desire for consumption to their customer. Cam Newton is our generation's Michael Jordan, and he's there for the taking in the present. Following the career of Newton is similar to a great thrill ride in that there's no way to keep track of how much time we have left on it while we're riding it.
There will never be another athlete like this in our lifetime--leaving us with one best course of action. Imbibe in it all as much as you can in the present. We can all admit, while watching old Jordan NBA Finals highlights are great on a lazy weekend afternoon, there's no way to infuse fresh impressions and excitement of 'MJ' into our homes and lives as sports fans like we have the opportunity to do with Cam Newton in the present.