Mike Leach Breaks Down the Finer Details of a Pac-12 Mascot Death Match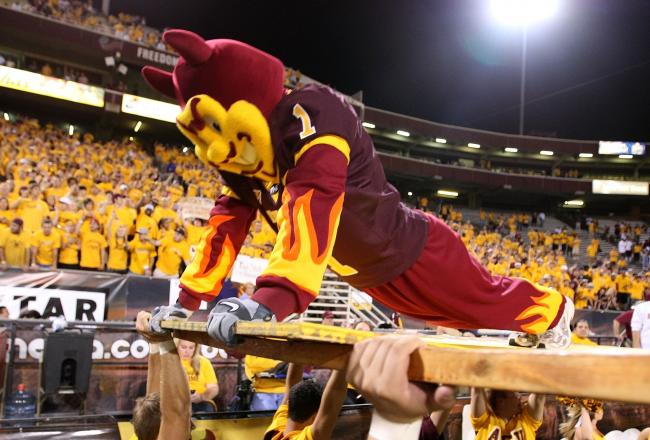 Stephen Dunn/Getty Images
You never know what might come out of the mouth of Washington State coach Mike Leach.
Whether he's talking about his desire for a 64-team college football playoff or he's simply expressing his concern over his players' "fat little girlfriends," Leach has shown over the years that he's not afraid to hold back if you put a microphone in front of him. This is wonderful news for all of us.
With Washington State kicking off their spring practice, Leach has been making his media rounds, talking about his first few days back on the field and the status of the team.
On Wednesday, Leach jumped on the Kevin Calabro Show and after a mostly uneventful interview, Leach was asked which Pac-12 mascot would prevail in a battle to the death.
His answer, which is transcribed below, certainly did not disappoint. You can also listen to the audio here for the full Leach effect.
"The Cougar absolutely. Let's go through this a little bit. A cougar obviously kills a duck and a beaver. A cougar against a husky ... that's pretty well a massacre. A cardinal or whatever: I don't know exactly what a cougar would either climb it or I wouldn't want to think of what else he'd do on it. Now Golden Bears could be kinda tough. I think you'd want to be a little fast and loose with them. You don't want to get caught by that bear. The Ute ... you gotta dodge some arrowheads, but I still like the Cougar. Buffalo ... I think the buffalo would be pretty tough to beat. Wildcat: Cougars are bigger than wildcats. Sun Devils, that's mythical anyway. Trojans, they may be as well. I think you gotta look out for the Bruins and the Buffalo. The Golden Bear, Bruin and Buffalo. I think those are the tough ones."
He was then asked why he chose a buffalo. Of course he was.
"Do you want to fight a buffalo? I don't know, those buffalo are big. You know, buffalo are significantly bigger than elk. I grew up near Yellowstone so I've been near buffalo. Buffalo are huge. And then the other thing I've always gotten a kick out of: When you play Colorado, there's those buffalo dragging those six handler around. Those handlers aren't dragging the buffalo. The buffalo's dragging him."
It should come as no surprise that Leach picked a cougar, and his dismissal of the Sun Devil for being "mythical" is perhaps the most underrated part of this magical tangent. The discussion regarding the size of a buffalo is simply extra credit after such hard-hitting analysis.
For what it's worth, I'll take any form of bear (if we're keeping this between animals, of course). Then again, is Leach motivating the cougar? If so, then I might have to reevaluate my personal selection in this important exercise.
This article is
What is the duplicate article?
Why is this article offensive?
Where is this article plagiarized from?
Why is this article poorly edited?