Arsenal Diary: Is the Current Gunner Squad the Best in England?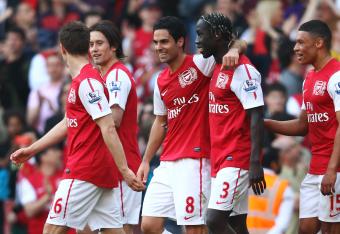 Dung or Gold?
Julian Finney/Getty Images
Dear Baby Gooner,
The sun is shining brightly at the Grove. Birds are singing and every Gooner is spotting a smile. Jokes and friendly banter flow freely, even of hairdos and whatnot.
The poisonous in-house bickering has quieted down, and instead of the heavy death metal songs that rang very loudly around the Emirates when some fans felt it was best to burn down the house just to get rid of the stubborn Frenchman, serene and vigorous strains of Mozart's symphonies now fill the atmosphere at the Grove.
Now there's talk of Arsenal winning the title next year. This comes in the wake of seven consecutive victories, beginning in early February and culminating in a 3-0 spanking of Aston Villa last Saturday (March 24, 2012).
After that match, the press tuned a serenade.
The superiority of Wenger's team was almost embarrassing...at no stage did the match resemble a contest. Instead, we relished the sight of a team at ease with their talent, prepared to play out from the back, to pass the ball in tight corners, to obey their best instincts.

The fans continued to sing in praise of their heroes; of the flying Walcott, of his late replacement, the utterly formidable Alex Oxlade-Chamberlain, of the voracious Van Persie.

Julian Finney/Getty Images

But the loudest praises were reserved for the man who built the stadium, constructed the team and preached the kind of lessons which his young men were so faithfully heeding.

The criticism of Arsene Wenger was absurd back in August.
The Telegraph
On the seven consecutive victories:
It is a sequence of results that contradicts the popular view, certainly of one month ago, that this is the worst Arsenal squad in Wenger's 16 years as manager. More importantly, it is a sequence of results which suggests that Wenger is quietly developing a team that could again challenge to win the Premier League.
[T]hose green shoots of recovery seen over the past weeks are now in full bloom.
Arsène Wenger's men made hay in the spring sunshine, brushing aside Villa with ease to chalk up their seventh successive league victory and increase their lead over bitter rivals Tottenham in the race for third place.
In the 16th minute, Arsenal eased in front....All of Arsenal's first-choice back-four have now scored over the past six games, recognition of how much it has helped the balance of their play to have authentic full-backs in position.
More:
This was a match filled with pleasing moments for Arsenal, but their greatest satisfaction appeared to centre on what did not take place on a warm and occasionally windy afternoon in north London—a goal from Robin van Persie.

Those seven games, which started with a 7-1 mauling of Blackburn on 4 February and have taken in the seemingly season-defining triumphs over Tottenham and Liverpool, reflect how Arsenal have evolved this season; from a team who at one stage found themselves 17th and requiring Van Persie to almost single-handedly drag them out of trouble on a weekly basis, to one who are not only winning consistently but are doing so with their verve and venom coming from a variety of sources.
BBC Sport
For much of the season, their hopes of a top-four finish looked in serious doubt, but that now looks comfortably within their grasp.
Lauding Arsene Wenger has become fashionable once more, and the team that was the worst of Wenger's reign is deemed good enough to win titles. The carefree and careless ditty is that third place this season is Arsenal's.
This is how good things have become.
Theo Walcott, the fans' favorite whipping boy, was hymned last Saturday. In fact, in the last couple of weeks he has regained favor. The disease afflicting his brain seems to have disappeared. Miracles, it happens, still exist.
"Believe," that word for which Wenger used to be mocked, and its sisters, "desire" and "mental strength" sound and ooze freely from many a fan's lips and many a writer's fingers.
My friends and I, and Gooners of similar persuasion, can now sip our teas and coffees in peace. Now is our sabbatical, no new grey hairs sprout because of the battle for faith, "faith" meaning standing by one's team and manager through thick and thin.
I have to confess that I'm rather enjoying "thick" season. I hazarded a word of caution a day ago, daring to remind fellow Gooners that 24 points are left in the campaign and that, as such, the dark clouds could yet descend.
"Tut, tut," I was told. "Have faith."
It's nice to see that the message for faith has broken through. And while I do not hope or wish for the "thin" (wouldn't it be nice if for once the sunshine persisted until the very end?), it'd be interesting to see what would happen if the "thin" returned.
Would those who urge faith, as though I didn't have any, persist with the tune?
But since there's no glory in being a killjoy, I must rest this recap of events and reactions here.
When you read this, a few years from now, the question I now pose would have been filtered by Time to render it either silly, naive, presumptuous or profound.
Is the current Arsenal squad the best in England?
The obvious answer, of course, is no.
Were it the best squad, wouldn't it be winning the league right now? Or wouldn't it still be competing in the cup competitions?
Moreover, how can it be the best when it isn't even going to win anything this season? And besides, how can it be so qualified when the season is as yet incomplete?
In fact, what might be more certain right now is the team's collapse, just like its predecessors in the last five seasons.
This is true.
But if the team's current form is anything to go by, and if it continues with the same momentum until the end of the season, answering the question in the affirmative might not sound as foolish as it now does.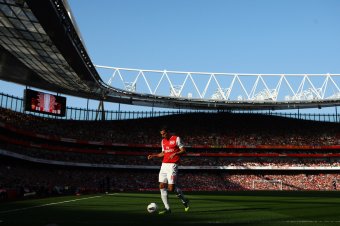 Julian Finney/Getty Images
Of the top six clubs, this team is probably the cheapest and the youngest. It arguably also has the least established stars, and yet it has stood toe to toe with the biggest clubs in the league.
One, of course, must not forget its humiliations, fruits of disappointing performances, like the 8-2 drubbing at the hand of Manchester United, the 4-3 loss to lowly Blackburn and the 4-0 mauling at the hand of AC Milan at the San Siro.
"Best" in the light of this must come heavily qualified.
If by "best" we mean bright prospects or potential, then the answer could easily be yes.
Again, if by "best" we mean an unfinished product that is already yielding remarkable diffident, then, by all means, yes. And if by "best" we mean a team that at the moment is playing some of the finest football in England, then again, the answer has to be yes.
Still again, if by "best" we mean a team on a terrific run of form, a team that has for now outstripped its competitors for the last Champions League spot, then we must answer yes.
Finally, if by "best" we mean the team that right now looks like it will hit the ground running next season—barring some retuning—then a resounding yes must be the right answer.
And yet, little Gooner, by the time you read this, or by the next entry, time might have exposed the foolishness of this question.
Everything that is good right now could crumble quite easily.
The next match could be a loss, and the next, and the next, in which case the new-fangled troubadours would don their true colors and badges and resort to what they do best—boo.
For now, I must risk ridicule and pose the question, just as I must flow with the popular sentiment: "Have faith."
You see, it's easy to have faith when the sun shines.
This article is
What is the duplicate article?
Why is this article offensive?
Where is this article plagiarized from?
Why is this article poorly edited?

Arsenal: Like this team?