McDonald's All-American Game 2012: West Team, Shabazz Muhammad Beat East 106-102
March 29, 2012

CHICAGO—The West Team, along with superstar Shabazz Muhammad, defeated the East Team 106-102 in the 2012 McDonald's All-American Game Wednesday at the United Center.
The 6'6", 215-pound Muhammad finished the game with 21 points and won the game's MVP award. The last 14 McDonald's All-American Game MVP's went to the NBA.
"There are so many talented players here and it was just fun to play with everyone tonight," said Muhammad, who had six rebounds and an assist. "Winning the game MVP was great and our team played well."
The undecided Muhammad, who is the nation's No. 1 recruit, exploded for nine points in the game's first three minutes and helped the West. Muhammad had two alley-oop jams with one over East point guard Tyler Lewis (North Carolina State). He also had a transition layup and a three.
"When you come to every event, you want to be known as the best player of the event," Muhammad said. "Knowing these are the elite 24 guys in the country, going out to compete and having everyone competing at a high level is a beautiful thing."
The East battled back to a 38-37 lead late in the first half off the stellar play of Alex Poythress and Tony Parker, who combined for 19 first-half points. But the West went on a 21-8 run to close out the half.
After the West rebuilt their lead to double digits, the team clogged the lane so the East had to settle for numerous far jumpers as they fell behind by 23. But the East came storming back on a big run, as undecided forward Amile Jefferson made a fast-break jam for a 93-88 game with 3:29 remaining.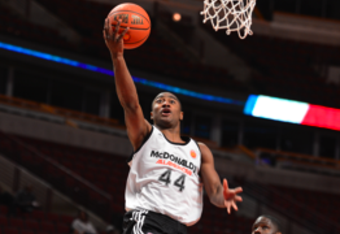 The West held on as Muhammad and company converted timely baskets.
Duke recruit Rasheed Sulaimon shot the ball well from the floor and showed good vision with 18 points and four assists. Sulaimon made some nifty jumpers and converted a reverse layup while being fouled late in the game.
Sulaimon told the media on Monday that he wanted Muhammad to join him at Duke.
Kentucky recruits Alex Poythress (East) and Archie Goodwin (West) showed that the Wildcats have found great replacements for likely NBA draftees Anthony Davis and Michael Kidd-Gilchrist.
Poythress (19 points, two rebounds) played like Richard Hamilton off the ball and Goodwin (14 points, three rebounds) had a killer jumper like Ray Allen.
"I could've played better," Poythress said. "I had a tough matchup with Shabazz and the other players. Overall, I made some plays."
Muhammad was asked what it would be like to play with Poythress and Goodwin at Kentucky.
"That is a great possibility," Muhammad answered. "Alex was giving us a hard time on the boards with his big body and playing the perimeter at 6'8" is really good. Archie can go down the floor and jump and dunk on somebody. That would be a really sick trio if I come to Kentucky."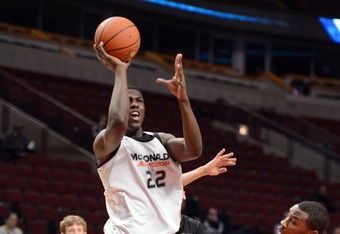 NC State should be happy with how Lewis and fellow Wolfpack recruits T.J. Warren and Rodney Purvis played together. Lewis (two points, three assists), Purvis (15 points, three assists) and Warren (10 points, five rebounds, two assists) kept the East in the game. 
"It was definitely great playing together tonight," Purvis said. "Tyler in the open court is very fun to watch. The crowd got a good look at him. T.J. and I put the ball in the basket and that's what we did tonight." 
Other undecideds like the West's Anthony Bennett (nine points, six rebounds) and the East's Tony Parker (10 points, seven rebounds, one assist) and Amile Jefferson (eight points, four rebounds, one assist) had solid games.
Bob Bajek is a Chicago Bulls/NBA Featured Columnist. He is also covering the McDonald's All-American Game on site in Chicago. He is a freelance reporter and can be followed on Patch.com and Twitter.