Fantasy Baseball Sleepers 2012: 3 Players Whose Value Will Far Exceed Draft Spot
March 27, 2012

Ezra Shaw/Getty Images
Fantasy baseball championships are won and lost by players who draft well. A huge component to accomplishing that goal is to get great value in the latter rounds of the event.
In order to help you do that, we've compiled a list of a few players that are going to go under-the-radar during the draft but should bust out and have huge statistical seasons.
Let's take a look.
Johan Santana
Santana used to be considered an elite ace, but he's doubtful to ever return to that form. However, he's still going to have value as an extremely late-round pick.
The 33-year-old lefty did not pitch at all during the 2011 season and had a trying season in 2010, causing many to give up on him.
Use the fact that nearly everyone doubts the Mets pitcher to snag him late in the draft, and watch as he turns his career around and pitches above expectations.
Ibanez is going to be the DH in the New York Yankees lineup, and this is an ideal situation for a player who isn't expected to come off the board until late.
As a member of that stacked lineup, he's got a shot to up his batting average, home runs and RBI to levels that will far exceed his draft position.
Emilio Bonifacio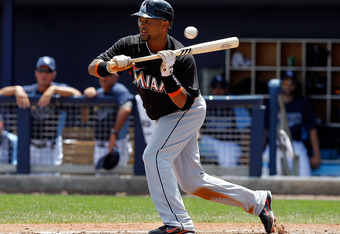 J. Meric/Getty Images
Bonifacio has a ton of value, because he can play multiple positions, steal a ton of bases and become a regular member of the Marlins starting lineup.
He appeared on everyone's radar at the end of 2011, but hopefully he's been forgotten about, and you can snag him late.