San Francisco Giants: Brian Wilson's 5 Most Outlandish Moments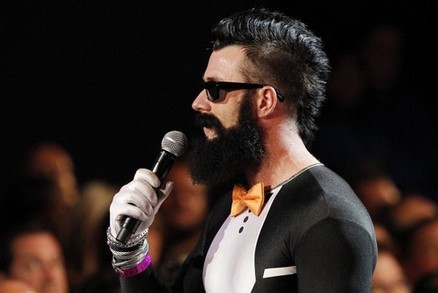 Image via worldsportbloopers.com
Brian Wilson. Need I say more? He has been one of the best, if not the best, closer in Major League Baseball the past several seasons. Sure, he had a bit of a performance hiccup last season, but his spring training performances suggest that the man affectionately known throughout the league as "The Beard" will re-establish himself as one of the game's premiere closers.
Brian Wilson may one day be best remembered in Giants lore for the video of him striking out Nelson Cruz to win the 2010 World Series. Antics fade…but video lasts forever.
That being said, there are antics aplenty. Here is a look at five of some of Brian Wilson's craziest moments.
Begin Slideshow

»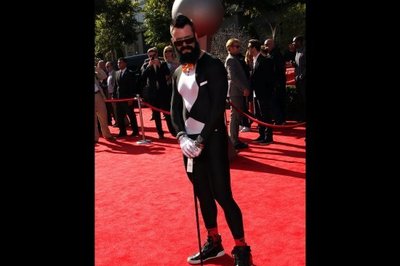 huffingtonpost.com
It's not just that Brian Wilson shunned tradition. It's that he shunned tradition at an awards gala with millions watching.
Brian Wilson donned a Speedo tux…err…"Spandex bodysuit" for the 2011 ESPYs.
While shenanigans of this ilk are hardly unheard of (see: Trey Parker and Matt Stone at the Academy Awards), it was a relatively new experience for an awards show attempting to be taken seriously.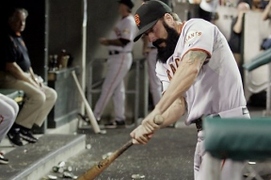 offthebench.nbcsports.com
Poor Bucky never saw it coming.
After a meltdown against the Detroit Tigers in early July 2011, Brian Wilson took the Gatorade bucket to task by bludgeoning it with a baseball bat. Sure, it can all be chalked up to frustration. But Wilson took it a step further and went back to assault the bucket, which was just sitting there minding its own business. The bucket was destroyed, and attempts to bandage it in future games failed.
I don't know what possessed Brian Wilson to don MC Hammer pants and "Hammer Shuffle" to "Can't Touch This." But he did. And God bless him for it.
The parachute pants, if nothing else, make the video worthwhile. Maybe it was his homage to the…err... "great" Bay Area rapper. Or maybe he was just bored.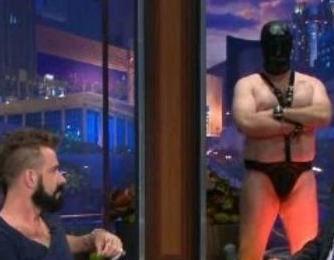 towleroad.com
If you watched the events surrounding the 2010 World Series, you may have noticed Brian Wilson make mention of his mentor "The Machine." It turns out that "The Machine" is a character from the roundly panned Nicolas Cage film 8mm.
If the references to this fictional idol in interviews weren't enough, Wilson went so far as to bring a life-size doll of "The Machine" to The Tonight Show with Jay Leno.
Awesome?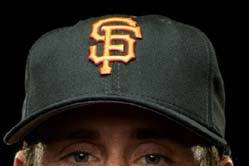 sfist.com
Brian Wilson's beard is perhaps the most outlandish thing he has ever done.
Many Giants fans became Giants fans after or during the 2010 world championship run. For those of us who were there before that, even into spring of that year, you'd know that Brian Wilson used to look, well, pretty normal.
But when he opted to shun the clean-shaven route, his beard grew, and so did his legend. Now his beard is perhaps more legendary than the pitcher himself.