5 Minnesota Vikings Players Who Will Break out in 2012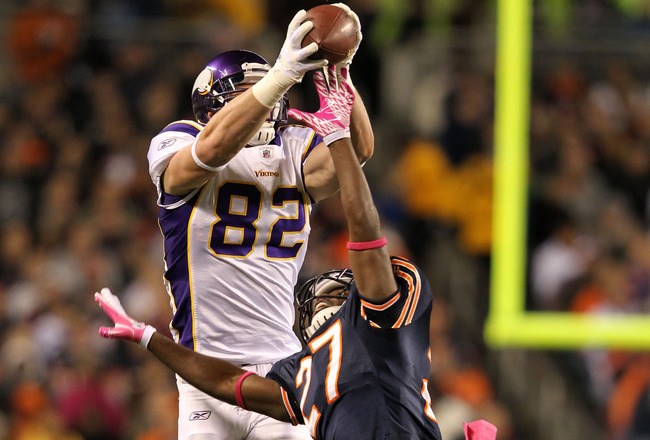 Kyle Rudolph with a catch over Major Wright (27)
Jamie Squire/Getty Images
If you've been following the Vikings this offseason, you know that they have declined to sign any of the marquee free agents. While that's disappointing to most, general manager Rick Spielman has a distinct plan for the team.

Spielman plans to use players already in house that can make an impact, whether on offense or defense. Nonetheless, the Vikings have made a few solid acquisitions.

For starters, Minnesota signed guard Geoff Schwartz, who is a tremendous run-blocker. They followed that up by signing fullback Jerome Felton—another player known for his blocking.

The Vikings made their biggest splash when they signed tight end John Carlson to a five-year, $25 million contract. Carlson is expected to serve as Minnesota's No. 2 tight end, but will still play a big role on offense.

Lastly, the Vikings signed cornerback Zackary Bowman, who previously played for the Bears for four seasons.

In addition, Minnesota re-signed both wide receiver Devin Aromashodu and outside linebacker Erin Henderson. Aromashodu will likely serve as Minnesota's third or fourth receiver, while Henderson is slotted to start, once again, at strong-side linebacker.

With all of this being said, many are still wondering: Who are going to be the big playmakers for the Minnesota Vikings this season?

This list will be comprised of five players that I deem poised to have a breakout 2012 season.
Christian Ponder, Quarterback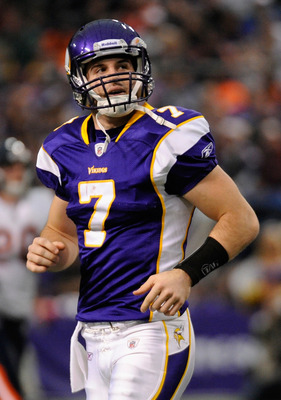 Hannah Foslien/Getty Images
You probably expected this one, and I don't blame you for it. Trust me, if the Vikings are able to maintain a stable offensive line, Christian Ponder will flourish.

While he looked like a star at times last season, Ponder was also a deer in the headlights. He went on to throw 13 touchdowns and 13 interceptions in his rookie season.

One thing that impressed me about Ponder is his ability to move in and out of the pocket. He did, of course, take the occasional sack, but that was necessary in order to stay healthy.

Speaking of healthy—Ponder was basically anything but in 2011. He suffered knee, hip and head injuries, and was rarely ever at 100 percent.

The reason why I'm so high on Christian Ponder is because he did so much with so little. Minnesota's offensive line was abysmal last season, and the receivers were far too inconsistent.

Ponder often played at barely 75 percent health, had virtually only one receiver in Percy Harvin and dealt with a poor offensive line, yet still managed to save face.

We are undoubtedly early in the offseason at this point, but the Vikings are going to continue to add talent, whether in free agency or the draft.

In my opinion, Minnesota's offensive line has already drastically improved with the addition of Geoff Schwartz, and it should only get better when the Vikings take Matt Kalil with the third pick in April's draft.

In fantasy terms, Ponder will likely be nowhere near top-10 quarterback status, but I can guarantee that he will be a far more intriguing option than he was last season.

Christian Ponder's 2012 projected stats: 233-of-389, 3,240 yards, 23 touchdowns, 15 interceptions
Kyle Rudolph, Tight End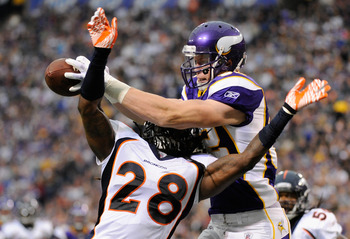 Hannah Foslien/Getty Images
When the Vikings agreed to terms with tight end John Carlson on a five-year, $25 million contract, many thought that the stock of second-year tight end Kyle Rudolph would tank.

Not everyone has looked into the facts, though. For starters, the Vikings run an offensive system that features two tight ends. This is one of the main reasons why, despite Visanthe Shiancoe starting, Rudolph received a number of snaps.

In 2011, Rudolph caught 26 passes for 249 yards and three touchdowns. He showed excellent athleticism, and his hands hardly ever slipped off the ball.

At 6'6" and 260 pounds, Rudolph has the ideal size for a tight end. He matches his size with great speed and awareness, which allows him to beat opposing linebackers in coverage.

The only knock on Rudolph is that he's been somewhat injury-prone in the past. He missed nine games in his college career, due to shoulder and hamstring injuries.

However, he only missed one game in his rookie campaign. He is credited with starting in eight games, but that wasn't always how it played out on the field.

If you account for Rudolph's eight starts, he averaged just over three catches per game. This is a great average for a guy that could be considered the fourth or fifth option on a team that has a run-first mentality.

Going into 2012, Kyle Rudolph has nothing to worry about when it comes to job security. With Shiancoe now gone, the Vikings are confident that Rudolph can step in and make an immediate impact.

His future past 2012 also looks great. At only 22 years old, Rudolph keeps himself in excellent shape and displays so on Sundays.

Kyle Rudolph's 2012 Projected Stats: 51 catches, 698 yards, seven touchdowns
Letroy Guion, Defensive Tackle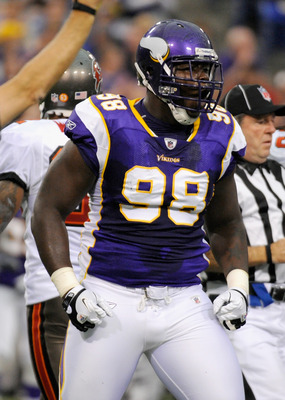 Hannah Foslien/Getty Images
If you don't know Letroy Guion, just keep in mind that he's one of the most respected members on the roster. He's not respected because of his work on the field, but because of the fact that despite entering his fifth season in the league, he still hasn't tried to force himself out of Minnesota.

Minnesota selected Guion in the fifth round of the 2008 draft, with plans that he would one day have the potential to be a force on defense.

While it seemed like it would never happen, Guion has finally earned himself a starting spot on defense.

Still, at only 24 years old, Guion has plenty of time to make his mark on Minnesota's defense. With Remi Ayodele being released, the opportunity for Guion opened up, and the Vikings have already announced that he will start at nose tackle.

Guion's first two seasons in the NFL were a complete wash, as he hardly ever saw the field, except during garbage time.

Between years 2010 and 2011, Guion posted 37 total tackles, two sacks and a forced fumble. Not great numbers by any stretch, but it's quite impressive for a player who was fourth on the defensive tackle depth chart.

At 6'4", 305 pounds, many fear he will be too small to play nose tackle. The Vikings, however, have no worries—and neither does Letroy Guion.

There aren't many defensive tackles that are as strong and quick as Guion is. His tremendous strength and speed will allow him to blow past the opposing team's guard or center.

Letroy Guion's 2012 Projected Stats: 42 tackles, 5.5 sacks, three forced fumbles
Jasper Brinkley, Middle Linebacker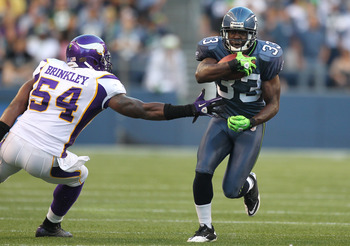 Otto Greule Jr/Getty Images
I'll admit it: There was a time last season when I forgot that Jasper Brinkley even existed. Can't blame me too much, though, as Brinkley missed all of 2011 due to injury.

Prior to last season, Brinkley was a force when on the field. In his rookie season, Brinkley started four games in E.J. Henderson's place. That season, he totaled 31 tackles and a forced fumble.

While 2010 didn't provide any starts for Brinkley, he did perform well when subbed in. He recorded 17 tackles in limited time that season.

After missing all of 2011, there are quite a few doubters who believe that Brinkley won't be able to supplant E.J. Henderson at middle linebacker.

While he does have an uphill battle, Brinkley has the best shot at earning the job. At just 26 years old, he still has time to reach his potential and flourish from there.

As is always the case, if you're a consistent starter at middle linebacker, you're likely to rack up tackles left and right. I don't see this being any different for a player who goes 6'1", 255 pounds and has a ferocious attitude.

Of the five players on my list, Brinkley is the one I am least confident in. This isn't to say that I'm not confident in his abilities, but he will be facing competition, and being a year removed from football isn't ideal.

There's plenty of time to go this offseason for the Vikings to add talent, but I severely doubt they go out of their way to sign a middle linebacker in free agency or draft one in the first two rounds of the 2012 draft.

Jasper Brinkley's 2012 Projected Stats: 103 tackles, two sacks, four forced fumbles
Chris Cook, Cornerback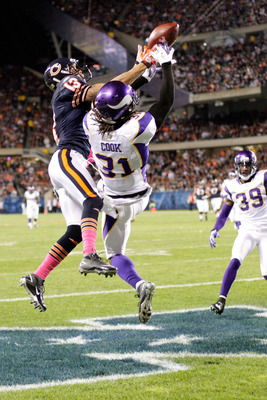 Jamie Squire/Getty Images
Never in my life have I witnessed a Vikings player who has received so much attention, but has done so little on the field. That is, until Chris Cook made himself famous when he was accused of abusing his girlfriend.

On October 25, 2011, Cook was charged with domestic assault, after allegedly attempting to both strike and strangle his girlfriend. Cook's girlfriend claimed that he smacked her on the side of the head when he found out she had been texting an ex-boyfriend.

Shortly following the incident, the Vikings suspended the 24-year-old Cook, and it was labeled an "indefinite suspension." Minnesota chose not to play him for the final 10 games of the season, as Cook waited to hear whether he was guilty or not.

After months of turmoil, Cook was found not guilty on March 15. The only claim he made was that he did indeed shove his girlfriend to the bed, but did not perform in any other actions against her.

Nearly two weeks after the incident, the Vikings have since reinstated Cook to the team, and have even said that he will battle for the starting cornerback spot opposite Antoine Winfield.

Cook, a second-round pick in 2010, started in five games during his rookie season, recording 21 tackles and two pass deflections. He was often burned by opposing receivers, but was granted a vote of confidence by Brad Childress, then the head coach.

Last season, Cook saw a ton of time early on. He played in six games, starting three, and totaled 20 tackles and four pass deflections.

It was clear that Cook was a much different football player in 2011 than he was in 2010. He was no longer afraid to battle against bigger receivers and began to use his body in a more physical way.

If you look at Cook from 2010, he was completely destroyed in coverage. He looked lost on the field and was benched in favor or Asher Allen.

Going into 2012, there are several question marks floating above Cook's head. Will he be able to stay out of trouble? Will he be distracted by the negative attention he received? Can he be a consistent starter at cornerback?

I have a ton of faith in Cook, because his 6'2", 215-pound frame is something you rarely see in a cornerback. If he can play as physically as his size suggests, there's no doubt that Cook will not only rack up tackles, but won't be thrown against too often.

At 25 years old, time is all that Chris Cook has. If he wants to succeed, he can't let his past weigh him down. A clear mind will result in an aware football player.

I wouldn't guarantee that he's a 16-game starter in 2012, but Cook will start at some point. When he does, it will be very interesting to see how he performs.

Chris Cook's 2012 Projected Stats: 52 tackles, sack, four interceptions, nine pass deflections
Keep Reading

Minnesota Vikings: Like this team?