New York Mets' R.A. Dickey Buys New Minivan, Names It His 'Millennium Falcon'
March 26, 2012

After establishing himself as a dependable major league starter during the past two seasons, New York Mets knuckleballer R. A. Dickey was rewarded for his efforts with a two-year contract worth $7.8 million.
Signing a big league deal means Dickey finally came into some serious money, the kind of cash we all dream about. When pro athletes hit the jackpot, big purchases will naturally follow. Some guys might buy a house for their mother—or several houses for family and friends. Others might shell out for nice clothes. And cars—big leaguers love their brand-new cars.
Dickey was no exception. He wanted a sweet ride, a vehicle befitting a major leaguer. Surely he'd choose something that turned heads when he zoomed into the players' parking lot at the Mets spring camp in Port St. Lucie.
Well...maybe not so much. According to the Star-Ledger's Andy McCullough, Dickey didn't buy a hot rod, but—wait for it—a Toyota Sienna minivan.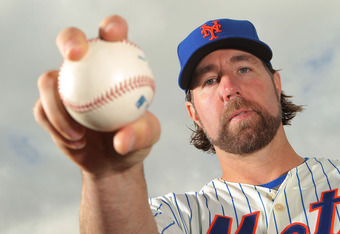 Marc Serota/Getty Images
On the positive side, Dickey did name his new automobile after a fast ship.
A Star Wars aficionado, R.A. Dickey calls the minivan their Millennium Falcon. His wife calls it "our big splurge" after he inked his $7.8 million contract with the Mets last winter.
No word on whether Dickey purchased the minivan from Lando Calrissian.
Of course, we shouldn't snort derisively at this. (Let's not forget that Dickey climbed Mount Kilimanjaro this winter.) Luke Skywalker once called the Millennium Falcon a piece of junk. How did Han Solo respond? "She may not look like much," Han said. "But she's got it where it counts, kid." I imagine Dickey having the same conversation with his children and teammates.
Dickey should also remind everyone who encounters his vehicle that the Millennium Falcon once made the Kessel run in less than 12 parsecs. Let's see some Ferrari or Jaguar do that.