Chipper Jones Injury: Atlanta Braves Smart to Keep Martin Prado
March 26, 2012

Marc Serota/Getty Images
As it turns out, Chipper Jones was apparently right to worry whether or not he'd make it through the 2012 season. 
Just days after announcing that this upcoming season would be his last, the Atlanta Braves' third baseman will undergo arthroscopic surgery to repair a torn meniscus in his left knee. The procedure was scheduled for Monday, so Jones could be having surgery as you read this.
Amazingly, as reported by the Atlanta Journal Constitution's David O'Brien, the injury occurred just an hour before the press conference in which Jones announced his impending retirement. He slipped while running during pregame stretching, causing the tear.
If Jones was having any second thoughts about calling it a career, this latest development might have taken care of them.
Jones is expected to miss two to three weeks while he recovers from the surgery, the sixth knee operation he's undergone in his career. That follows the timetable Jones followed last summer when he injured his right knee and had an arthroscopic procedure. He returned to the Braves' lineup in two-and-a-half weeks.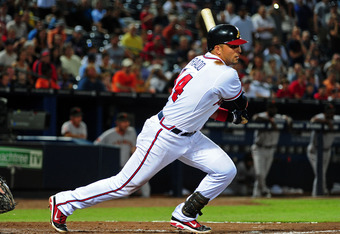 Scott Cunningham/Getty Images
Though Jones might not miss too much time as the regular season begins, the Braves' decision to keep Martin Prado is looking like a smart one. During the offseason, the team was rumored to be shopping Prado (and pitcher Jair Jurrjens) on the trade market in hopes of creating some payroll flexibility to bring in a slugging outfielder.
Prado has one more arbitration year remaining and will likely get a raise next year over his current $4.75 million salary.
While the Colorado Rockies offered Seth Smith and the Detroit Tigers dangled Delmon Young to try to acquire Prado, the Braves decided to hang onto him. Perhaps because they foresaw Prado needing to fill in for the creaky Jones at third base, where he's played 166 games in his six years with the Braves. 
So Prado will indeed move to the hot corner in Jones' absence. Braves manager Fredi Gonzalez said Eric Hinske and Matt Diaz will likely take over for Prado in left field. Jose Constanza, last August's flash in the pan, is another possibility.
But Braves general manager Frank Wren is also looking for a backup outfielder. MLB Trade Rumors mentioned Johnny Damon as one option, though it's not clear how much interest the Braves have in him with his limited defensive range. Another name to consider might be Bobby Abreu, about whom Steven Goldman wrote earlier today.
One name I'll add to the list is Gerardo Parra, who's been (inexplicably) supplanted in the Arizona Diamondbacks outfield by Jason Kubel, though Parra doesn't have the power the Braves are looking to add to their corner outfield.
Perhaps Wren can call up Tigers GM Dave Dombrowski and see if Young might still be available?