NCAA Tournament 2012: Previewing the West Regional Final
March 24, 2012

Christian Petersen/Getty Images
Well, this is March Madness for you. In a region where it was expected to be a Michigan State vs. Missouri Elite Eight matchup, we are instead left with Louisville and Florida.
As the two lowest seeds left in the tournament, at four and seven respectively, a win today would complete an improbable Final Four run for either side.
For Louisville, they are looking to go to the Final Four for the first time since 2005, where they were upended by Illinois. For Florida, they have not been to the Final Four since they won back-to-back national championships in 2006 and 2007.
A win today would obviously be a historic one for either program. Here is a look at today's Elite Eight matchup.
Preview 
Louisville has been a potential tournament dark horse ever since they won the Big East tournament back on March 10. Last season Connecticut made an identical run, when they won the Big East tournament and then went on to win the national championship. Many people are beginning to think Louisville could do the same.
The Cardinals have been led by junior guard Peyton Siva throughout the season and will need a major contribution from him if they want their storybook run to continue.
The main problem for the Cardinals will be scoring. The Gators are an extremely potent offense and could easily put up 70 points this afternoon against Louisville. The Cardinals, while capable of putting points up in bunches, have relied heavily on their defense of late and could find themselves only putting up about 60 points today.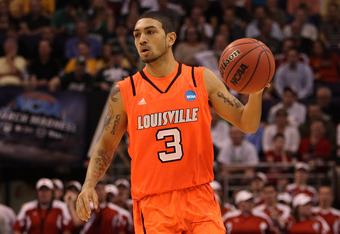 Christian Petersen/Getty Images
Louisville will need to slow the pace of the game down by taking longer possessions and not allowing the Gators to get out and run. Guards Kyle Kuric and Russ Smith will also need to knock down some perimeter shots, because Florida will certainly be hitting some three-pointers.
For the Gators, it will all be about speed. There are few teams in the country who can match the guard play that Florida puts on the court each night.
Of the Gator guards, Brad Beal is the most talented. Beal reminds me a lot of LeBron James. He certainly is not as good as James, but he is a factor in all aspects of the game like LeBron. He can shoot, rebound, pass and play great defense.
The Gators also feature talented guards in senior Erving Walker and junior Kenny Boynton. Both can drain outside threes and are very good at defending the three-point line.
If the Gators can force turnovers and get out in transition, it will be extremely hard for Louisville to keep up with them in this game.
Matchup to Watch: Three Point Line Battle
This game will come down to whichever team can step up from long distance. The Gators love to shoot the three, and the Cardinals can also get hot from beyond the arc.
Both teams are very good at defending the three-point line as well. Whoever wins will be the team that hits the most three-point shots.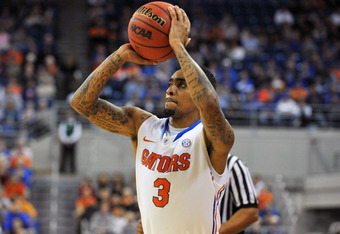 Al Messerschmidt/Getty Images
X-Factor: Mike Rosario
Mike Rosario certainly will not be the best player on the court—in fact, when the game starts, he will be on the Florida bench—but in big games, the teams who win are the ones that have bench players who can step up.
Rosario can certainly do that. He can quickly get hot from the three-point line, and I expect him to hit some big shots down the stretch for the Florida Gators.
Prediction
The Florida guards are too talented for Louisville. The Gators will force too many turnovers that result in easy transition baskets on the other end.
Down the stretch, Brad Beal will take over the offense, and players like Mike Rosario will hit too many big shots for Louisville to keep up with. Just too much offense.
Final Score
Florida 72, Louisville 63