Liverpool FC: 6 Players Who Let Kenny Dalglish Down in 2-1 Loss to Wigan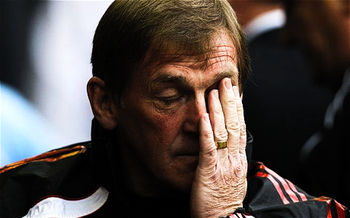 (Image via www.britevents.com)
There goes UEFA Champions League football—meaning change is undoubtedly needed at Liverpool this summer.
Should Kenny Dalglish be fired? If he was the one behind the transfers of Andy Carroll, Jordan Henderson and Stewart Downing, then yes.
If Dalglish played second-fiddle to Damien Comolli, then no, it should be Comolli that walks.
Here are the six players who let Dalglish and the Liverpool supporters down in their demoralising 2-1 loss to Wigan Athletic.
6. Martin Škrtel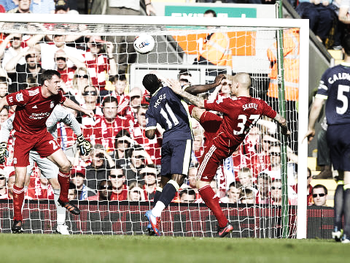 (Image via TEAMtalk Football)
The irony of Martin Škrtel being on this list is that he was the best defender on the pitch by a country mile.
His excellent tackle led to Liverpool's goal, and he also blocked two goal-bound shots.
Škrtel's only mistake was doing his best imitation of Chris Mavinga's assault on Mehdi Carcela-Gonzalez.
I have no idea what went through Škrtel's mind when he kicked Victor Moses in the head.
Škrtel was fortunate to escape a red card. It's irrelevant if he was "going for the ball" because clearly he didn't get the ball.
The egregious foul led to Shaun Maloney scoring Wigan Athletic's first goal via a penalty.
5. Andy Carroll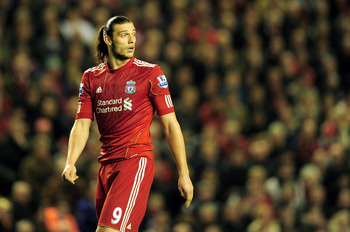 Jamie McDonald/Getty Images
Andy Carroll only shot the ball once in 45 minutes against the fourth worst defence in the league.
Gary Caldwell is such a liability at the back, but Carroll, who is worth £35 million, couldn't even extract a penalty.
Remember, Caldwell gives away penalties like Christmas presents.
Not that I'd expect Carroll to defend like Sami Hyypiä, but the No. 9 was embarrassed by Gary Caldwell, who scored what turned out to be the winning goal.
4. Stewart Downing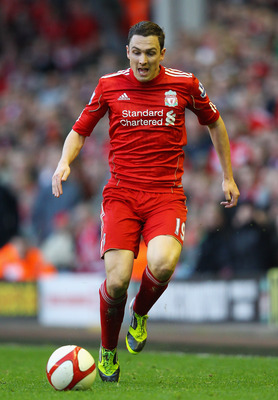 Alex Livesey/Getty Images
What does Stewart Downing actually do?
In the Premier League, he has yet to provide an assist from 1,060 passes.
Since he's so inefficient out on the left, he played on the right today and was even worse. He took four shots, none of which were on target.
He is now 62 shots and counting without a Premier League goal.
3. Dirk Kuyt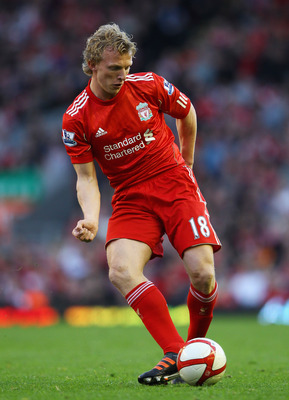 Alex Livesey/Getty Images
Dirk Kuyt is one of the best professionals in the world, but he doesn't produce on the field.
What did he do with his 54 touches today? Nothing.
2. Jordan Henderson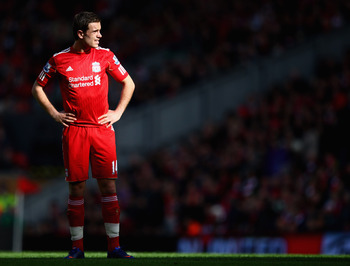 Clive Mason/Getty Images
In 45 minutes, Jordan Henderson wasted possession as he completed 69 percent of his passes.
The large majority of them were simple side-way passes, and he didn't complete a single key pass.
1. Jamie Carragher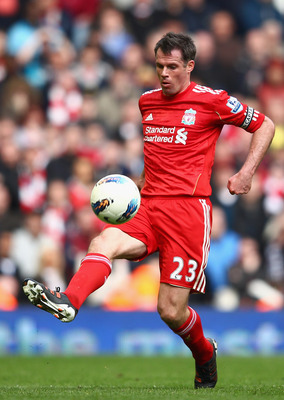 Clive Mason/Getty Images
Jamie Carragher putting his hand up for offside when Andy Carroll was behind him summed up the 34-year-old's season.
Carragher didn't make a single tackle today, and he only made one interception. This is against Wigan Athletic, who have the worst scoring record in the league.
Carragher has no business starting for Liverpool because he's a liability and hindering Sebastián Coates' development.
Out with Carragher and in with Coates.
Please read Top 5 Lessons Chelsea Learned Today.
Statistics courtesy of WhoScored.com.


Keep Reading

Liverpool: Like this team?