Bryce Harper: Video Footage of His 15 Most Jaw-Dropping Homers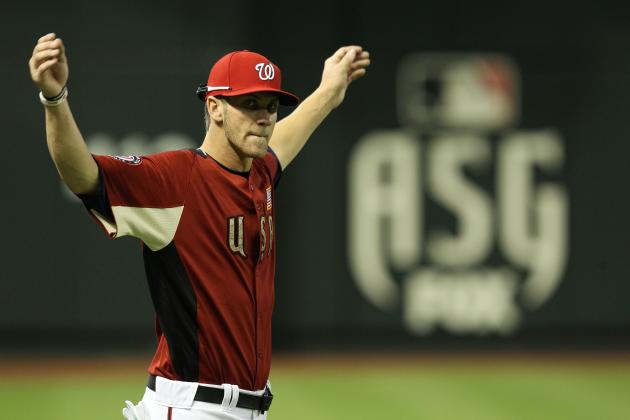 Christian Petersen/Getty Images

Bryce Harper has a history of impressing no matter which level he is playing at. Although Harper is not starting the year as a part of the Washington Nationals' 25-man roster, it should not be long before he works his way up.
The most impressive part of his arsenal is his strength and bat speed which has resulted in mind-blowing home runs.
He reportedly hit a ball 570 feet when he was only 15 years old. As he continues his assault on the minor leagues, we will undeniably be given more highlights of towering home runs.
Before going pro, Harper hit a staggering 31 home runs in only 66 college games. Harper began playing for the Arizona Fall League in 2010. Between two seasons in the Arizona Fall League and one season between Single and Double-A, Harper totaled for 24 home runs.
For now, however, we look back at his 15 most impressive home runs.
Begin Slideshow

»
Harper participated in an international home run hitting showcase at Tropicana Field. Harper hit a 502-foot home run that was a part of a stretch of six homers in a row that averaged a distance of 469 feet.
This by far was is the most recognizable home run of his career, even though it was not in a game.
The home run was the longest home run ever hit at Tropicana Field and began getting him even more recognition.
Harper hit his first professional home run in the Arizona Fall League on October 30, 2010.
The blast went over the bullpen and assaulted the party deck in right field. It certainly was a home run to remember and one that is hard to forget.
This shot is a walk-off from August 2011 while Harper was playing for the Double-A Harrisburg Senators.
The home run was estimated to be over 480 feet as it easily cleared the batters eye in center field. This was his first walk-off home run of his career.
There are a couple things that are jaw-dropping in this video:
The size of Harper as a freshman in high school and the charge that he put into this ball.
This video is from 2008 and it is shocking to see how intimidating Harper was at such a young age. The home run is nothing but impressive.
This home run happened while playing in the Arizona Fall League in 2011. Harper drove the ball well over the wall in left-center field.
This ball finally comes down between the red and black advertisements, more than halfway up on the grass.
This is another ridiculous shot by Harper that all began with one of the quickest swings you will ever see.
To see where this one lands, simply look at all the fans on the grass running to the ball. They have to practically run out of the stadium to get to it.
This was his sixth home run at Hagerstown.
On June 1, 2011, while playing for Hagerstown, Harper hit this blast against the Greenville Drive. Harper stayed alive in the long at-bat and earned this one.
The sound off the bat gave away the results of this one way before the ball even landed.
This video shows Harper hitting a couple home runs during the 2011 AFLAC Home Run Derby held at Petco Park. The first one in this video never came down. The guys in the outfield just turn their heads and watch.
Petco Park is a tough place to hit home runs, but not for Harper.
No doubt about this one. After roaring through Single-A, Harper continued to play well, but had a bit of a hard time adjusting to Double-A. He hit only three home runs in 37 games.
When an outfielder takes one or two steps, it is usually to make his pitcher feel better.
That was the case when Harper hit this home run in Hagerstown against the Kannapolis Intimidators on May 29, 2011.
Not many opposite field bombs get out of the park that loud and that quick.
Harper's college only used wood bats in regular-season play. The Junior College National Tournament forces all teams to use aluminum bats so when Harper entered the tournament, it was every man for themselves.
Former coach Tom Chambers spoke about Harper using an aluminum bat and said, "to be honest, he was going to hurt somebody. With an aluminum bat in his hand, somebody was going to get hurt. A pitcher or somebody."
Harper would have shattered several windows if not for the netting that was protecting the building outside the stadium at the University of San Diego.
These home runs were a part of the 2009 AFLAC All-American weekend Home Run Derby.
Harper connects for his first minor league home run on April 13, 2011.
He was playing for Hagerstown against the Lexington Legends and was dealing with heckling from the crowd. This one was to quiet them.
Everyone knew that this one was gone as soon as it was hit.
Harper has one of the quickest bats around and in this home run from his time spent at the College of Southern Nevada, we see an example of it.
While playing for CSN, he batted .443 with 31 home runs and 98 RBI in 66 games in 2010 and led them to the Junior College World Series.
Harper might have caused a few jaws to drop for other reasons with this home run.
People were talking about this one for days after this shot for Single-A Hagerstown.
After casually strolling out of the batters box, Harper rounded the bases. While taking his final strides towards home, he blew a kiss to the pitcher.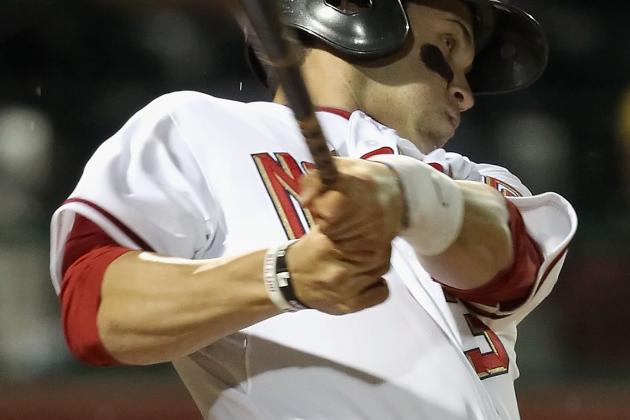 Christian Petersen/Getty Images

Harper will be playing for Triple-A Syracuse to begin the 2012 season. Harper has appeared in the last two springs with the Nationals but has yet to hit a home run.
When Harper steps foot in a big league ballpark, it will not be long before there are many more home runs added to the list of impressive shots.
He has not played a big league game, yet has already become a human highlight reel.
You can follow me on Twitter @NargOnSports.