Chelsea Loss to Manchester City Proves Midfield Is in Desperate Need of Help
March 22, 2012

Richard Heathcote/Getty Images
Chelsea's loss to Manchester City proved that the midfield, not managing or player unrest, is Chelsea's new, biggest problem.
Chelsea have struggled all year, and the blame has gone all around. Whether it's the strikers, defenders or manager, people have been blaming different culprits all year. For some reason, the midfielders have escaped most of the hate.
Not anymore.
The midfield has been atrocious all year, and it is the biggest reason Chelsea have been unable to have sustained success. The players aren't playing well, and the options are dwindling.
Ramires has been moved to more of an attacking wing position (his natural position), but he has been in the middle of the midfield for most of the year. He's out of position so he deserves somewhat of a pass. He's been the most consistent player on Chelsea's squad, and he's been the lone bright spot in the midfield.
At full strength, Michael Essien is one of the best box-to-box midfielders in the world. However, Essien hasn't been at full strength all year. He's merely a shadow of his previous self, and it's been hurting Chelsea.
Essien is working to get back, and I do think that he has something left to give to the club. Until then, he will continue to be slow and mediocre in his transition from defense to attack, and vice versa.
Frank Lampard has scored plenty of goals this year, but a handful of them have been from the penalty spot. While it's great that he's nearly automatic from the spot, he hasn't been extremely useful in the field. His finishing and positioning are still world class, but his speed and passing have left much to be desired.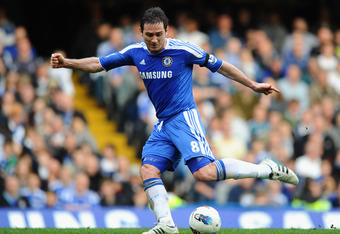 Mike Hewitt/Getty Images
Oriol Romeu and Florent Malouda have been inconsistent in their brief spells on the pitch so it's tough to say much about them. Romeu has promise, and Malouda can still play, but neither of these guys are reliable enough to be more than a substitute.
John Obi Mikel has not played too poorly recently, but his giveaways are mind-boggling. Some of his decisions are incredible because it's tough to believe a professional footballer would pass the ball to the wrong team so consistently. With that said, he has been looking decent recently, possibly meaning he still has a future at Chelsea.
Then there's Raul Meireles. I like the guy, I really do. He brought a necessary flair to Chelsea at the beginning of the year, and he played well to start.
Since the turn of the new year, however, Meireles has been nothing short of awful. His passing is awry, his positioning is questionable and his on-ball defending is downright putrid. Essentially, he can't seem to do anything right.
Yet, Meireles has been picked for nearly every match this year. He hasn't played well, and he doesn't deserve to keep playing.
Unfortunately, Roberto Di Matteo doesn't have many options to choose from. Other than Ramires, Essien and Lampard are the only reliable midfielders. However, they are not nearly fast enough or creative enough to worry opponents.
Chelsea do not have a reliable creative, box-to-box or holding midfielder. Considering most of the match is played in the midfield, that's a grave concern.
Chelsea still have enough talent in other places to finish the season strong, but this midfield needs to be completely reworked.
Once the midfield is overturned, and stronger players are inserted, Chelsea will challenge for English and European titles.