Michigan Football: 4 Games the Wolverines Must Win in 2012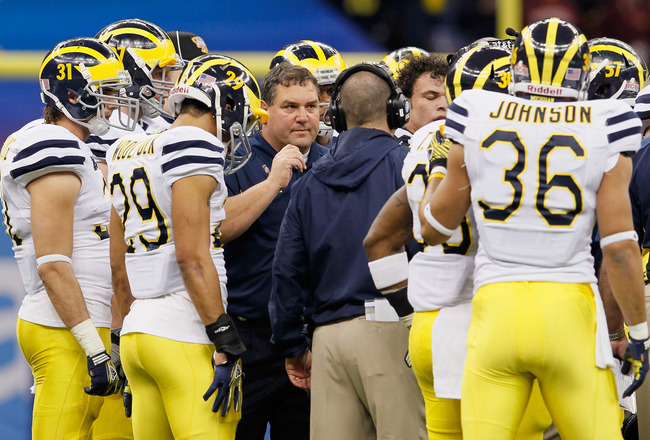 Kevin C. Cox/Getty Images
While teams are just beginning spring practices, we're already looking forward to the regular season. Sure, it's still a good six months away, but it's never too early to think about everything that comes with college football and the games that actually matter.
Michigan returns a total of 14 starters, including their star quarterback, Denard Robinson. They also return eight starters on the defensive side of the ball.
In head coach Brady Hoke's first season, Michigan won 11 games and won a bowl game for the first time since 2007. It's going to be extremely interesting to see what this team does for an encore.
The Wolverines have a favorable schedule but there are a few games to pay attention to. Here are four games that Michigan must win to repeat last year's success.
Alabama (In Texas)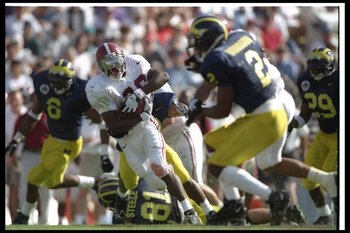 Jamie Squire/Getty Images
This will likely be a must-win game for both teams. It's the first game of the season and both teams will likely be ranked extremely high in the polls. A loss wouldn't destroy the Wolverines' season early on, but a victory would certainly help the season going forward.
Although the Crimson Tide lost many players during the offseason, they remain an extremely talented team and are solid favorites to repeat as national champions.
Everybody will be watching this game to see just how good both teams are. Brady Hoke and company must prove they are a serious contender for this year's national championship. A win against the Crimson Tide would do just that.
Notre Dame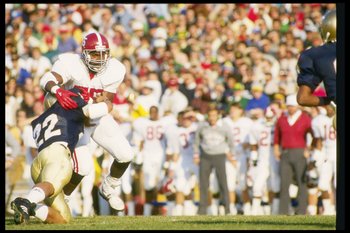 Jonathan Daniel/Getty Images
Michigan has won five of the last six meetings against the Irish, but this game will be much harder than last year's game. The Wolverines have lost four of the last six meetings in South Bend.
You can guarantee that Notre Dame will be up for this game, especially the way they allowed Denard Robinson to lead his team down the field in under 30 seconds to steal the victory last season.
Notre Dame returns a total of 15 starters and a victory here would continue to strengthen that resume heading into a few weeks of sub-par opponents. If the Wolverines want a chance to reach the national championship they can't lose this game or the matchup against Alabama.
Why not win both to remove all doubt?
Nebraska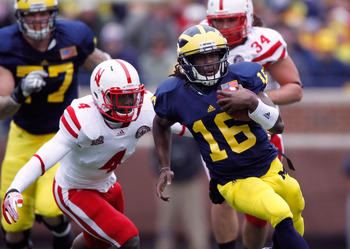 Gregory Shamus/Getty Images
Last season the Wolverines mopped the floor with the Cornhuskers, 45-17. But this isn't the time to overlook the newbies in the Big Ten, as they return a total of 16 starters, eight on each side of the football.
Like Notre Dame, this is another opponent that will be very upset about the way things ended last season. They will be out to prove they're much better than that. The Cornhuskers will also have the home crowd behind them, making this a very intense game.
Nebraska is a team that's very capable of winning the conference this season. This is the chance for the Wolverines to shatter those dreams.
Ohio State
Gregory Shamus/Getty Images
If we're talking must-win games for the Wolverines, it doesn't get much bigger than the game against the Ohio State Buckeyes.
After all, it's one of the biggest rivalries of the year and the last game of the season for both teams. A loss could really put the Wolverines' national championship dreams in jeopardy if they hiccuped against their rival.
Brady Hoke was able to snap the seven-game losing streak against the Buckeyes last year. A victory here would really say a lot about him and make Wolverine fans extremely happy.
Keep Reading

Michigan Wolverines Football: Like this team?