Michigan State vs. Louisville: Game Time, TV Schedule, Spread and Predictions
March 20, 2012

Jonathan Daniel/Getty Images
There will be no Cinderella stories when Michigan State and Louisville battle for a spot in the Elite Eight on Thursday night. Both storied programs have two national championships and multiple Final Four appearances.
After blowing out LIU Brooklyn in their first game, the Spartans survived a tricky test from Saint Louis to reach the Sweet 16. Five different players have scored in double digits in the first two matchups, further illustrating Michigan State's terrific depth.
Louisville won its first two games by a combined 10 points. The Cardinals fended off a late charge from Davidson before knocking off New Mexico to reach this point. Opposing teams are shooting just 21 percent from beyond the arc against Louisville in the tournament.
Where: US Airways Center in Phoenix
When: Thursday, March 22 at 7:47 p.m. ET
Watch: TBS
Listen: WJR 760 AM (Michigan State) or WHAS 840 AM (Louisville)
Betting Line: Michigan State -5
Key Injuries (via USA Today)
Michigan State: Branden Dawson (out, knee)
Louisville: Rakeem Buckles (out, knee), Stephen Van Treese (out, knee) and Mike Marra (out, knee)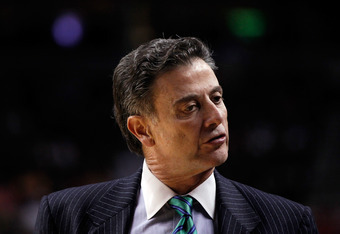 Jonathan Ferrey/Getty Images
What's At Stake?
Michigan State is looking to make its third Elite Eight appearance in four years. The Spartans have been the least talked-about top seed, but that's helped keep the pressure off them for the early rounds. Another victory and they won't be able to avoid the spotlight any longer.
The Cardinals will be looking to pull off an upset to reach their fourth Elite Eight under Rick Pitino, who has his sights sets on another national title. Louisville has been a streaky team all season, so now that the Cardinals are riding high, they are dangerous.
All told, it's as simple as the winner moving within three wins of its ultimate goal and the loser going home.
What They're Saying
Michigan State star Draymond Green isn't getting overly excited just because the Spartans have reached the Sweet 16, according to Shawn Windsor of the Detroit Free Press.
It's always a great honor. Maybe even after your career people will look back on it, but at this point, you could even see it after our celebration after the game (Sunday): It was a hug and we kept 'em moving (because) it's just another step in the road to get to where we're really trying to go.
C.L. Brown of the Courier-Journal reports Pitino wasn't always confident his Cardinals had a deep tournament run in them, but pinpoints confidence level as the one key factor that turned things around.
"I'm really delighted because I thought this team had a lot of limitations," Pitino said. "I wanted to win that Big East Tournament in the worst way because I knew that confidence would grow."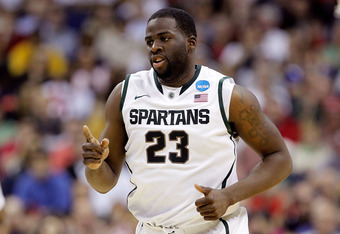 Rob Carr/Getty Images
Most Important Player to Watch: Draymond Green (Michigan State)
Everything Michigan State does on offense goes through Green. The senior is averaging 16 points, 11 rebounds and four assists. His passing ability might be his most impressive trait because it allows him to handle double-teams with ease.
Gorgui Dieng will be charged with attempting to slow him down. Louisville's best post player is blocking more than three shots per game but also has a tendency to get in foul trouble. He can't afford to do that against the Spartans or Green will dominate while he sits on the bench.
Green hasn't scored fewer than 12 points in any game since January, so he's about as consistent as college players come. As long as he provides his usual level of production, Michigan State will be in great shape.
Key Matchup: Keith Appling vs. Peyton Siva
The Spartans would likely be watching the Sweet 16 from home if it weren't for Appling's strong play down the stretch against Saint Louis. He made a crucial three-pointer immediately after the final media timeout and proceeded to knock down four key free throws to seal the deal.
Siva has been on fire ever since Louisville's Big East tourney run. New Mexico made a concerted effort to keep him from dominating the game, which forced him to become more of a facilitator, but he still made a major impact on the game.
Both guards are vital to their team's success, so whichever one is able to gain an advantage will put his team on the road to success.
Prediction
Michigan State 67, Louisville 60