Food City 500: Brad Keselowski Is NASCAR's New King of Bristol
March 18, 2012

Jared C. Tilton/Getty Images
Darrell Waltrip. Jeff Gordon. Kurt Busch. Kyle Busch.
Add Brad Keselowski's name to the list of drivers whose name is synonymous with the title "King of Bristol."
Keselowski dominated Sunday's Food City 500 leading the final 111 laps en route to his first win of the 2012 NASCAR Sprint Cup Series season and second in a row at Bristol Motor Speedway.
Keselowski started the race in the fifth position and fell back a few spots at the beginning of the race to seventh. The eventual winner dodged a Lap 24 crash which started just in front of him when Kasey Kahne pinched Regan Smith's car into the wall and spun directly in front of Keselowski.
Kahne's crash took out six cars, including pre-race favorites Kyle Busch and Carl Edwards.
The majority of Sunday's Food City 500 was uneventful as the caution flag flew only six times.
Perhaps that's what made Keselowski's win so incredible.
Keselowski did a masterful job throughout the race demonstrating patience and navigating through traffic. He ran in the top five during the majority of the first half of the race and took complete command around the halfway point.
Keselowski and runner-up Matt Kenseth battled nose-to-tail for a good portion of the final 100 laps, but Keselowski never blinked.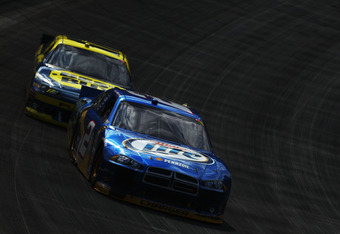 Justin Edmonds/Getty Images
Even on the final restart with 18 laps to go and 150-lap old tires on his car, Keselowski stayed cool and pulled away from the field, never looking back.
Keselowski's domination of Sunday's Food City 500 came at the same venue where he won his last Sprint Cup race. Keselowski led 89 laps in his victory at Bristol last fall, and a whopping 231 on Sunday.
The last driver to win back-to-back races at Bristol was the also the last man to win at Bristol before Keselowski, Kyle Busch.
Busch won both races in 2009 and then won back-to-back races again in summer 2010 and spring 2011.
Keselowski has now won twice at Bristol in his first five starts and the half-mile bullring.
Kurt Busch also won twice in his first five Bristol starts, while Gordon took seven Bristol races to earn two wins and Kyle Busch earned his second Bristol victory in his ninth start.
It looks like Keselowski may be ahead of the game. And right now, it also looks like the driver of the Blue Deuce may just be the new "King of Bristol."