Food City 500 Predictions: Dale Earnhardt Jr. Will Win at Bristol
March 18, 2012

John Harrelson/Getty Images
There is no driver in the NASCAR Sprint Cup Series that needs a victory at the Food City 500 at Bristol Motor Speedway more than Dale Earnhardt Jr. and the No. 88 team.
One hundred ten (110) races stand between the NASCAR star and his last victory at the highest level, but taming the track that he historically does well on may be the antidote for his winless streak.
Junior ranks third among active drivers for best career average finishes at Bristol (11.7); only Kyle Busch (9.1) and Jeff Gordon (11.5) have better averages.
Earnhardt Jr told FOX Sports about his solid start to the season and his love for tracks like Bristol:
The season has started off really good. We had a good run at Daytona. Struggled a little bit at Phoenix, but we still got a decent finish out of it. Had a pretty good car last week (at Las Vegas Motor Speedway). We just stayed out of trouble. Some other guys have had some difficulties; we've been able to capitalize on that and get a pretty good spot in the point standings after three weeks. This (Bristol) is a good track for me. I've done pretty well here and been pretty consistent at Bristol. I look forward to continuing that this weekend.
While there are many fans of the sport who don't feel Dale Jr. is that talented of a driver, a huge transition in the star's life made the last few years very difficult. Now that the star has his feet firmly placed on the ground and a team around him that understands his style, it's time to snap the streak.
What better place to prove the detractors wrong than on the hardest track on the circuit to muscle? Bristol is 500 laps of beating and banging, and probably the most physically demanding track any the drivers will face.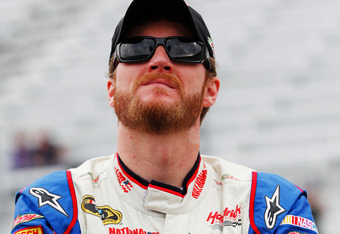 Geoff Burke/Getty Images
Earnhardt proved for years that he could be one of the better racers on the circuit, but he hasn't been able to shake the misconception that he was handed all of his success.
A win at Bristol would be a crucial first step in the reinvention of the NASCAR fan favorite.
Check back for more on NASCAR as it comes, and check out Bleacher Report's NASCAR Page to get your fill of all things motorsports.