San Diego Chargers: All the Latest Free Agency News
March 16, 2012

Adam Bettcher/Getty Images
It's been a wild three days so far. What seemed to look like another disappointing year in free agency for most Chargers fans turned out to be the complete opposite.
Nick Hardwick was re-signed for three more years. That was the first move made by San Diego this season. Hardwick is the key player who leads the Bolts' front line. Bringing him back was a smart decision for the Chargers.
Shortly after free agency got underway, the news that everyone knew was coming happened.
Vincent Jackson will be leaving San Diego to join the Tampa Bay Buccaneers. His contract is for five years for $55.55 million. It was the long term deal he's been desiring in San Diego for the past two seasons. The NFL is a business and it was time for VJ and SD to part ways.
The next move didn't occur for quite a while, making Chargers fans very nervous. The Twitter world was emphasizing the reason why the Chargers HAD to make a big move in free agency. They were right, and it looked like A.J. Smith realized it. San Diego's front office went right to work.
The San Diego Chargers start the Vincent Jackson replacement process by signing WR Robert Meachem to a four year deal. Meachem, ironically, will join San Diego from New Orleans. Usually it's the opposite. (For example: Drew Brees and Darren Sproles). Philip Rivers loved the signing. Meachem is a speedy receiver that can get down the field and become a vertical threat, which is the best part of Rivers' game.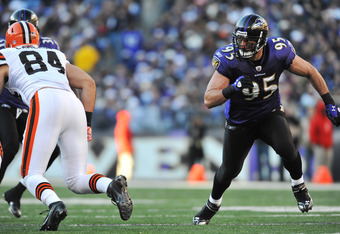 Larry French/Getty Images
The Chargers didn't stop there.
What could be the most underrated signing of this year's free agency, OL Jared Gaither returned to San Diego on a new four year contract. After testing free agency, Gaither figured his best option was to stay a lightning bolt.
San Diego kept the momentum going by signing crushing LB Jarret Johnson to a four year deal. Johnson's former team was the Baltimore Ravens. His stats don't look very impressive the last couple of seasons, but that's only because his given assignments were made around Terrel Suggs. He wasn't asked to rush the quarterback as much once Suggs joined the Ravens. Johnson will help the defense against the run and will add even more veteran leadership along with Takeo Spikes and Shaun Phillips.
Kevin Acee reported the Charger's signing of veteran FB Le'Ron McClain for three years. McClain will be what San Diego has been lacking for many years now: a complete fullback. Jacob Hester was average, but going from Lorenzo Neal to him, you can already see the drop-off. The Chargers are hoping McClain can be like Neal and get Ryan Mathews even more daylight on his runs. We all know LaDainian Tomlinson wouldn't be as successful today if he didn't have Lorenzo Neal.
Thursday was a slow day in San Diego. Safety Steve Gregory is taking his talents to New England where he will join the Patriots. That was the only news for the Chargers until 5:30 P.T.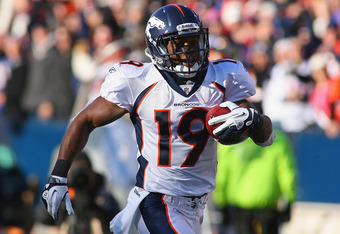 Rick Stewart/Getty Images
Eddie Royal will become the Chargers number four receiver after agreeing on a three year contract. He's spent his career in Denver, so he knows the AFC West very well. Royal will make the Chargers a very deep team at wide receiver. He'll be the player they thought Patrick Crayton would be: a slot receiver that gets open in the middle of the field.
Vincent Jackson gone, Robert Meachem and Eddie Royal in. Doesn't seem too bad, does it? San Diego somehow signed both receivers for the same price together as it would've been for Jackson alone.
1. Malcolm Floyd 2. Robert Meachem 3. Vincent Brown 4. Eddie Royal
Philip Rivers is one happy camper. Don't forget about Antonio Gates either. The Chargers' offense should be better than ever next year.
The Chargers are reportedly looking for a backup running back now. Kevin Acee says Mike Tolbert is plan A, but San Diego has another veteran in line for plan B. Jackie Battle could be that guy. Battle would be a great addition to the run game. Mathews and Battle running behind McClain? The Chargers would love to say that.
Report: The Chargers have entered contract negotiations with Mike Tolbert.
San Diego is trying to figure out if Tolbert is willing to take less money to rejoin the Chargers.
San Diego, after losing Steve Gregory to New England, is in much need of a strong safety. LaRon Landry hasn't been signed yet and the Chargers should make a play for him. Jim Leonhard and James Sanders would be smart moves as well. The Charger's plans could be to draft a safety in April. Harrison Smith from Notre Dame might be the player to fill that position if he is available in the second round.
The last thing the Chargers need to address is the nose tackle position. San Diego would love to have Antonio Garay return, but if he ends up signing with another team, the Chargers will find themselves in a hole. If Garay makes a decision soon, it would make things much easier on San Diego. If not, the Chargers could wait till the draft to fix that area as well.
Also, don't be surprised if the Chargers make a run at a cornerback and try moving one of their current players to safety, like Quentin Jammer or Marcus Gilchrist. Tracey Porter would be a perfect choice.
For latest Chargers updates, follow me on twitter. @alexramirez127