2012 NFL Mock Draft: Dontari Poe and Combine Freaks Who'll Tank
March 16, 2012

Joe Robbins/Getty Images
The 2012 NFL draft has no shortage of brilliant athletes.
The top two expected picks, quarterbacks Andrew Luck and Robert Griffin III, are not only elite prospects, but phenomenal athletes.
There are some players whose athleticism overshadows their football skills, though, and that doesn't aways translate into success in the league.
The scouting combine late last month is the typical showcase for the draft's best athletes and there are few a guys who will never live up to those performances.
1. Indianapolis Colts (2-14): Andrew Luck, QB, Stanford
Draft's top prospect is too good to tank.
2. *Washington Redskins (5-11): Robert Griffin III, QB, Baylor
There is some potential for RGIII to fall short of his hype and elite combine performance, but he simply has too much drive to let that happen.
3. Minnesota Vikings (3-13): Matt Kalil, OT, USC
Draft's best tackle has great feet and should could be one of the best tackles in the game soon enough.
4. Cleveland Browns (4-12): Trent Richardson, RB, Alabama

The Crimson Tide tailback didn't work out in Indianapolis, but he's going to be an immediate superstar.
5. Tampa Bay Buccaneers (4-12): Morris Claiborne, CB, LSU
Top cornerback has so much talent and physical skill that it's hard to think he'll ever tank.
6. *St. Louis Rams (2-14): Justin Blackmon, WR, Oklahoma State
Blackmon didn't run in Indy, but he did do other activities. He's too good to falter.
7. Jacksonville Jaguars (5-11): Quinton Coples, DE, UNC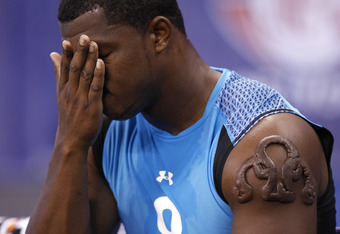 Joe Robbins/Getty Images
Coples isn't a freak athlete, but he is a good one and he does the potential to completely tank.
The UNC star will only be as good as he wants to be—or, in other words, he'll get out what he puts in.
These types of players don't always pan out, so don't be surprised if he doesn't live up to his potential.
8. Miami Dolphins (6-10): Ryan Tannehill, QB, Texas A&M
Another player who didn't workout at the combine, Tannehill is a complete hit-or-miss guy who would've shined in Indy if he were healthy.
9. Carolina Panthers (6-10): Melvin Ingram, DE, South Carolina
Ingram had a great combine, but is also a guy who could fall short of expectations very easily.
10. Buffalo Bills (6-10): Riley Reiff, OT, Iowa
Like most Hawkeye players, Reiff is a solid technician. 
11. Kansas City Chiefs (7-9): Dontari Poe, DT, Memphis
Poe absolutely rocked the combine. With rare combination of size and athleticism, his sub-five-second 40-yard dash and impressive agility drove his stock through the roof of Lucas Oil Stadium.
However, is he really that good? He played on a terrible Memphis team and he wasn't consistently dominant.
He'll likely be overdrafted and could very easily fall short of expectations.
12. Seattle Seahawks (7-9): Courtney Upshaw, DE/OLB, Alabama
Upshaw didn't show off athletically the way some thought he would in Indy. He's a better football player than athlete, though.
13. Arizona Cardinals (8-8): Jonathan Martin, OT, Stanford
Martin's size and athleticism will get him a chance start right away in the NFL.
14. Dallas Cowboys (8-7): David DeCastro, OG, Stanford
Mauling interior lineman is arguably the best in the draft.
15. Philadelphia Eagles (8-8): Luke Kuechly, LB, Boston College
An elite football prospect with high game IQ, Kuechly showed off better-than-expected athleticism in Indy. He'll be an immediate star.
16. New York Jets (8-8): Cordy Glenn, OG, Georgia
Good athlete and showcased his great versatility.
17. Cincinnati Bengals (via OAK 8-8): Dre Kirkpatrick, CB, Alabama
With a rare combination of size, speed and athleticism, Kirkpatrick's negatives are all fixable.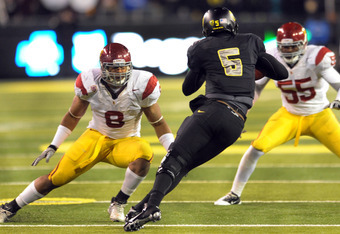 Steve Dykes/Getty Images
18. San Diego Chargers (8-8): Nick Perry, DE/OLB, USC
We knew Nick Perry would have good combine and he didn't disappoint. He possesses a good combination of size and speed for the position, but we still don't know what to expect from him at the next level. USC prospects and unique athletes come and go very frequently, and they don't always pan out.
19. Chicago Bears (8-8): Michael Floyd, WR, Notre Dame
Floyd ran better than expected in Indy and that's just another reason he's going to be a star.
20. Tennessee Titans (9-7): Fletcher Cox, DT, Mississippi State
Cox is one player who performed extremely well in Indy but was overshadowed by Poe's performance.
He possesses great versatility and athleticism for his size, and should only get better—but may not.
Cox has great potential, but there is a chance he never puts it all together.
21. Cincinnati Bengals (9-7): Lamar Miller, RB, Miami
The Hurricanes running back has great speed and playmaking ability and should, at the worst, find himself a great complementary back.
22. Cleveland Browns (via ATL 10-6): Kendall Wright, WR, Baylor
Better athlete than his combine indicated and could become a great receiver. Wright still has a lot of learning to do.
23. Detroit Lions (10-6): Peter Konz, C, Wisconsin
This massive center prospect is too big not to find a spot somewhere.
24. Pittsburgh Steelers (12-4): Dont'a Hightower, ILB, Alabama
Had a good combine will be great for what teams ask him to do.
25. Denver Broncos (8-8): Devon Still, DT, Penn State
Still could be on his way out of the first, but he is one of the best run-stoppers in the draft.
26. Houston Texans (10-6): Mark Barron, S, Alabama
Barron missed the combine, but he's an instant impact starter in the league.
27. New England Patriots (via NO 13-3): Michael Brockers, DT, LSU
The young LSU Tiger didn't perform well in Indy, but his best is still in front of him and teams know that.
28. Green Bay Packers (15-1): Stephon Gilmore, CB, South Carolina
Rising prospect doesn't have a ton of expectation right now, but will be a very good player.
29. Baltimore Ravens (12-4): Janoris Jenkins, CB, North Alabama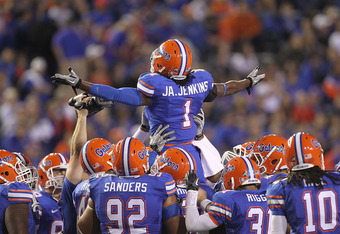 Mike Ehrmann/Getty Images
Jenkins performed well in Indy (even better at the Senior Bowl) but could be one of the draft's biggest tankers if he doesn't figure out his life outside of football.
30. San Francisco 49ers (13-3): Alshon Jeffery, WR, South Carolina
Jeffery has elite potential, but it all hinges on how much he puts in.
31. New England Patriots (13-3): Kendall Reyes, DT, Connecticut
Reyes boosted his stock with a very solid combine and he has the potential to be a key cog in the Pats defense.
32. New York Giants (9-7): Dwayne Allen, TE, Clemson
The Giants can do just about anything but won't shy away from a solid all-around tight end.
*Rams trade No. 2 overall pick to Redskins for 2012, 2013, 2014 first-round picks and 2012 second-round pick.