Michigan Football: Wolverines Shouldn't Worry About Pre-Spring Position Changes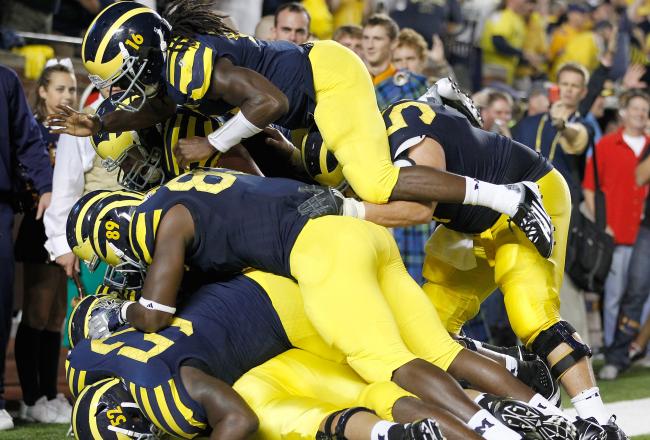 Gregory Shamus/Getty Images
Brady Hoke is coming off a 2011 season that saw his Michigan Wolverines snag 11 wins, cut their points allowed in half from 35 to 17, and get their first BCS bowl appearance since 2007 and their first BCS bowl win in the BCS era. That was all in Hoke's first year, and it's clear that there is plenty of room for the Wolverines to build on that success.
With spring practice set to get fired up on St. Patrick's Day, there were some housekeeping duties for Hoke to take care off prior to starting the football machine: position changes. Here's a quick list of notable moves:
-Ricky Barnum is making the move from left guard to the center spot vacated by the departure of David Molk.
-Michael Schofield going back to his natural right tackle spot.
-Craig Roh is shifting from weak-side defensive end to strong-side defensive end.
-Jibreel Black is shifting from the weak-side defensive end to the defensive tackle spot.
-Brennen Beyer is going from linebacker to putting his hand in the dirt at the weak-side defensive end spot.
The Wolverines are also moving a pair of defenders, linebacker Jordan Paskorz and defensive end Chris Eddins, to the tight end spot in an effort to build depth.
Nothing Earth shattering from the Wolverines who, with Al Borges and Greg Mattison running the offense and defense respectively, look to get their best players on the field and build on their successes from their first season in Ann Arbor.
The biggest moves here, outside of the offense to defensive shift at the tight end spot, will be out of Barnum, Roh and Black. Barnum, despite ongoing injury issues, proved he was capable at the guard position, but the shift to center, as we saw from Mike Pouncey at Florida, is not a smooth transition for some players. Barnum will go from worrying about making the right first step and getting his run blocks and pass protection correct to now adding the initial line calls and making a good snap to his list. With the frequency of shotgun in the Wolverines' offense, the snap has to be perfect time after time to ensure that the rest of the offense runs smoothly.
With Craig Roh shifting sides on the defensive line, we'll see a player moving to the strength of the offense. Largely that means going from the five technique, lined up over a tackle to lining up over a tight end and dealing with the front side of the defense. More running plays coming his way, more double teams in the run game and more quarterbacks with Roh in their sight line as he tries to disrupt pass plays.
Jibreel Black makes an interesting move inside from the end to the tackle position. He is undersized to be a nose tackle, but could find a home as a smaller, quicker three technique. Dealing with guards and tackles on the front side of a formation is as much a man's job as working the nose, and Black brings some quickness that can help get some penetration and disrupt the run.
Ultimately this spring will let us know how the transitions work, but for the Wolverines, their biggest issues will remain getting more production and more consistency out of the passing game. Spring is going to be an exciting time for Hoke's gang as these players grow into their new positions and the plan starts to come together.
This article is
What is the duplicate article?
Why is this article offensive?
Where is this article plagiarized from?
Why is this article poorly edited?