March Madness 2012 Bracket Predictions: Loss of Fab Melo Will Cripple Syracuse
March 13, 2012

Jim McIsaac/Getty Images
Syracuse looked to have a legitimate shot of at least reaching the Final Four before Tuesday's news.
Then Tuesday's news hit.
The school announced Tuesday afternoon that center Fab Melo will not participate in the NCAA tournament because of eligibility issues. He did not make the bus to Pittsburgh to play against No. 16 seed UNC-Asheville.
Now you have the best No. 16 seed in the tournament against the worst No. 1 seed. That can't be good news for the Orange. With Final Four aspirations, it's now possible for Syracuse to lose in the Round of 64.
Melo anchors Syracuse's 2-3 zone defensively and has been pivotal for the Orange all year. Syracuse's only loss in Big East regular-season play came against Notre Dame on Jan. 21, when Melo was out due to academic issues. The Orange also struggled against Cincinnati and West Virginia without the 7'0", 255-pounder.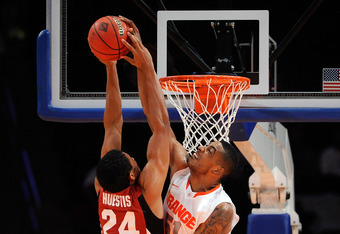 Patrick McDermott/Getty Images
It's obviously a team game and Melo hasn't meant everything to Syracuse, but he has meant a lot. He averaged 5.8 rebounds this season, and he was the Orange's top rebounder. Now you face UNC-Asheville, which has players like Chris Stephenson and Jeremy Atkinson, and you are at a serious disadvantage on the glass.
There's also the fact that UNC-Asheville can score the basketball. The Bulldogs are averaging 81.2 points this season, fifth in the nation, and they move the ball around extremely well (16.6 assists per game, eighth in the country).
It was hard not to like Syracuse headed into the tournament, but now it's hard to like the Orange. You could make the argument that Melo was Syracuse's most valuable player because his absence leaves a gaping hole in the paint.
Follow me on Twitter. We can talk about Syracuse's chances in the NCAA tournament.