NCAA Basketball Tournament Betting: Pac-12 Conference Heading To Las Vegas
March 13, 2012

Are you ready to place your college basketball bets? The Pac-12 Conference certainly is.
Pac-12 Commissioner Larry Scott made the official announcement today at the Las Vegas MGM Grand that the Pac-12 Conference basketball tournament will be heading to Sin City (initial information for this article was obtained via the Las Vegas Review-Journal).
The inaugural event will take place at the Las Vegas MGM Grand March 13-16, 2013. There is currently a 3-year deal between the Pac-12 and the Las Vegas MGM Grand. It's a move with great betting odds in favor of the Pac-12.
You can watch the full announcement of the Pac-12 Conference basketball tournament's move to Las Vegas here.
Currently the Mountain West, WCC and the WAC host their tournaments in Las Vegas during March. With that much college basketball going on, you can bet there will be a lot of gambling and even some March Madness of a different nature in Vegas.
During the official announcement it was revealed that an estimated 30,000+ attendees currently go to the NCAA basketball tournaments held in Las Vegas. The Pac-12 Conference basketball tournament's move there is expected to add 50,000+ attendees, $27 million in non-gaming revenue, and 500+ jobs. 
It's fitting that this year's Pac-12 Conference basketball tournament champion, the Colorado Buffaloes, will be facing the UNLV Runnin' Rebels in the second round of the 2012 NCAA basketball tournament.
The Vegas odds on that match are strongly in favor of the Rebels. Unfortunately for the No. 11 seed Buffs, historically No. 11 seeds upset No. 6 seeds less than No. 12 seeds upset No. 5 seeds.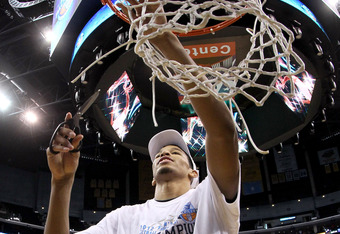 Stephen Dunn/Getty Images
The Pac-12's other representative in 2012's March Madness, No. 12 seed Cal, is in the play-in first round for a chance at that sweet spot. If the Bears can get past No. 12 seed South Florida in their first match, they'll face No. 5 seed Temple in the second round.
With the No. 12 seed over No. 5 seed historically being the peak of the bell curve for tournament upsets, this is one match with which you may want to bet on the Pac-12. 
March Madness results in more than $1 billion in wages paid to distracted workers and $2.5 billion in illegal gambling. The Pac-12 does not need to worry about further contributing to illegal college basketball betting, as gambling is legal in Las Vegas. 
According to information given at today's Pac-12 press conference in Las Vegas, the MGM Grand has an estimated basketball capacity of 14,000 to 15,000. Attendance for the Pac-12 basketball tournament has been down for the past four years, but the lure of Vegas' bright lights is sure to reverse that trend. 
It's hard not to gush over Pac-12 Commissioner Larry Scott, as the man is a visionary. Commissioner Scott was behind adding Colorado and Utah to the Pac-12, resulting in a college football title game in the Pac-12. He was also behind establishing the Pac-12 Network, which starting later this summer will broadcast all Pac-12 men's football and basketball games not carried by ESPN and Fox.
In regard to ESPN and Fox, Commissioner Scott landed a reported $3 billion deal for the Pac-12, the largest of any conference. The Pac-12 Conference basketball tournament games will be televised through ESPN, Fox and the Pac-12 network.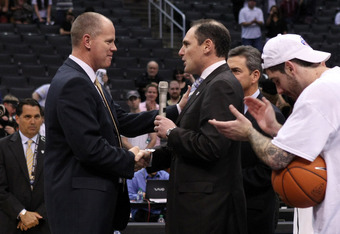 Maxx Wolfson/Getty Images
Larry Scott was also instrumental with the Pac-12-Big Ten alliance. Through that partnership, starting next season, and being fully implemented in 2017, there will be increased inter-conference game scheduling between the two leagues.
The added games from the Pac-12-Big Ten partnership could provide many additional games against top ranked teams. This season Pac-12 basketball only had 12 games against AP Top 25 teams. Additional ranked games—and, more importantly, wins—could help Pac-12 men's basketball reclaim its position as one of the leading conferences in the NCAA.
With no Pac-12 schools in the state of Nevada, hosting the conference basketball tournament in Las Vegas will also help to provide a more neutral site.
With only two representatives in the 2012 NCAA tournament, the Pac-12 is making major steps to get more national exposure and continually be an innovator among its peers. The Pac-12 seems to have hit the jackpot when they gambled on hiring Larry Scott, a Harvard alum and former professional tennis player, in 2009.
You can bet a lot of Pac-12 basketball fans will be excited over this move of the Pac-12 men's basketball tournament to Las Vegas.