UNLV vs. Colorado: Game Time, TV Schedule, Spread Info and Predictions
March 13, 2012

Ethan Miller/Getty Images
The No. 6 vs. No. 11 matchup in the South region pits Mountain West at-large selection UNLV against Pac-12 champion Colorado.
UNLV (26-8) finished third in its conference in the regular season with a 9-5 record against league opponents. Despite getting knocked out in the Mountain West tournament semifinals by New Mexico, the Rebels were a shoo-in for an at-large berth to the Big Dance on Selection Sunday.
The Buffaloes, on the other hand, were not viewed as a tournament team at the end of the regular season, but the boys from Boulder embarked on a storybook run through the Pac-12 tournament that culminated in a conference championship and an automatic bid to the Big Dance.
Where: Albuquerque, New Mexico at "The Pit" on the campus of the University of New Mexico
When: Thursday, March 15 at 9:57 p.m. ET
Watch: truTV
Listen: ESPN 1110 AM (Las Vegas) and 98.9 KWWN (Las Vegas) are the flagship radio stations for UNLV. KKZN 760 AM (Boulder) is the radio affiliate for Colorado.
Betting Line: UNLV -4.5 according to Ceasars-Hilton and MGM Mirage
Key Injuries: Neither team has reported any injuries according to USA Today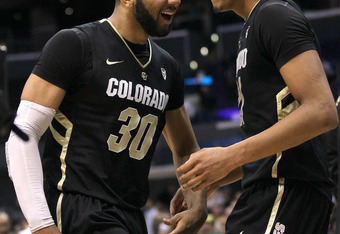 Stephen Dunn/Getty Images
What's at Stake?
The winner of Thursday's second-round matchup will advance to the third round to take on the winner of No. 3 Baylor and No. 14 South Dakota State.
What They're saying
ESPN.com's Eamonn Brennan talks about how UNLV has fared of late while also highlighting three of the Rebels top players:
"Speaking of UNLV, the Rebels enter the tournament just 5-5 in their past 10 games, but it's important to remember this is the same team that beat North Carolina early in the season and -- with Mike Moser, Oscar Bellfield and Chace Stanback -- is a very talented one to boot."
Pat Forde of Yahoo! Sports offers a look into Colorado's path to the NCAA tournament and how the Buffs avenged a snub to the Dance a year ago:
"The Buffaloes were swept on a season-ending trip to Oregon and Oregon State but regrouped for the Pac-12 tournament and won four in a row to capture the automatic bid in that train wreck of a conference. After being stiffed by the NCAA selection committee last season as a member of the Big 12, Tad Boyle's team didn't leave its postseason future in the hands of anyone else this time around."
Most Important Player to Watch: Colorado Forward Andre Roberson
Roberson is just a sophomore, but he is the best player on Tad Boyle's roster. He will have to bring his A-game if his Buffaloes have any shot on pulling off this first-round upset.
Roberson led the Pacific-12 Conference with 11.1 rebounds per game while also averaging 11.6 points. He tops Colorado's stat sheet in steals (1.2 per game) and blocks (1.9 per game). Roberson's versatility makes him one of the best defenders in the Pac-12.
Key Matchup: Battle of the Boards
The winner of this contest could very well be decided by who wins the rebounding battle. UNLV averages an impressive 37.8 rebounds per game, good for 34th in the country.
The Rebels also have a distinct height advantage with the duo of 6'8" forwards Mike Moser and Chase Stanback as well as 6'10" center Brian Massamba and 6'11" Carlos Lopez off the bench.
UNLV's run-and-gun style is fueled by its ability to corral the rebounds and if Roberson and company can control the boards for Colorado, they might have luck stymieing the Rebels' up-tempo attack in the process.
Prediction: UNLV 78, Colorado 69
Colorado's Cinderella run will come to a close in Albuquerque. The Buffs fatigue from playing four games in four days in the Pac-12 tournament combined with their inability to keep pace with UNLV's rebounding and offensive prowess will ultimately doom Colorado on Thursday.
Look for Dave Rice's squad to pull away in the second half on its way to a second-round matchup with either Baylor or South Dakota State.