NBA Trade Rumors: Cavs, Hornets Talking Antawn Jamison for Emeka Okafor Deal?
March 13, 2012

Harry How/Getty Images
As reported by Jason Lloyd of the Akron Beacon Journal, the Cleveland Cavaliers and New Orleans Hornets have had discussions about sending center Emeka Okafor to the Cavs in a salary-shedding move that would send a first-round pick to Cleveland.
While he claims that the Hornets declined, official terms and players were not detailed. If the NBA Hornets change their mind and wish to save money, there are a couple ways this deal could go down.
First off, we have to identify what both teams would want to get out of this potential deal. 
New Orleans would obviously like to create more cap room and trading Okafor to a team with money to spare like the Cavs would make sense for them. 
Cleveland has been seeking a second first-round pick for a while and trading with a team with two, like the Hornets (their own plus the Timberwolves'), also makes sense.
To be clear, the Hornets will not trade their own pick, as it's projected to fall in the top three overall. The Minnesota pick is looking more attractive though, as star rookie Ricky Rubio was recently lost for the season with a torn ACL.
Currently, the Minnesota pick would fall around No. 16—an excellent value in a draft as deep as this one appears to be. 
So which players besides Okafor would be involved?
If the Hornets want to save money, they'll want an expiring contract. Okafor is owed $12.5 million this year and $28 million combined the two years after that.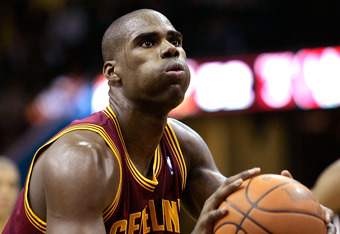 Mike Lawrie/Getty Images
As Lloyd points out, that deal is strikingly similar to the Baron Davis deal last year, in which the Cavs acquired a pick that eventually netted them Kyrie Irving.
Antawn Jamison would be the prime trade candidate with an expiring $15 million deal. A trade like this would also be great for Jamison, as he would likely be bought out and free to sign with a contender.
Since the Hornets have reportedly turned down previous Cavaliers offers, Jamison's expiring deal may not be enough as Cleveland may have to package a young player or future draft pick with him. 
If I'm Cleveland, I give New Orleans a list:
1. Take Antawn Jamison's expiring deal.
2. Take your choice between Christian Eyenga, Luke Harangody, Ryan Hollins or a future first-round pick from Miami.
Giving up one of those players or a future late first-rounder via Miami would definitely be worth a mid-first-rounder this season.
Here's how a final deal could shake out:
Cavaliers Receive: Emeka Okafor, 2012 first-round pick (via Timberwolves)
Hornets Receive: Antawn Jamison, 2013 first-round pick (via Heat)
This is a deal I believe could work for both teams, as Cleveland can afford to take on Okafor as it won't need to extend Kyrie Irving or Tristan Thompson before Emeka's contract runs up.
Cleveland gets a mid-first-round pick this season and New Orleans saves money it can use to extend Eric Gordon while getting an additional first-rounder for next season.
The Cavaliers would be wise to revisit these talks, and this time New Orleans should pull the trigger.