The Top 5 Strikers in MMA Today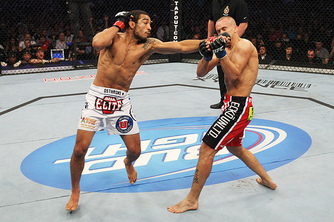 Josh Hedges
The best fighters on the face of the earth enter into the cage confident of their ability to break the will of their opponent. Then something funny happens. They get a shin bone crashing into their jaw. Game over.
Just as NBA stars get "in the zone," a striker must learn how to make the zone his home. He must see everything in "bullet-time" and allow his body to react off instincts.
Striking is an art not of just technique and timing, but also of intense physical and mental conditioning that takes years to congeal. You may not be as awesome a striker as you think you are when your bones break under the force exerted from your own muscles.
These are the best strikers in the world of mixed martial arts today.
Begin Slideshow

»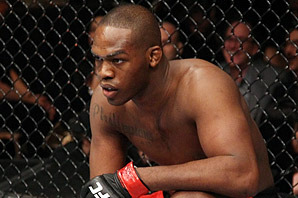 Zuffa/Getty
Jon Jones possess nearly unparalleled diversity and ingenuity in his strikes. The only thing holding the youngest champion in UFC history back is he is still very much in the midst of his development.
Jones (in)famously got his start in striking by mimicking YouTube videos. The fact that he is still honing and fine-tuning his standup game was most evident in the first round of his most recent title defense against Lyoto Machida. A moment where he briefly lost a battle of timing and precision to the Karate master.
With a rare athleticism, he uses grappling and takedowns to complement his tremendous striking arsenal. But from a pure striking standpoint, the UFC light heavyweight champion is still progressing.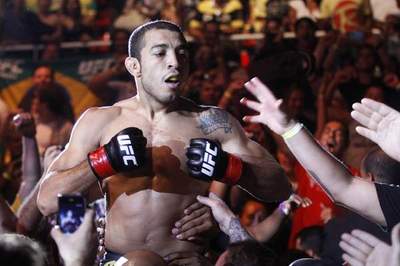 Felipe Dana/AP
Against two of the most talented and disciplined strikers in the division, Mark Hominick and Kenny Florian, José Aldo was able to display his superiority by out-pointing them through the course of five-round contests.
Of course, the other way that Jose Aldo displays his superiority is through absolutely brutal knockouts.
Most recently, Aldo dispatched of No. 2 featherweight Chad Mendes with a perfectly-timed knee to the face.
With brutal kicks, knees and punches, featherweight king José Aldo looks nearly untouchable.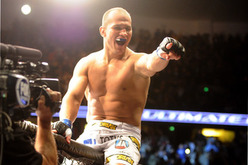 In a division traditionally defined by massive fighters' ability to give and receive punches, Dos Santos has risen to the top and become the world's No. 1 heavyweight, due almost entirely to his tremendous boxing skills.
Coached by Brazilian boxing trainer Luiz Dorea, Dos Santos has finished fellow strikers in Gilbert Yvel and Mirko Filipovic, both of who have extensive mixed martial arts and kickboxing backgrounds.
Throw in an incredible UFC winning streak and knockouts of highly-regarded fighters Cain Velasquez, Fabricio Werdum, Stefan Struve and Gabriel Gonzaga, and you have the baddest man on the planet.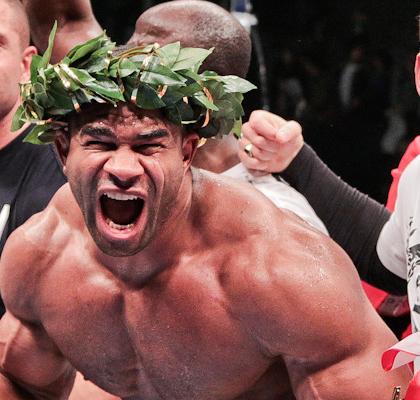 Dutch striker Alistair Overeem has been competing in professional MMA and kickboxing for over 10 years.
In 2010, he won the most prestigious title in the world of striking, the K-1 World Grand Prix Championship.
Although the K-1 organization is in its death throes, Overeem's accomplishments stand out.
In his current 12-fight unbeaten streak, the 31-year-old Overeem has knocked out durable heavyweights with punches, knees and body kicks.
He will carry his tremendous momentum into a May 26 encounter with UFC champion Junior Dos Santos to see who the sport's ultimate powerhouse is.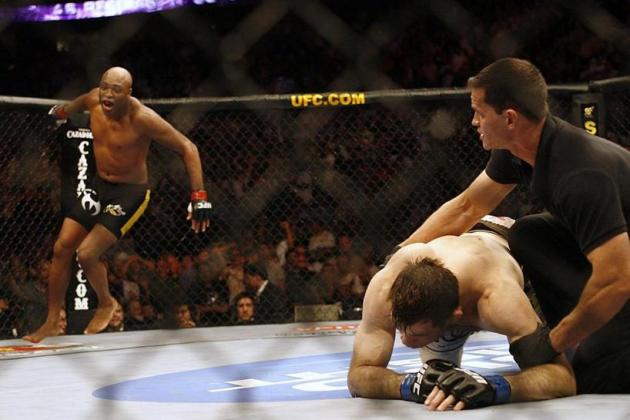 A disciple and master of "the Art of Eight Limbs" (muay Thai), UFC middleweight champion Anderson Silva has knocked out opponents with his feet, hands, knees and elbows.
Also an expert or student in essentially every major martial art, there is no aspect of striking in which Silva is not superlative.
Strikes as a stroke of the artist's brush and movement as a line of the poet's verse—Silva's striking is a craft to behold.