WWE WrestleMania 28: How Badly Are the Title Matches Being Cheapened?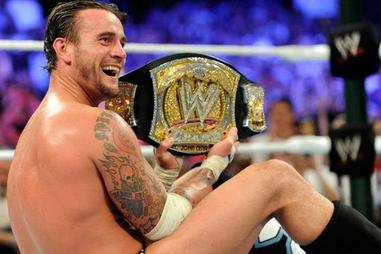 whatculture.com
I absolutely love the WWE. I have since I was 10 years old.
But I have a huge problem with how they represent—or don't represent—their championship titles.
Of course, as "sports entertainment" the No. 1 priority of the WWE's Superstars and Divas is to be entertaining, and not necessarily to win titles. Some of the greatest and most revered performers in WWE history are certainly lacking in the championship gold department.
However, those who have earned the right to hold titles should not only showcase their accomplishment, but defend it. To have a fighting champion is the only way to establish and maintain the credibility of a championship.
In today's WWE, however, even the coveted WWE Championship seems to be treated as nothing but an accessory. Because of this many of the titles aren't taken seriously, and their long, storied histories are becoming less and less significant by the week.
You would think going into WrestleMania, arguably the biggest and most important event in all of professional wrestling, the WWE would want to build up matches that place importance on all of their titles.
Well unfortunately, that hasn't been the case.
Begin Slideshow

»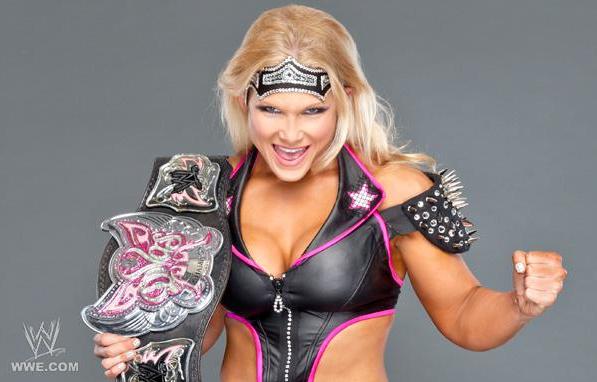 WWE.com
There are currently six title belts in the WWE. As of right now, only half of them are being defended at WrestleMania 28. The ones still left off the card are not coincidentally the three least-respected titles in the WWE: the Tag Team Championship, the U.S. Championship and the Divas Championship.
In my opinion, this really stinks. I miss the glory days of tag team wrestling, the U.S. title is the most aesthetically pleasing belt in the company and as a woman and a fan of women's wrestling I really would like to see Beth get out there and properly defend her title.
With just under three weeks until WrestleMania there is still a feasible amount of time for matches for these titles to be built up, and with only five bouts on the card so far they probably will throw at least two of them on there.
But that doesn't mean those matches will help to bring up the level of respect for the titles.
I'm hoping that Santino will bring up the reputation of the U.S. title, if even just a little bit. While he is mainly a comedy act, he is extremely over and can actually wrestle. If he does get a title defense at WrestleMania, I hope it's against David Otunga and not Jack Swagger. Considering the current feud between Teddy Long and John Laurinaitis, a match between their "assistants" would make sense. Besides, I'd rather watch Otunga than Swagger any day of the week.
As tag team champions, Primo and Epico have done a pretty good job considering the general lack of a tag division. Unfortunately, it doesn't seem like the WWE is making any effort to build them or any other tag teams up—especially after seeing Kane completely destroy the champs a couple of weeks ago on RAW.
As for Beth Phoenix and the Divas title... when was the last time she was even on TV? It doesn't make any sense whatsoever to me that the WWE is choosing to highlight Eve's "hoeski" turn and Natalya's flatulence issue over their Divas champion.
At this point I'm just hoping and praying that Kharma is up for a return at WrestleMania.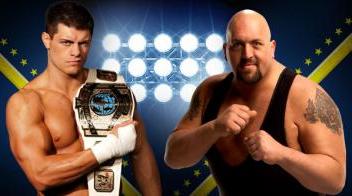 WWE.com
Remember when Cody Rhodes first won the Intercontinental Title, brought back the classic white belt and everyone thought he would restore the championship to its former glory?
Yeah, that hasn't happened.
At 216 days and counting, Rhodes is the longest-reigning IC champ since Shelton Benjamin in 2004; but the number of times he's defended his title since winning it last August can be counted on one hand.
Again, a fighting champion is what makes a title belt credible.
Sure, he's defending his title at WrestleMania. But he's defending it against Big Show, and this feud feels completely thrown together.
A month ago Show was still hoping to get his hands on Daniel Bryan's World Heavyweight Title. Then, for no real reason, Rhodes started poking fun at Show by airing embarrassing footage of him on SmackDown. Now as a way of "getting back" at Rhodes, Show has been granted a title shot.
Maybe I'm biased because I honestly am flat-out over Big Show. I wish he would retire and go away. But I much rather would have seen Cody defend his belt against a younger guy vowing to do more with the Intercontinental title than Rhodes has.
It would probably involve having to turn someone face as SmackDown is rather heel heavy at the moment, but at least it would highlight the title and not Big Show's dimply backside.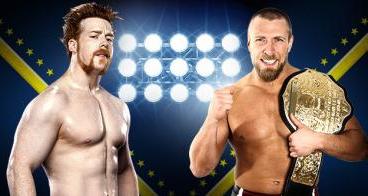 WWE.com
Of all the title matches on the card, the World Heavyweight Title match is probably the one that is most about the title involved. Sheamus won the Royal Rumble and has set his sights on SmackDown's top prize, period.
And honestly, now that I think about it, I can't come up with any real argument for how the WWE is cheapening the title in this match.
Sure, Daniel Bryan has mostly cheap victories to his name, but he's playing his role as the heel extremely well. On the flip side, Sheamus is also playing his role as face and is over with the crowd.
Of course, all that doesn't mean that the WWE won't find some way to ruin things in the coming weeks.
The only way I can see this title match being cheapened is by way of overkill. Bryan has been involved in a lot of different things, from his emotionally abusive relationship with AJ to the feud between Teddy and Johnny.
If the WWE pulls either of those things into the title match they need to be careful about how they do it, because there's a fine line between enhancement and overkill.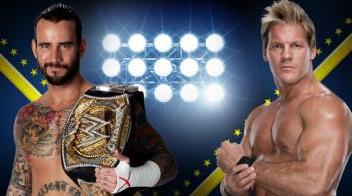 WWE.com
I'll cut right to it: This match isn't about the WWE title. It's about the title of "Best in the World."
In all likelihood the right to hold the WWE championship is wrapped up in what it means to be "Best in the World." After all it is the top prize in all of professional wrestling, with a history longer than half a century.
But the real issue between these two is that Jericho thinks Punk is a Jericho wannabe and Punk thinks Jericho is a jealous has-been.
It's a feud about them and their respective legacies, not the legacy of the WWE title itself.
Again, the importance of the WWE championship is likely attached to those legacies in one way or another. But the WWE title is not the core of this feud—Jericho and Punk's egos are. All in all, the WWE title could be completely absent from this bout and it really wouldn't make a difference.
While that fact doesn't necessarily cheapen the title, it certainly doesn't add anything to it, either.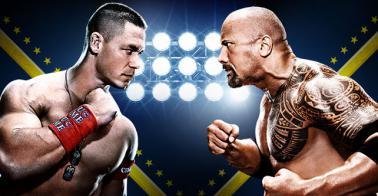 WWE.com
Perhaps what's cheapening WWE's titles most of all is the most hyped match on the card: John Cena vs. The Rock.
For a while now, non-title matches involving Cena have taken precedence over any other title match, including the WWE title match.
To me, that just doesn't make any sense.
Sure, John Cena is a huge draw for the WWE and is basically the face of the company, and his match against Rock is going to be an absolute clash of the generations.
But if the champions have worked so hard to earn their titles, they more than deserve to be treated as champions. That means WWE should treat their titles as championships, and not just as belts that are a glittery addition to a Superstar or Diva's wardrobe.
Hopefully they'll realize that sooner rather than later, before every single title in the WWE means absolutely nothing at all.
Katie Gregerson is a pro wrestling trainee turned pro wrestling journalist and blogger. You can read her posts for theScore's Aftermath blog, subscribe to her blog Ring the Bell!, and follow her on Twitter @katiegregerson