Pro-Style Offense, Big Boy Defense and Grits: A Casual Introduction
March 12, 2012
Kevin C. Cox/Getty Images
What's going on, folks? I'm Michael Felder, and I'm your newest college football blogger here at Bleacher Report. I see that you all have recently gotten yourselves acquainted with my colleague Adam Kramer, and I hope that my reception here is just as warm.
For starters, let's answer the questions you all have upon seeing that this yahoo has been tagged as one of the lead bloggers:
Who is Michael Felder?
I'm a 27-year-old who lives in the old north state—Charlotte, NC to be specific. Born in Fayetteville and grew up in Charlotte before skating up to UNC.
Spent 2003-2006 on the football team playing the awesome role of reserve defensive back. That means a lot practice, a lot of film, a lot of getting yelled at and a lot of running as fast as I can to smash my head into things.
Loved every minute of it for so many reasons. Met some of my best friends while playing for Coach Bunting. Learned a lot about football from sitting in hours and hours of meetings, and ultimately my coaches and teammates really set me on the path you are now following.
I wasn't big (for which I am still blaming my parents) and I wasn't fast (again, parents' fault), but I digested all that I could from those meetings and executing plays on the field. What I ended up with is a unique knowledge base that comes in handy when discussing the nuance of the game.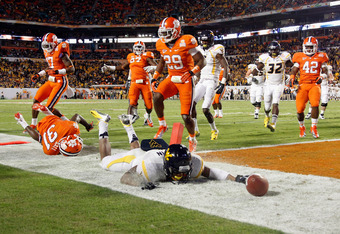 Mike Ehrmann/Getty Images
How Did You Get Here?
I'll spare you the entire history, but to put it quickly, I wrote some stuff and people liked it. I wrote more stuff and people liked it more. I wrote more stuff and I found myself in a position to take over In The Bleachers as the previous owner was unable to continue running the site.
I ran that podcast and the site pretty well from 2009 going forward. As the Twitter account grew in popularity and the site itself blossomed through 2011, the folks here at Bleacher Report caught wind of what I was doing and decided to give me a shot.
What to Expect
Now that those two questions are out of the way, I can honestly say I'm quite excited to kick this thing off. I figure I might as well let you know what to expect. For starters, as I'm sure you've noticed already, I say "folks" plenty. It's what I use instead of people or someone or them. I'd be lying if I didn't say I'm somewhat southern—I eat grits and I'd take a biscuit over a bagel any day of the week.
That said, don't worry about some sort of a southern bias anywhere but the kitchen, y'all. Football is football, and since I'm a guy who did his time in the ACC, I don't really have the same sort of bias that some SEC folks might.
Mostly that's because we aren't that good, so whether you're Big Ten, Pac-12, SEC or Big 12, we're still looking up to you. Shoot, after the 70-33 whipping Clemson took from the Big East champ, maybe that's where the line starts.
As far as content, I'll be delivering you all the best I've got in the way of quick takes on issues, as well as some long form writing where I really get down-and-dirty breaking football down. You'll even get to see this quite pretty face on some videos.
I'm not a huge stats guy, so don't expect a lot of numbers to get thrown into your face. But I do swear by watching teams play, so when I've got an opinion you better believe it is rooted in what I've seen out there on the field.
The last thing you all ought to know is that I love college football, folks. Sure, the NFL is a higher quality game and is the ratings monster for American sports. Sure, college football has so much ugly from an NCAA-player-advocacy, totally-screwed-up-system standpoint. But yes, even with those flaws, this is the sport that I absolutely love.
Largely, that's because of the players. Not the good players or the bad players, but just "the players" as a collective. I know that struggle. I know that life. There's some good to it, and there's some bad to it. But ultimately, it's because of those 17-to-23-year-olds—25 if we're talking BYU—that I really respect the work being done and wish success to all of them.
I love pro-style offenses. I love 4-3 under front defenses. I love 3-4 defenses where the Jack is a monster. I love weakside cowboys. I love first-down screen calls. I love a quarterback that sells play action. I love wall returns. I love sky kicks. I love college football.
I'm ready to kick this thing off and looking forward to giving you all your daily fix for all that is going on in the college football world.
Be sure to follow me on Twitter as I am quite active. I'll be honest, though—I tweet a lot. I'll spoil your television shows, but it is all worth it because I'll respond to whatever questions you all may have.
In that same vein, be sure to shoot me comments on Bleacher Report or through Twitter, and every Thursday I'll be answering them for your benefit.