SEC Championship: Vanderbilt Knocks off No. 1 Kentucky for the SEC Title
March 11, 2012

Chris Graythen/Getty Images
The Vanderbilt Commodores took down the giant, cut down the nets and are now the SEC champions.
Vandy players hoisted the SEC Championship trophy today as they beat the No. 1 Kentucky Wildcats 71-64 in New Orleans.
Vandy upset the best team in the nation and this is the first SEC Title for Vanderbilt since 1951, when they coincidentally beat Kentucky 61-57.
When the 'Big-3" for Vandy produces, they are a deadly team. Jeffrey Taylor had 18 points, Festus Ezeli had 17 and John Jenkins had 17 as well. 
Vanderbilt stuck with a man-to-man defense on Kentucky for the majority of the game, clogging the middle and stopping easy buckets from Davis.
By stuffing the middle, the Dores left the three-point shot open for UK. It was a gamble Vandy had to take, and it paid off as Kentucky went 6-28 from long range.
Vanderbilt's John Jenkins, the best shooter in the SEC and possibly the nation, had little room to shoot the three, but found a way to get to the free-throw line and score points.
Jenkins was contained to only 3-10 from downtown, but was 8-9 from the free-throw line, helping Vanderbilt stay in the game, especially late in the second half.
Ezeli shot 5-9 from the field and was very effective in powering through Anthony Davis, getting to the foul line, and not fouling out.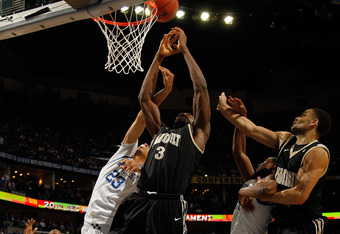 Chris Graythen/Getty Images
A huge spark for Vandy was the fearless play of freshman Kedren Johnson off the bench, who finished with 23 minutes, six points and had the biggest play of the game: a three-point-play that put VU up three with 1:30 left to play.
Also, the Dores finished the game with a 16-2 run in the final 5:23 as UK went ice cold and Vandy took advantage, locked down with a 2-3 defense and executed.
Kentucky will undoubtedly still receive the overall number one seed in the NCAA tournament, but after perfectly going through the SEC season, they slipped and are not SEC champions.
Vanderbilt is projected to get anywhere between a four-seed and a six-seed, and this win will definitely work in their favor.
This is a great step for Kevin Stallings and gives the Commodores much needed momentum heading into the tourney.
Vanderbilt played Kentucky the hardest of any opponent in all three match-ups this season, and the third time was the charm.
The Commodores outplayed, out-hustled and out-coached Kentucky and now they are the Southeastern Conference Champions.
How will Kentucky respond to this loss in the tournament? Better yet, how deep can Vandy go if they execute like they did today against the best team in the NCAA?