NBA Trade Deadline 2012: Why the Dallas Mavericks Need to Aquire Steve Nash
March 10, 2012

Christian Petersen/Getty Images
Jason Kidd has been great in Dallas. He's helped the team win an NBA title, been a steadying presence for the offense and has been a leader for the team.
But now, Kidd has become a bit of a hindrance. He can't guard the quicker guards on the defensive side of the floor and on offense he has no ability to penetrate becoming an average spot up shooter. This is why, at the NBA trade deadline, the Mavericks need to look for help at the 1.
The perfect fit for the team happens to be available and to boot he's Dirk Nowitzki's best friend. Steve Nash, the former Maverick All-Star, is what the team needs to get out of its current slump. He would bring an infusion of energy to the team and a much needed spark offensively.
Nash is currently averaging 13.7 points a game and 10.9 assists. These may not sound like the greatest numbers in the world, especially in the points category, but remember its Nash's playmaking ability that really makes him special. He makes each and every player around him better, and you can see it in how ineffective Phoenix is when Nash is out of the lineup.
That type of ability to make others better has been what has separated Kidd throughout his career as well, however, this season he's just not getting it done. He is averaging career lows in points (5.6), assists (5.4), rebounds (4.1) and minutes played (28.3).
 Most of this can be attributed to age, but the Mavericks can't afford to use this as an excuse. This is a team looking to repeat on an NBA championship, and to do so a quality point guard is a must.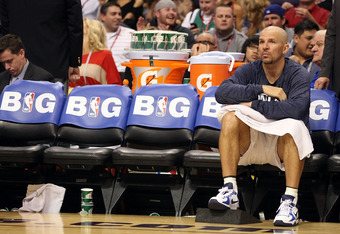 Christian Petersen/Getty Images
Nash certainly qualifies as quality. He's a two-time league MVP and despite being 38 years old is still very effective, unlike the Mavericks' 38-year-old point guard.  
Nash isn't the best defender in the world but he can guard the other team's 1, unlike Kidd who always has to slide over to guard the opposing 2 guard when the Mavs come up against any point guard with a quick first step.
If the Mavericks can find a way to make this trade, it would give them some depth at the position, as currently they have no real backup at point. Jason Terry, Dominique Jones, Delonte West and Rodrigue Beaubois are all combo guards who are more effective looking to score as opposed to making their teammates better.
Nash has said repeatedly that he is not actively seeking or requesting a trade out of Phoenix to a contender. But the Suns would be foolish not to shop the soon-to-be-free agent, as he will leave this summer either way, and they should try and at least get some value back for the face of their franchise.
Dallas does not have a ton they could send back to the Suns in terms of value, but they could send over a young talented player like Beaubois or Jones and the expiring contract of Kidd for Nash, clearing up some cap space for the Suns and giving them a piece to build around in the future.  
Plus, many in the league feel that it is the Suns' obligation to trade Nash to a contender, and allow him to seek a ring in his limited time left in the league.
Mavericks fans have fond memories of Nash from his time in Dallas, and if Mark Cuban could manage to pull a rabbit out of his hat and acquire Nash once again, the memories would become reality because Nash would give the team the opportunity to repeat.
Sure, it would be at the cost of Kidd, but his place in history is already secure. While Mavs fans will always appreciate what he's done in Dallas, at this moment he is just not the right man to lead the Mavericks back to the finals.