2012 NFL Free Agency: Grading Impact of LaRon Landry to New York Jets
March 19, 2012

NFL Photos/Getty Images
The New York Jets finally made a splash in free agency earlier today, with NFL insider Adam Schefter reporting that New York reached an agreement with safety LaRon Landry on a one-year, $4 million deal. 
Safety has been a top priority for the Jets all offseason, as the team has been in dire need of improvement in interior pass coverage. 
New York made an offer to Reggie Nelson earlier this week, but the rising star opted to stay with the Cincinnati Bengals instead. 
Even with Landry in the fold, the Jets now only have two safeties under contract—Landry and Eric Smith. 
Smith struggled mightily last season in a starting role, as he was a liability in both pass coverage and rush defense.
Jim Leonhard, New York's starting safety over the last few seasons, is also a free agent. Leonhard is a solid starter and locker room leader, but he dealt with season-ending injuries in each of the past two seasons.
Landry has the potential to be a star in the league, as he is still relatively young and boasts a phenomenal physique. However, the ex-Redskin has had troubles with injuries his entire career and he has played in just 15 games over the past two seasons.
When on the field, Landry excels in blitzing and run defense. His massive physical frame allows him to play as a linebacker of sorts. He will be sneaky at the line of scrimmage and will benefit Gang Green's pass rush significantly.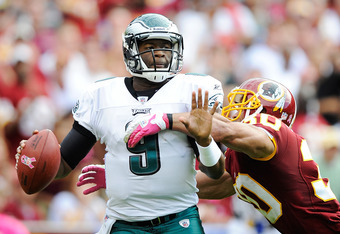 Patrick McDermott/Getty Images
Pass coverage is not Landry's strong suit, so he is definitely not the answer to the Jets interior pass coverage woes. 
The Jets must still acquire another solid safety through free agency or the draft, but pickings are slim in both. This is not a good offseason to be in the need of a safety.
Mark Barron out of Alabama is undoubtedly the best option, but New York will have to spend a first-round pick in order to get him. Barron has great size and his forte is pass coverage. 
Despite a lot of questions, Landry is a solid signing for the Jets. He is a risk-reward player, but the rewards outweigh the risk of just a one-year deal. 
Taking everything into account, I give this move a B+. New York is heading in the right direction and this move will definitely help return New York's defense to it's previously elite form.