San Francisco Giants: 10 Bold Predictions for the 2012 Season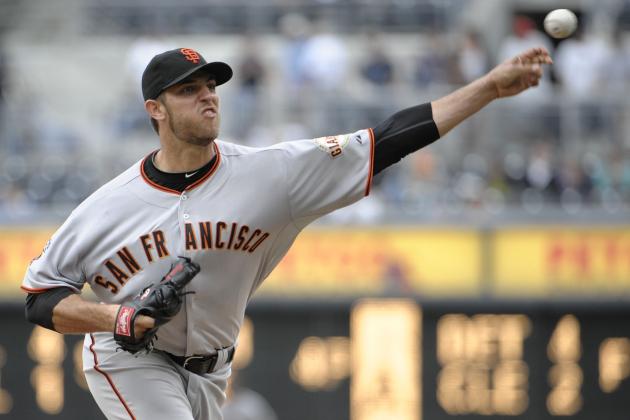 Denis Poroy/Getty Images

Now that we are under a month away from the San Francisco Giants season-opener against the Arizona Diamondbacks on April 6, it's time to make some bold predictions for 2012.
The 2011 season was one to forget for the Giants.
Just one season prior, it seemed like everything went their way. The injury bug was non-existent, Aubrey Huff and Andres Torres had career years. Heck, even Ian Kinsler's double that bounced back into play in Game 2 of the World Series defied the laws of physics.
So what kind of luck are the Giants going to get in 2012?
If it's at all reminiscent of 2010, my 10 bold predictions certainly have a good chance of coming to fruition.
Begin Slideshow

»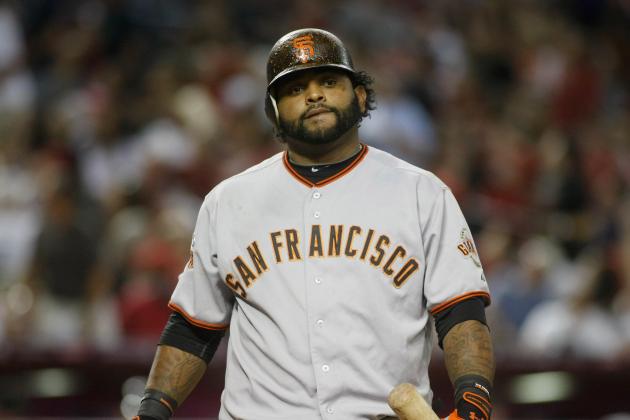 Ralph Freso/Getty Images

Despite the reputation that Pablo Sandoval has earned around baseball as being one of the premier offensive 3rd baseman in baseball, he has still yet to drive in at least 100 runs in a season.
The closest he came to accomplishing this feat was 2009 when he drove in 90.
He might've been able to reach 100 RBI last season, but a fractured hamate bone forced him to miss 41 games and to settle with a moderate 70 RBI.
If Sandoval continued at that pace, he would've finished with around 97 RBI, and that doesn't even factor in that Pablo was just about to get hot right before his injury occurred.
Now as we head into the 2012 season, Sandoval will likely be batting in the cleanup spot behind Angel Pagan, Melky Cabrera (possibly Freddy Sanchez, depending on whether he's healthy or not) and Buster Posey.
All four of those hitters have the ability to get on base, which should give Sandoval many more opportunities to drive in runs.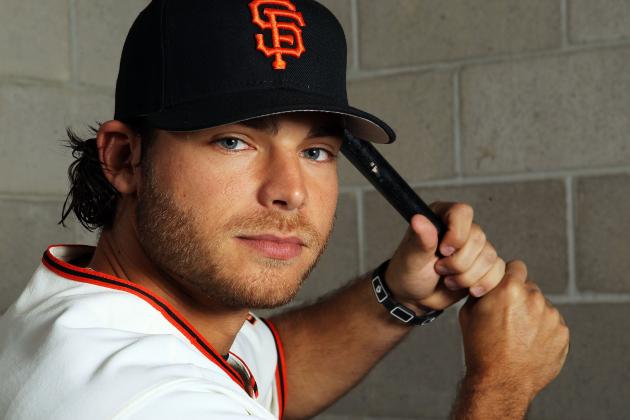 Jamie Squire/Getty Images

I haven't given up on Brandon Crawford when it comes to his offensive production, and neither should you.
Despite his unappealing triple-slash of .204/.288/.296 in 2011, Crawford did give us a few reasons to feel encouraged about his potential as a hitter.
First of all, he displayed excellent pitch selection and plate discipline last season, which is promising to see from a rookie. He has yet to put it all together and consistently make solid contact with the ball, but that could come in time. But the fact that he's patient at the plate and consistently puts himself in hitter counts is a solid building block.
Furthermore, Crawford never had the luxury of playing in triple-A, which is the level that hitters tend to iron out the kinks in their swing before they face major league pitching. Instead, Crawford made the jump from double-A to the major leagues, which is hard for any prospect to do.
The Giants would be ecstatic if Crawford was able to hit .240 next season, but I think he's capable of more.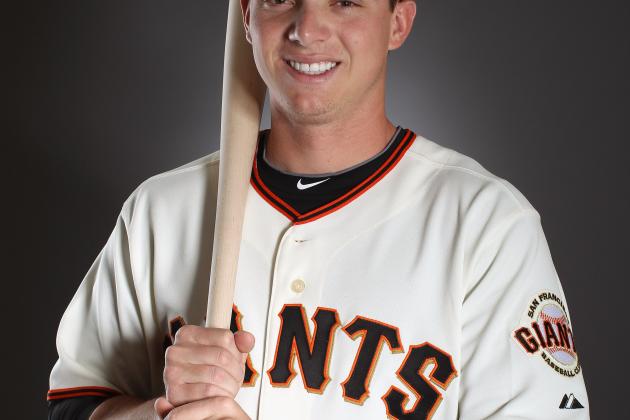 Ezra Shaw/Getty Images

Remember what Darren Ford was able to do for the Giants in 2010?
He was the fastest player the organization had seen in years, and Bruce Bochy used this to his advantage.
Ford was occasionaly sent in to pinch run late in games when the Giants needed a run. With his blazing speed, he was single-handedly able to win games for the Giants on the base paths, and this play perfectly demonstrates that point.
So what does this have to do with Gary Brown?
As it turns out, Brown is just as fast, if not faster than Ford, and has the ability to put pressure on the defense when on base.
I believe the Giants will call Brown up late in the year and take on a role similar to Ford's back in 2010. He is the team's top-prospect after all, so having him sniff a major league field that early in his career could go a long way.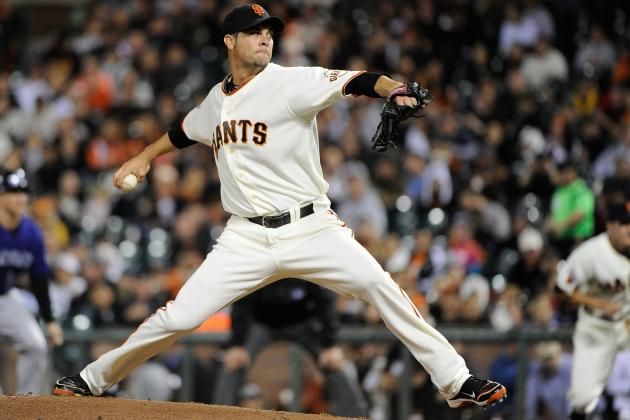 Thearon W. Henderson/Getty Images

Ryan Vogelsong will not be able to duplicate last season's success in 2012. That is simply unrealistic to expect.
He finished with a 2.71 ERA, which wasn't even indicative of the type of season Vogelsong had in 2011. He kept his ERA under two up until June 22, and maintained a 2.19 ERA at the beginning of August.
He certainly deserved to make the All-Star team in 2011, and fortunately Bruce Bochy had the authority to accommodate him.
One thing that naysayers look at when they claim that Vogelsong will regress in 2012 is his BABIP of .280. This means that opposing batters were only hitting .280 when they put the ball in play, which, of course, isn't a high batting average.
Some would call this luck on Vogelsong's part, but that isn't necessarily the case. Vogelsong is a pitcher that locates his fastball extremely well and pitches to contact.
He isn't a strikeout pitcher. You can't teach an old dog new tricks, and Vogelsong has accepted that. He now relies on pinpoint accuracy with his fastball on each side of the plate, which can prevent hitters from consistently making solid contact.
As long as Vogelsong is able to retain his excellent command in 2012, he'll be due for another solid season.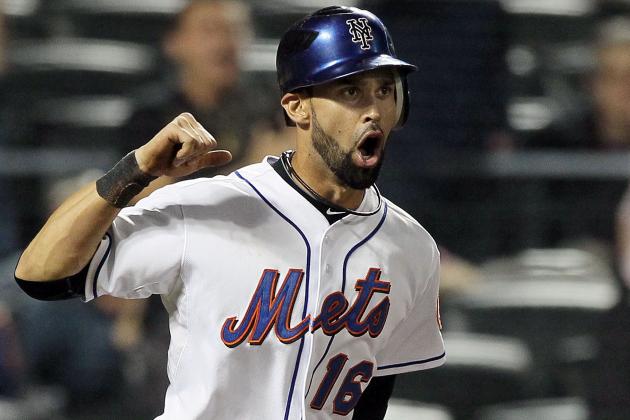 Jim McIsaac/Getty Images

If Angel Pagan is able to hit 35 doubles and 12 triples in 2012, they'll both be career-highs for him. However, I don't think it's that outrageous of a claim either.
First of all, I'll point out the obvious: AT&T Park is very spacious, especially in right-center field near the 421-foot mark in triples' alley.
Pagan is a switch hitter, so as a lefty he'll get some opportunities to hit some balls into the gaps and run for a while.
Pagan is also an excellent contact hitter. His 89.8 percent contact rate was the 12th-highest in MLB last season among qualified hitters (h/t FanGraphs).
Couple that with his 24 percent line drive percentage from 2011, and Pagan has the capability to accumulate 60 extra base hits next season.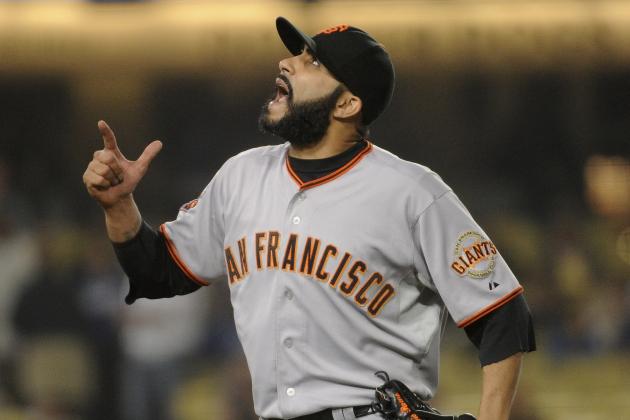 Harry How/Getty Images

Sergio Romo truly doesn't get enough recognition for what he does, but that will change in 2012 when he makes the All-Star team as a setup man.
It was speculated that Bruce Bochy was going to put Romo on the All-Star squad last year, but he elected to go with Ryan Vogelsong, and deservedly so.
But when you look at Romo's overall numbers last year, he was one of the best relievers in baseball.
His 1.50 ERA was the fifth-lowest among relievers. His K/9 ratio of 13.13 was the fourth-most in the majors. And most impressively, his BB/9 and K/BB ratios of 0.94 and 14.00 respectively were tops in the league.
This won't show up fangraphs.com, however, because Romo finished with only 48 innings pitched, and the cutoff to be qualified was at least 48.2 innings pitched.
I'd say that's close enough.
As long as Romo keeps making hitters look this silly, it won't be long before he's an All-Star.
Nate Schierholtz has an absolute cannon, and he's starting to develop a reputation around baseball because of it.
The only way I can't see Schierholtz getting double-digit assists is if teams stop testing his arm, and I think that's going to start happening more frequently this year.
However, if teams want to keep trying to extend hits when the ball is hit to right field, I don't think 15 outfield assists is completely out of the question.
I'll just let this video do the talking.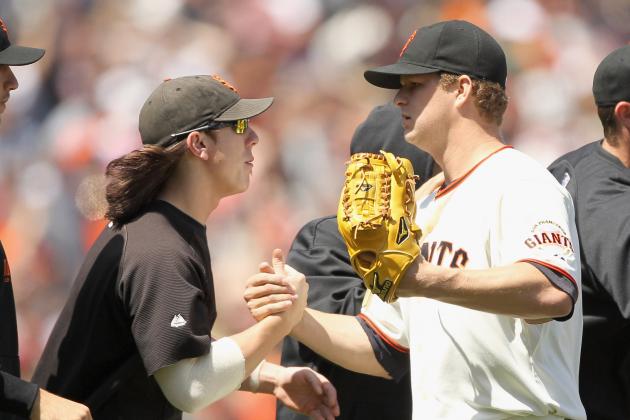 Ezra Shaw/Getty Images

Predicting that the Giants would have a 20-game winner this season crossed my mind, but I don't think that will happen this year, especially with the Giants offense trying to score runs.
But predicting that Lincecum and Cain will combine for 33 wins this season—say, Lincecum gets 18 and Cain gets 15—wouldn't be too outrageous. It would be considered an extremely successful season for both pitchers, and it's quite realistic.
If Lincecum were to win 18 games in 2012, barring he keeps his ERA and walk total low, he would jump back into Cy Young consideration.
Also, 15 wins would be a new career-high for the historically unlucky Cain.
Both of these pitchers have the potential to be perennial 20-game winners. If the offense can find a way to support them with more than two runs a game, 33 wins is more than attainable.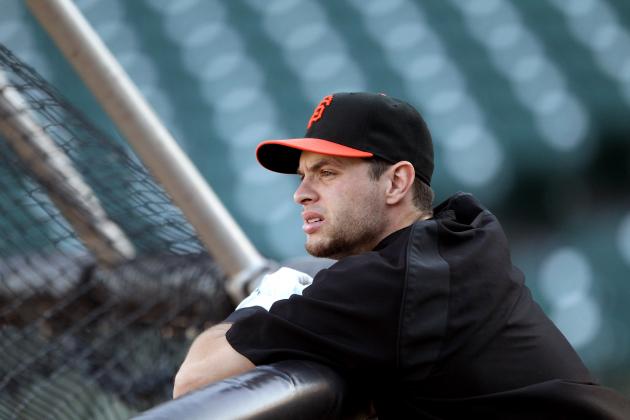 Ezra Shaw/Getty Images

You might disagree with it, but Brandon Belt will likely start the season in triple-A.
We all know how mismanaged he was in 2011, and it undoubtedly factored into his disappointing season.
And now with Aubrey Huff looking to reinsert himself into the lineup, and the 27-year-old Brett Pill trying to stick around in the majors, first base is simply too crowded for Belt to get any significant playing time.
If this is the case, having Belt get some at bats in triple-A could be the best thing for him. It would give him time to work on the holes in his swing and build up some much needed confidence at the plate.
It would also allow the Giants to bring him up mid-season when the offense needs a spark. This maneuver would be reminiscent of when the Giants called up Buster Posey in May of the 2010 season.
His refreshing presence in the lineup certainly rejuvenated the rest of the team, and calling up Belt around the same time can have a similar effect on the Giants in 2012.
Heck, we all know what happened after the Giants called Posey up in 2010.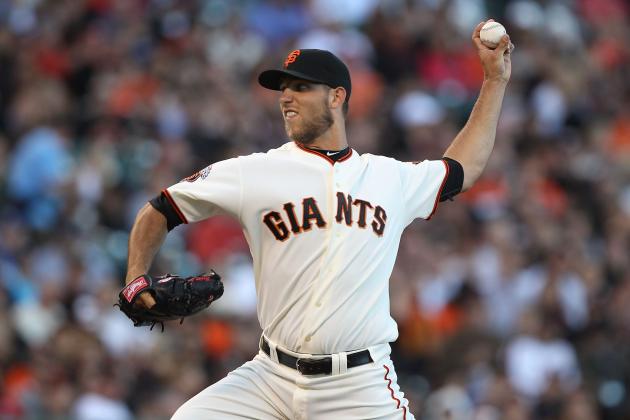 Jed Jacobsohn/Getty Images

It's inevitable.
You may call it bold, but I truly believe that all the baseball talking heads will finally begin to breathe Madison Bumgarner's name in the same sentence as Tim Lincecum and Matt Cain.
Bumgarner is on the brink of stardom, and he truly has been since he stepped on the mound during his rookie year at only 20 years old.
Bumgarner had arguably one of the greatest pitching performances in World Series history when he shut out the high-powered Texas Rangers offense through eight innings, which can be watched here.
Notice how he made Vladimir Guerrero, the American League version of Pablo Sandoval, look silly during all three at bats. That's what you call domination.
You could argue that Bumgarner was the most consistent starter on the Giants' staff last season. Besides April when he started off 0-4 with a 6.17 ERA, he had a fantastic overall season at just 21 years old.
If you can't tell, I'm very exited about Bumgarner, and I think he has a very good chance to be considered an ace this season.