English Premier League: Top 10 African Footballers Right Now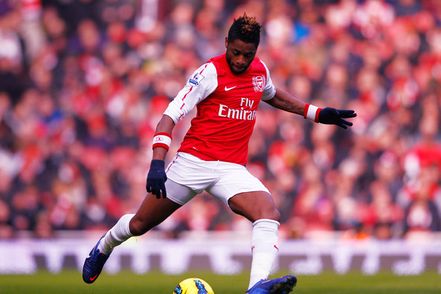 Paul Gilham/Getty Images Europe
Some of the most talented African footballers showcase their talents in the English Premier League.
Who has been your top 10 African footballers playing in the Premier League this season?
Be brave and make your selections based on this season's form, not on reputation.
So don't choose Didier Drogba, because it's not 2009—it's 2012, get with the program.

Begin Slideshow

»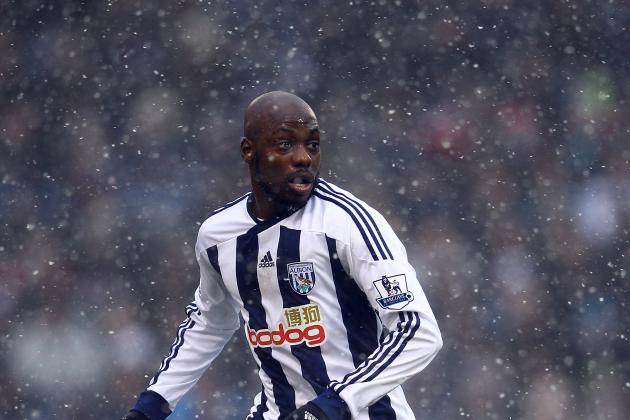 Julian Finney/Getty Images

Nationality: Congolese
Youssouf Mulumbu's ability to read the play and intercept the ball has allowed midfielder/right winger James Morrison to prosper.
Mulumbu has intercepted the ball 75 times in 25 games, which is the third most interceptions in the Premier League.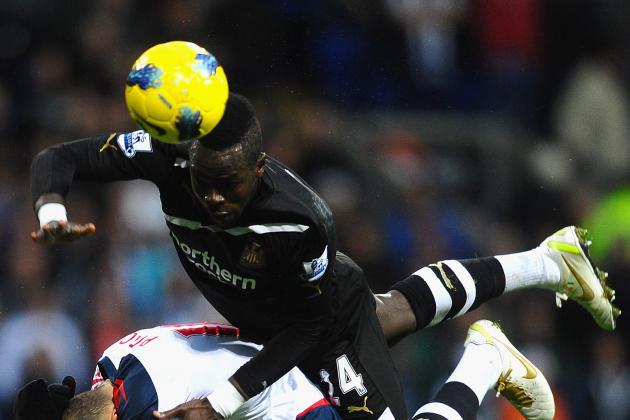 Laurence Griffiths/Getty Images

Nationality: Ivorian
For someone who didn't own a pair of boots till he was 15 years old, Cheick Tioté has come along way since his humble beginning.
Tioté puts his body on the line week-in and week-out.
He has completed 50 successful tackles to 40 fouls in 16 Premier League games.
Surprisingly, he doesn't rank in the top 10 for most yellow cards and hasn't been sent off this Premier League season (yet).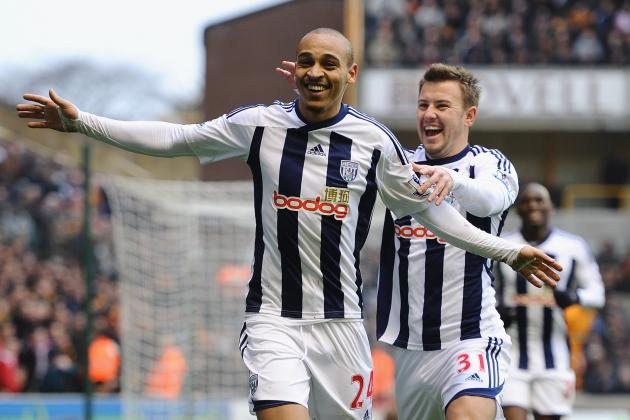 Laurence Griffiths/Getty Images

Nationality: Nigerian
Peter Odemwingie's hat trick against Wolverhampton Wanderers was followed up with a brace against Sunderland—is the 2010-11 Odemwingie back?
If you take away those five goals in two games, the Nigerian's statistics would read four goals in 20 games—Andy Carroll-esque numbers.
Odemwingie would be higher on this list if he was more consistent.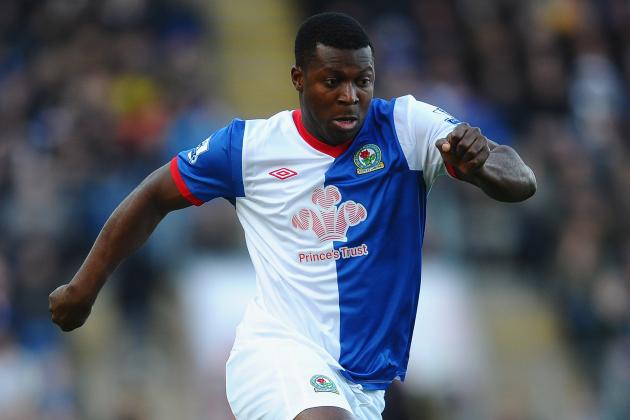 Laurence Griffiths/Getty Images

Nationality: Nigerian
Yakubu has scored more Premier League goals this season than Morten Gamst Pedersen, Mauro Formica, Junior Hoilett and David Dunn combined.
Feed the Yak and he'll score. Starve the Yak and he'll attempt to tackle like Míchel Salgado.
Yakubu has only made nine tackles this entire season, and his tackle on Danny Murphy was poorly executed.
The result was a red card and a three-game suspension.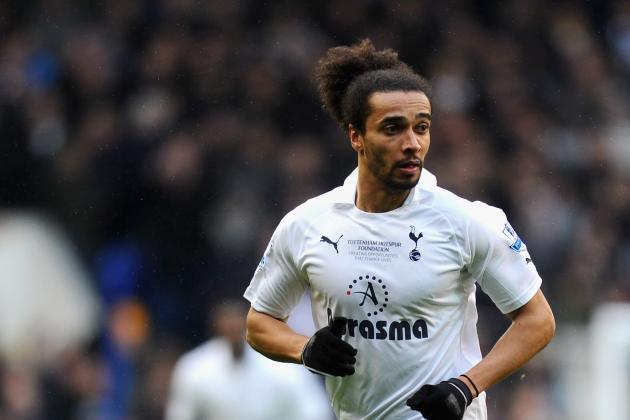 Mike Hewitt/Getty Images

Nationality: Cameroonian
With the exception of the 5-2 loss to Arsenal, Benoît Assou-Ekotto hasn't had many hiccups on defense.
Ekotto creates at least one shooting opportunity for his teammate every game, which is excellent for a left-back.
His ability to play diagonal long balls is another admirable facet, as he's successfully completed 188 long balls in 27 games.
Laurence Griffiths/Getty Images

Nationality: Beninese
The Lee Cattermole effect infiltrated Stéphane Sessègnon's mind during the Tyne–Wear derby.
It was out of character from Sessègnon to elbow Cheick Tioté.
Sessègnon has been at times a world class dribbler, dancing his way past opposing defenders.
Talking about Cattermole, Alan McInally summed him up perfectly, and his views were reinforced last week after another daft red card from the Englishman.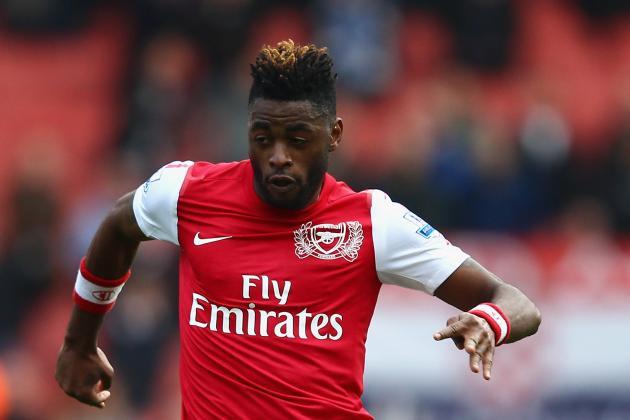 Clive Mason/Getty Images

Nationality: Cameroonian
Alex Song averages 2.8 tackles and 2.1 interceptions per game, and then you factor in his ability to thread a through ball, and you have a complete midfielder.
He could be world class if he was deployed in a more free roaming role like Arturo Vidal for Bayer Leverkusen during the 2010-11 season.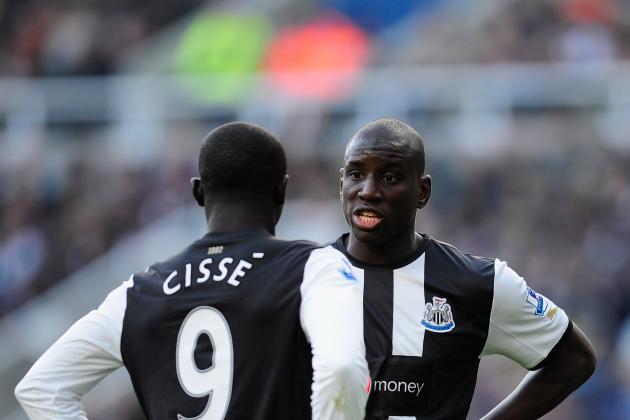 Stu Forster/Getty Images

Nationality: Senegalese
Demba Ba has scored 16 Premier League goals from 77 shots, whereas Wayne Rooney has scored 18 goals from 106 shots.
Ba's ability to finish, though that wasn't on show against Sunderland, has been a main factor in Newcastle United's success.
Give his partnership with Papiss Cissé more time and they could develop into one of the most lethal forward duos next season.
Cissé would be on the list if he had played more Premier League games.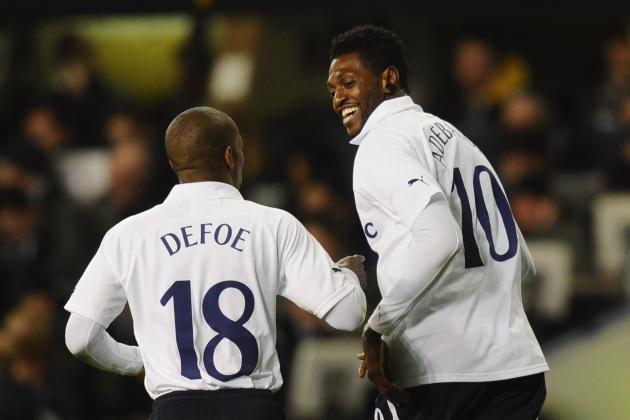 Mike Hewitt/Getty Images

Nationality: Togolese
In the space of a year, Emmanuel Adebayor has extinguished any doubts that he is a selfish and egotistical player.
At Real Madrid, he was chasing down opposing players, and at Tottenham Hotspur, he's been a brilliant team player.
Perhaps inspired by Didier Drogba's feats last season, Adebayor has accumulated 11 assists this season.
Assists are as good as goals so his 11 assists plus his 11 goals equals 22 goals in 24 Premier League games.
That's a world class return rate.
The question is will he continue to play like this when the Spurs eventually buy him from Manchester City?
Remember, he's essentially auditioning for a full-time job next season (not that he'd have any issues finding a club).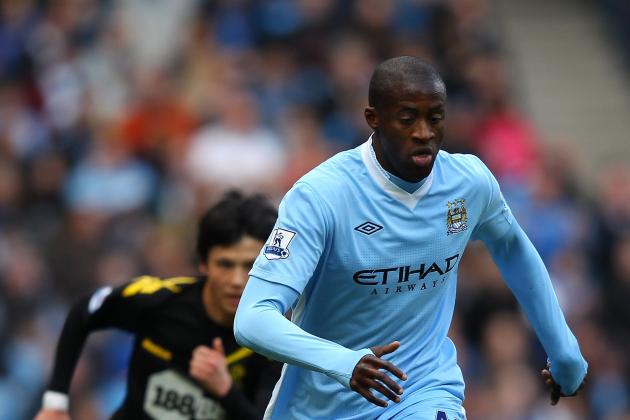 Alex Livesey/Getty Images

Nationality: Ivorian
Yaya Touré is a world class box-to-box midfielder who is nearly impossible to stop when he builds up a head of steam.
Who leads the Premier League in average passes per game?
Touré with 80.
He controls the tempo of the game, he can defend, he can dribble and he can spread the play with some incisive long passes.
The only fault in his game is his finishing, because three goals from 45 shots just isn't good enough.
That being said, he's possibly the most consistent player in the league.
Please read 7 Defining Moments from Gunners' 3-0 win over Milan