WWE: Why John Cena Should Lose to the Rock at WM 28
March 19, 2012

Note #1: I am actually writing this article in a unbiased and rational manner. 
Note #2: Forget John Cena turning heel. He sells way too much merchandise for WWE to even consider that possibility.

Note #3: With Rock's and John Cena's constant mentions of pie and strudel, Kim Kardashian has contacted the WWE wanting to appear backstage at tonight's Raw. WWE Divas are reportedly furious at this request.  

Before we begin, let's make something perfectly clear. Neither Rock nor Cena need this win at WrestleMania.
A loss would not hurt either of them. In fact, I am about to explain why a loss will help John Cena.
Why John Cena should lose to Rock
That's right. A Rock fan is suggesting that John Cena lose at WrestleMania. How many times have you seen that before? Personal feelings aside, there is a logical reason why John Cena should lose.
John Cena is a man who has already done everything there is to be done.
He has climbed almost every mountain there is to climb. He has conquered every obstacle he has faced.
Look at all the opponents he has defeated: Kurt Angle, Edge, JBL, Chris Jericho, Big Show, Batista, Triple H, Randy Orton, Eddie Guerrero, Shawn Michaels and CM Punk among many others.
And that's why he is hated.
John Cena is simply too dominant over a long period of time for fans to fully accept as a fan favorite.
Fan favorites are supposed to be underdogs. Rocky was the protagonist against Ivan Drago in Rocky IV. John Cena is more like Drago than Rocky.
Speaking in general terms, wrestling fans are underdogs in society. They are largely working-class folks who are looked down upon by the societal elite.
They resent these elite who never fail. Who always gets everything handed to them. They resent this idea of elitism.
This embodiment is represented in John Cena.
This is why Stone Cold Steve Austin was so popular. He was the embodiment of hope for these downtrodden underdogs. Lots of fans lived their unattainable hopes and aspirations (AKA assaulting their boss) through Austin.
Austin did not always win against chief rival Vince McMahon and his henchmen. But the fans were fully behind the Texas Rattlesnake because of this dimension of mortality.
Shifting back to John Cena, I understand John Cena himself probably did not make his character invincible. The creative team has made him this unstoppable monster over the past several years.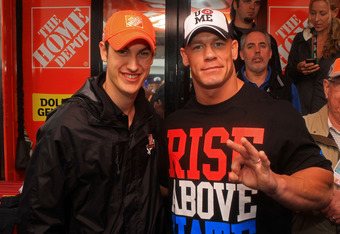 Matthew Stockman/Getty Images
Cena's biggest problem is his invincibility. His constant victory over big name superstars alienated fans wanting to see underdogs be booked to win.
Edge (in Toronto) and CM Punk (in Chicago) got the lion's share of cheers in their respective title matches against John Cena because the fans wanted to see their hometown hero win the match. 
Fans wanted to see someone they can relate to achieve the one thing fans so badly want to achieve, to stick it to the same elite who regularly look down upon them.
This is exactly why Vince McMahon opened up the checkbook to have Dwayne Johnson feud with Cena. McMahon wanted to give Cena a seemingly insurmountable challenge to give his character a new dimension.
Note #4: Wait a minute, Vince signed Rock so he can make money. Just pretend money isn't the sole factor for this article's sake.
He wanted John Cena to finally be the underdog. He wanted Cena to actually garner the same sentiment most good guys obtain.
What better challenge than for John Cena to face arguably the most talented WWE superstar of all time?
Rock was to be the Kryptonite to SuperCena. The oasis of refreshment to fans tired of Cena being shoved down their throats.
These fans just wanted to see the ultimate favorite be humbled by a past legend. Perhaps the only thing better was to have Stone Cold himself feud with Cena.
Fans wanted to see The Rock to unleash his full fury on that fruity pebble Kung Pow (expletive deleted) via Rock's size 15 boot to Cena's (expletive deleted).
For the most part, Dwayne Johnson has unleashed The Rock on John Cena. John Cena has unleashed his "best" on the Rock.
In terms of booking, this buildup has largely been even. This makes sense, as Cena needs to have a realistic chance of defeating the Rock.
Going in to Miami, the feud will appear like either man has a legitimate chance of winning the match.
Rock vs. Cena is reminiscent of the Rock vs. Hogan feud of 10 years ago. Only difference is Rock was never an unstoppable force.
Rock went over in spite of enduring boos from the Toronto crowd. Rock responded as only Rock can.
Back to now, think about the ramifications of a Cena victory.
Forget the boos. Forget your allegiances. Forget speculation whether this feud is a work or a shoot.
A John Cena victory over the Rock would signify that Cena is officially an unstoppable force.
If he beats the Rock, then who can stop him?
Think about it.
Cena would never cleanly lose a match to anybody if he beats Rock. Not that he does anyway.
How can anybody defeat him without making it look like a fluke?
CM Punk never even defeated John Cena cleanly during the much-lauded Summer of Punk. Cena even won the feud when he defeated Punk in a No. 1 contender's match in Edmonton on Raw.
Conclusion
This problem of invincibility is not just John Cena's. Cena's often-compared counterpart Hulk Hogan did not lose very often in his heyday. Rock or Austin won more often than not during the Attitude Era.
A John Cena victory (except for a heel turn of course) will make his character absolutely impossible to salvage.
I am not saying John Cena should job to JTG each week on Superstars. He is just simply too powerful to suddenly give him a lengthy losing streak similar to Miz.
I understand Cena has freakish strength in the gym. Kudos to him for hitting the weights early and often.
However, John Cena must lose to The Rock at WrestleMania because he needs to be mortal. Mortality is the only dimension John Cena's character lacks.
He needs a mountain he cannot climb. A defeat to his illustrious list of victories.
Even Bill Goldberg's fabled WCW streak had to end at 173. In retrospect, it was a bad idea to make Goldberg unstoppable for that long. Goldberg's character never fully recovered after losing that streak.
Ironically, I stopped watching WCW after Goldberg's streak ended as a Little Jimmy (or Jeffy). I may very well stop watching WWE if John Cena defeats the Rock.
Why would I watch WWE if I know who's going to win in the end?