NBA Trade Rumors: Why Jamal Crawford for Luke Ridnour Makes Perfect Sense
March 6, 2012

Mike Zarrilli/Getty Images
The Portland Trail Blazers are in disarray. For a .500 team with as much talent as the Blazers have, that means trade rumors are constant.
One of the latest rumors has Portland sending backup guard Jamal Crawford to the Minnesota Timberwolves for point guard Luke Ridnour.
On the surface, this is a trade that looks like a no-brainer. It's the uncommon trade in which both teams benefit. There's no downside—it's like a mutual breakup.
Portland gets a natural point guard to back up starter Raymond Felton.
Minnesota picks up a legitimate scorer to play at the shooting guard and will no longer have to fill the 2 position with a trio of point guards.
For the Blazers, moving Crawford seems almost necessary at this point.
With Nicolas Batum taking over the starting spot at shooting guard and Wesley Matthews seeing a lot of minutes at the 2 off the bench, Crawford is pushed out.
He has backed up Felton at point guard, but that is not good for Crawford or the Trail Blazers. He looks out of sorts when he is tasked with running the offense and facilitating.
Take last night's stat line for example: 19 minutes, 1-for-3 from the field, one assist, no turnovers.
Crawford is at his best when he is allowed to create shots for himself—like a shooting guard should do.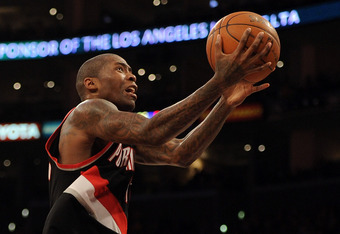 Harry How/Getty Images
In Minnesota he would have more freedom to do so.
With Ricky Rubio starting and JJ Barea coming off the bench, Crawford would not have to shoulder the burden of playing point guard for the Timberwolves.
Instead, he would take Ridnour's spot in the starting lineup and give the Timberwolves a dangerous scorer at shooting guard.
The Timberwolves right now have a logjam at point guard with Rubio, Ridnour and Barea on the roster.
They are not going to trade Rubio, and Barea is not as valuable of an asset as Ridnour.
Ridnour would almost certainly be relegated to a reserve role in Portland. However, with the up-and-down play of Felton, he could end up starting by the end of the season.
If Felton's showing last night—5-for-10 from the field, 10 assists, one turnover—is a sign of things to come, he will continue starting as long as he is in a Portland uniform.
Felton has struggled in Nate McMillan's offense. Ridnour, on the other hand, played the first two years of his career for McMillan.
His learning curve should be much flatter.
In his second season with McMillan, Ridnour started all 82 games and averaged 5.9 assists per game. He has topped that mark only once since then.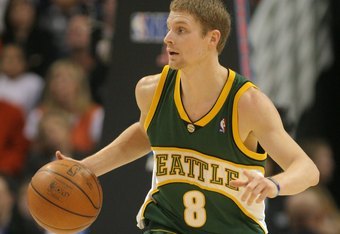 Domenic Centofanti/Getty Images
Plugging Ridnour into a reserve rotation with Wesley Matthews and Elliot Williams gives the Blazers a solid second unit that will play with more fluidity than it did with Crawford running the point.
This trade makes sense for both teams. Portland gets rid of a shooting guard saddled with backup point guard duties for a point guard. Minnesota gets rid of a point guard playing shooting guard in exchange for a shooting guard.
A truly mutual trade: No rejection, no guilt, no remorse.