The Faces of WrestleMania Part One: The Wrestlers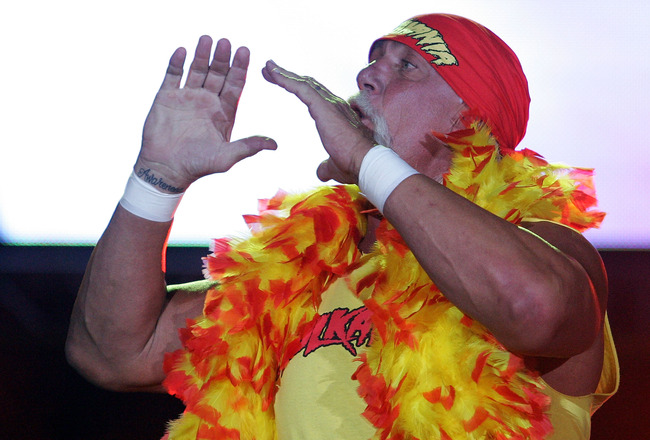 Paul Kane/Getty Images
Every year, people discuss which matches are "essential" at WrestleMania, and comment is often given to how unusual a WrestleMania without The Undertaker would be. This got me thinking, "Who are the essential faces that fans are accustomed to seeing at a WrestleMania event?". The hope was to show which appearances have become both established traditions and have a role in the current WWE product.
Being sports entertainment rather than a legitimate competitive sport, often the kayfabe competitors are not the only people capable of stealing the show at WrestleMania. Shawn Michaels' upcoming role as a referee in the match between The Undertaker and Triple H, and the amount of attention this has received, shows that much.
Consequently all appearances at a WrestleMania event were included in the tallies of appearances, not just wrestling in main matches. This means the WWE Hall of Fame is included, as it forms a part of the WrestleMania pay-per-view package. Dark matches are included because they are part of what fans who pay to attend WrestleMania experience, and they are available on WWE.com and receive a wide audience among the IWC and others.
This list focuses primarily on men who have been wrestlers during their WWE careers. A second slideshow will be created later, documenting the non-wrestlers who have built up the highest tallies.
Criteria for Inclusion
* Must have a role in the current WrestleMania product (i.e. made an appearance at WrestleMania 26 or WrestleMania 27).
* All appearances (Hall of Fame, dark matches, interference, commentary, ring escort etc.) are included as well as competing in WrestleMania matches.
* Superstars must have either a total of more than ten WrestleMania appearances, or a total of six since the year 2000.
* People who have frequently wrestled but are better known for their role as non-wrestlers, most obviously Vince McMahon, will be counted as non-wrestlers for the purpose of this article series, and will be included in the second article.
22. Batista
WrestleMania appearances: 6
Years appeared: 2004-05/2007-10 (Wrestler)
We start off the list with Dave Batista. Considering he joined the main WWE roster at a relatively old age—he is almost the same age as Triple H despite having been presented as a young, fresh wrestler when they were together in Evolution—it shows how swiftly he was pushed to the top of the WWE.
Batista was among the new generation of stars that made their debut in 2002, arguably the last time that the WWE successfully introduced a decent number of young wrestlers to its roster and made main event stars out of them. That year also saw John Cena, Randy Orton, Brock Lesnar and Rey Mysterio make their debuts.
22. CM Punk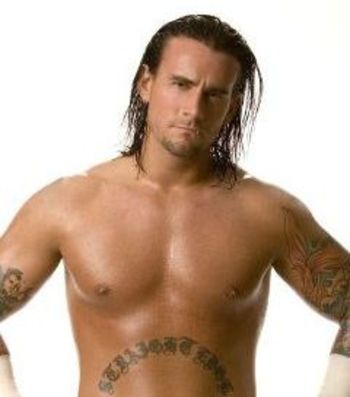 WrestleMania appearances: 6
Years appeared: 2006 (entrance performer) / 2007-11 (wrestler)
CM Punk's first appearance was as part of an entrance dance for John Cena. Weird.
20. Rey Mysterio
WrestleMania appearances: 7
Years appeared: 2003-06 / 2009-11 (Wrestler)
Next up is Rey Mysterio, one of the few cruiserweight-sized wrestlers to make this list. For all the talk of WWE burying former-WCW talent, and Vince McMahon hating non-giant wrestlers, Mysterio has proven it is quite possible to be small and famous for being in WCW, and still be a regular performer on the "Grandest Stage of them All."
20. Booker T
WrestleMania appearances: 7
Years appeared: 2002-07 (Wrestler) / 2011 (Commentary)
Booker T marks the first on our list to have appeared at WrestleMania in two roles. This transition has kept him a part of the WWE product despite being close to 50 years of age. It is safe to assume that despite his age, he will be involved on commentary at WrestleMania 28, and it is not impossible he will compete in a final singles match before his WWE career is over.
18. Christian
WrestleMania appearances: 8
Years appeared: 2000-02 / 2004-05 / 2009-10 (Wrestler) / 2011 (Ring Escort)
Yes, Christian is on the list! The man who forever people claim never received the push he deserved. Then when he received it, and earned world title reigns, the IWC was up in arms about how short they were and how badly he was booked.
Well, Christian has something to be happy about. He seems to spend as much time not at WrestleMania as he does appearing at it, rather than having a consistent few years at the Showcase of the Immortals, which perhaps is in common with the IWC perception of his career.
18. Shelton Benjamin
WrestleMania appearances: 8
Years appeared: 2003-10 (Wrestler)
Last year saw a noted absence in the form of Shelton Benjamin, after having him appear annually in the preceding eight years. He may surprise readers in his position on this list, having never really achieved the top of the WWE, but he is in fact among the few on this list to have always appeared at WrestleMania as a wrestler, and not in any other capacity.
Though Benjamin was let go of the WWE and would likely never reach higher than the mid-card if he made a return to the company, he is only in his mid 30's and it is not impossible that his face will be seen at future WrestleManias.
14. Matt Hardy
WrestleMania appearances: 8
Years appeared: 2000-03 / 2006-07 (Wrestler) / 2008 (Interference) / 2009-10 (Wrestler)
Is WWE really done with Matt Hardy? With the recent scandals surrounding him, WWE has distanced itself from the man, encouraging its staff to publicly do the same. However, with so many past appearances, I would not be inclined to completely rule out a return.
14. Randy Orton
WrestleMania appearances: 8
Years appeared: 2004-11
Now we're talking! Randy has appeared at WrestleMania every year for the last eight years. He is one of the few men on this list young enough (he turns 32 in April) that there are no doubts in my mind that he will remain on this list for the next decade, quite possibly reaching the top of it.
14. John Cena
WrestleMania appearances: 8
Years appeared: 2004-11
John Cena has appeared every year that Randy Orton has, which is fitting for the men who are currently the faces of their respective brands. It encourages the idea that the two brands are equal, even if we all know they really are far from equal.
Cena is slightly older than Orton however, and his love of the Attitude Adjustment move is not something you can see him being able to do as he gets older and his muscles weaken. One has to ponder if Orton will outlast Cena in the end.
On a side note, as his match this year is against The Rock, I thought I would point something out: Cena has won twice as many matches at WrestleMania as The Rock, and lost half as many. The Rock was not an especially dominating figure at WrestleMania, when you look at it.
14. Trish Stratus
WrestleMania appearances: 8
Years appeared: 2000 (Manager/ring escort) / 2001 (Interference) / 2002-03 (Wrestler) / 2004 (Interference) / 2005-06 / 2011 (Wrestler)
Sadly, Trish Stratus, coming in at joint 14th place, is the highest-ranked WWE Diva in this list, and several of her appearances were not even as a competitor. If anyone deserved this accolade though, it is certainly Stratus, so at least it went to the right Diva.
12. William Regal
WrestleMania appearances: 9
Years appeared: 2001-02 / 2005-07 (Wrestler) / 2008 (Announcer) / 2009-11 (Wrestler)
Rather like Shelton Benjamin, Regal's abilities to sneak almost unnoticed into becoming a WrestleMania regular is really quite impressive. He performed announcing duties in 2008, I wonder if he would do that again in the future?
12. Chris Jericho
WrestleMania appearances: 9
Years appeared: 2000-05 / 2008-10 (Wrestler)
Jericho could probably have appeared every year since his debut, if he wanted. Whenever he feels like leaving wrestling, he does. Whenever he feels like returning, he does. When he does, he gets a match at WrestleMania.
9. Edge
WrestleMania appearances: 10
Years appeared: 2000-02 / 2005-11 (Wrestler)
Finally, we make the top 10! Appropriately, all members of the top 10 have made at least 10 appearances at WrestleMania.
This year will mark the first time Edge goes to WrestleMania as anything other than a wrestler, as he is inducted into the WWE Hall of Fame. He is the highest ranked on this list to have made his first WrestleMania appearance after the year 2000, thus making him the WrestleMania veteran of the last decade.
9. The Rock
WrestleMania appearances: 10
Years appeared: 1997-2004 (Wrestler) / 2008 (Hall of Fame Inductor) / 2011 (Special Guest Host)
Fans often criticise the self-designated "Great One" for abandoning the WWE, but The Rock did clock up eight consecutive appearances at WrestleMania during his initial WWE run, spanning the entire Attitude Era and the first few years of the Ruthless Aggression Era.
Appearing in 2008 to deliver a WWE Hall of Fame induction, The Rock returned in 2011. He is scheduled this year to participate in the main event of WrestleMania, and has stated his intention to participate again next year. Expect him to climb the list slightly when I compile an updated version following WrestleMania 29.
9. Ted DiBiase
WrestleMania appearances: 10
Years appeared: 1988-93 (Wrestler) / 1995-96 (Ring Escort/manager) / 2010 (WWE Hall of Fame Inductee) / 2011 (WWE Hall of Fame Inductor)
Ted DiBiase was always happy to buy or cheat his way to victory. So I find it fitting that he would make this list despite having not actually competed at WrestleMania since 1993. It is typical of his cheating style.
With his son having a role in the company, he is among the eldest superstars who could still conceivably appear at WrestleMania, most likely in a ringside role such as a manager.
8. The Big Show
WrestleMania appearances: 11
Years appeared: 1999-2001 / 2003-06 / 2008-11 (Wrestler)
Much fuss has been made by young Cody Rhodes about The Big Show's ridiculous number of losses at WrestleMania. However, I think it equally important to point out that few men are more experienced on that stage as The Big Show. Having been there so often, it should not be that surprising that he has collected his fair share of losses along the way.
7. Stone Cold Steve Austin
WrestleMania appearances: 13
Years appeared: 1996-99 (Wrestler) / 2001-03 (Wrestler) / 2004 (Guest Referee) / 2005 (Piper's Pit Interview) / 2006 (Hall of Fame Inductor) / 2007 (Guest Referee / Hall of Fame Inductor) / 2009 (Hall of Fame Inductee) / 2011 (Guest Referee)
Stone Cold seems to live in the WWE Hall of Fame when he is not at the bar nowadays, and is making quite a killing in his side business of being a guest referee. Almost half of his appearances have been as a non-wrestler, but there is no way he belongs on the non-wrestler list, given how memorable his time in the ring was.
Since 2007 Austin has made a habit of appearing every other year, and looks to be maintaining that by being absent at this year's WrestleMania. Does that make anybody feel a WrestleMania 29 match with CM Punk is any more likely?
4. Bret Hart
WrestleMania appearances: 14
Years appeared: 1986-97 (Wrestler) / 2006 (Hall of Fame Inductee) / 2010 (Wrestler)
Bret was a consistent face in the WWE for 12 straight years. It might seem unfair for him to be so high on the list after only a few recent appearances, but I feel sure we will see him again in the future.
He "returns" to WWE TV every time the WWE goes to Canada, he has done it so many times in the last few years that I feel sure he will turn up in the WWE again at some point. One of the less-likely figures on this list to ever increase his tally, all the same, mind.
4. Kane
WrestleMania appearances: 14
Years appeared: 1998-2011 (Wrestler)
Currently, no one has been appearing at WrestleMania consecutively for as long as Kane, and he has always appeared as a wrestler! The top three on this list have been appearing for a longer span of time, but a couple of years broke their perfect records.
Kane looks to be in attendance this year too, probably against Randy Orton. Though an older wrestler, there are no implications that this will be his final WrestleMania year.
4. Roddy Piper
WrestleMania appearances: 14
Years appeared: 1985-87 / 1989-90 (Wrestler) / 1991 (Manager/Ring Escort) / 1992 (Wrestler) / 1995 (Guest Referee) / 1996 (Wrestler) / 2003 (Interference) / 2005 (Hall of Fame Inductee / Piper's Pit) / 2009 (Wrestler) / 2010 (Hall of Fame Inductor) / 2011 (Backstage)
I imagine this one took people by surprise! But he has been there in some capacity the last three years in a row, so he has earned this spot. With appearances over a span from 1985 to 2011, he is among a very small number of men to have been involved in the original WrestleMania that is still involved today. Two non-wrestlers hold that same accolade and will make my other list.
3. Triple H
WrestleMania appearances: 15
Years appeared: 1996-2006 / 2008-11 (Wrestler)
We are up in WWE lifer territory now! Triple H is often accused for using his stroke within the WWE to get himself booked in main event matches at WrestleMania, but the man has always been a WrestleMania staple. He missed out once, in 2007, but even if he had been there that year he would not have been able to compete with the two men who top this list.
2. The Undertaker
WrestleMania appearances: 19
Years appeared: 1991-93 / 1995-99 / 2001-11 (Wrestler)
No, he is not at WrestleMania every year. Twice since his debut, the Deadman has not been present to defend his streak. But he is still utterly synonymous with the event at this point, as the man that all generations of fans have tuned in to see on WrestleMania day since 1991.
There is little else to say. He is the Phenom, and WrestleMania is his backyard.
He isn't the number one for most appearances on this list. But he has appeared at WrestleMania more often as a wrestler.
1. Shawn Michaels
WrestleMania appearances: 20
Years appeared: 1989-96 (Wrestler) / 1997 (Commentary) / 1998 (Wrestler) / 1999 (Commissioner) / 2003-10 (Wrestler) / 2011 (Hall of Fame Inductee)
You knew who was going to top this list,But first, let us look to the man they call Mr. WrestleMania. Shawn Michaels proved in 1997 and 2011 that he can be the Showstopper even when he is not competing in a WrestleMania match.
Likewise, his upcoming guest referee spot in the match between The Undertaker and Triple H has received more attention than any other non-wrestling appearance at WrestleMania in history, to my knowledge.
Interestingly, at all stages in his WrestleMania career, Michaels was a loser. The Midnight Rockers, his tag team, overall, lost more matches than they won. In his initial singles run, he lost more than he won. He returned in 1998 after skipping a year, and lost. His final run, also, was loss-heavy.
If you remove his matches with The Undertaker (which we could call special circumstances, as he was battling The Streak) his record in that 2003-08 period is positive, but only if you count matches with men like Ric Flair and Vince McMahon, not viable contestants for picking up a win at that point in their careers.
It just goes to show you that winning isn't everything, Undertaker.
Keep Reading