Pro Wrestling's 50 Bloodiest, Most Awesome Photos Ever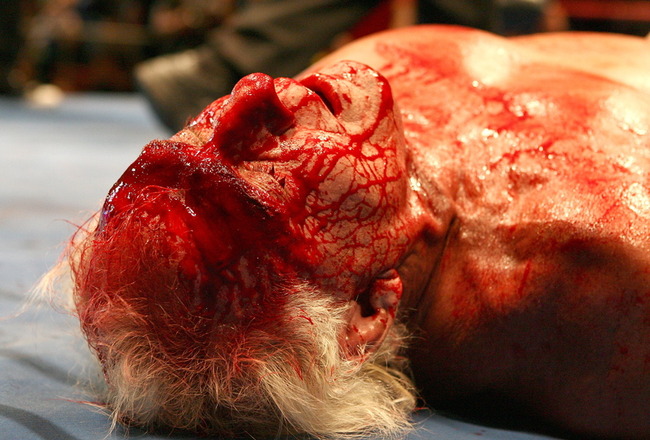 photo from bestweekever.tv

Cameras have caught some spectacularly brutal photos of wrestlers bleeding. Images of dripping crimson masks are ours to gawk at forever.
Wrestling's more macabre side is shown off here.
And for the uninitiated, who may think wrestlers use ketchup packets or fake blood capsules to birth these gory messes, think again. It is all real.
An old veteran grappler's forehead tells the story of their self-inflicted blade wounds.
You will see men on this list who've stained countless rings red. Abdullah the Butcher, Ric Flair and Terry Funk won't surprise many fans with their multiple appearances.
With WWE moving away from the era of bloodshed, these photos may become relics. Perhaps they'll be looked back on wistfully or with us wondering what in God's name these guys were thinking.
50. HBK and Randy Orton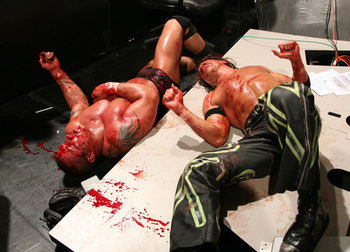 photo from fanpop.com
Before we dive into the completely disgusting shots of blood-drenched wrestlers, Randy Orton and Shawn Michaels offer us a warm-up
The distance the shot is taken lessens the gore. We can barely see Orton's busted forehead.
The smear of blood on the announce table is strikingly red, though. It looks like a misplaced Rorschach ink blot test.
Michaels only wears traces of it on his chest and pants.
49. Abyss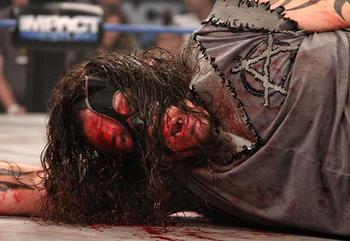 photo from prorasslin.com
Blood has soaked through his matted hair and it's been splattered on the mat.
Abyss reminds fans of Mankind in terms of his mask and his willingness to receive pain.
The gap between his teeth makes this worse, bringing to mind some animal stuck with a knife and now bleeding out on the floor.
Abyss' hair hides some of the gruesomeness, making this a bit easier to stomach.
48. Shawn Michaels, Hell in a Cell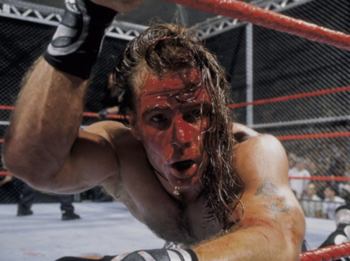 photo from wrestlingarchived.tumblr.com
In a spectacular match, Shawn Michaels felt the brutal force of the Undertaker. The first Hell in a Cell was exciting and bloody and unexpected.
This photo captures Michaels with his face nearly entirely crimson.
It would have more been disturbing, but whether it's the lighting or the texture of his blood, it looks more like war paint.
In this captured moment, it looks as if Michaels is yearning for escape, drained and defeated.
47. Kanemura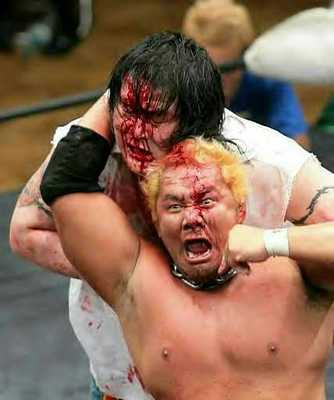 photo from fmwwrestling.us
Battling for the WEW World Title, Togi Makabe faced Kintaro Kanemura in a bloody, hard-fought match.
This photo tells the story of how violent the action got.
Makage has a touch of blood near his eye and in his signature blonde hair. Kanemura, on the other hand, is likely choking on that river of blood flowing across his face.
The heavily scarred Kanemura is no stranger to this kind of match, having fought in deathmatches all across Japan. His wrestling resume features an album of photos like this one.
46. Jerry Lawler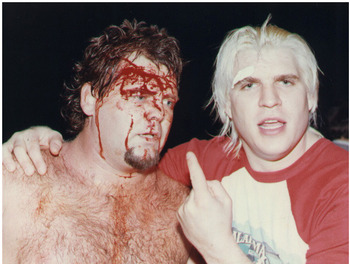 photo from asitecalledfred.com
Younger fans might only know Jerry Lawler as a color commentator.
He was once a megastar in Memphis who didn't shy away from getting a bit messy during his matches.
Tommy Rich, with a bandage on a recent blade job himself, points to Lawler's wound with pride. He seems to be saying, "See, this is how you bleed."
Lawler's forehead is covered in oozing, bright red blood. He looks legitimately woozy, happy to have Rich to lean on.
45. Dreamer vs. Raven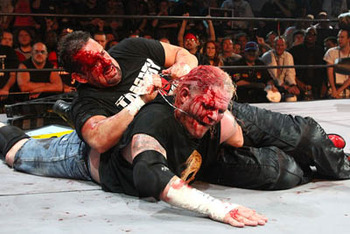 Photo from slam.canoe.ca
This sick, twisted visual is brought to you by Tommy Dreamer and Raven.
As disturbing as Dreamer's gunshot-like head wound is, the sicker part of this is that he yanks barbed wire around Raven's mouth like a scene out of Hostel.
It's hard to even tell the color of Raven's hair at this point. Is it murder scene red or rotten rose?
ECW popularized the gritty underbelly of wrestling. Dreamer and Raven weren't the most hardcore members of that roster, but as proven here, they weren't exactly black sheep in that promotion.
44. Eddie Guerrero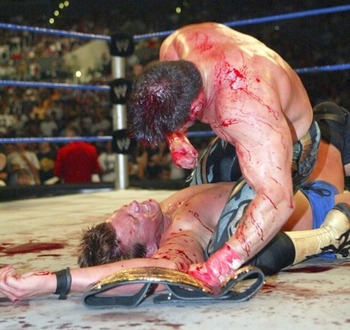 This photo doesn't capture the horror of Eddie Guerrero's overzealous blade job when he faced JBL at Judgment Day 2004. Perhaps no photo can.
Only the video of his head pouring out blood like lava from a volcano tells the true story.
After that brutal chair shot and Eddie's excessive blading, the match continued with Eddie's blood painting a gruesome work of art on the canvas.
JBL is covered in it and the ring was mostly red by the time it was all over.
43. Triple H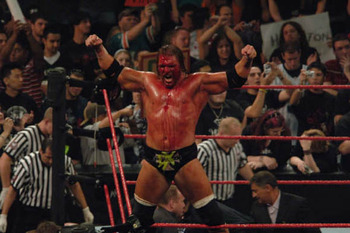 photo from slam.canoe.ca
Triple H celebrates a win with his patented pose. More than a few times in his career has he had his hand raised in victory with his head bloody.
In this photo, blood has been so smeared into his chest that his skin tone looks pinkened. It looks like he's just bested a beast with a sword rather than defeated a human opponent.
Triple H's brow is marked heavily with scars from blading and his deep forehead wrinkles make them look worse.
WrestleMania 28, when he faces Undertaker, may be the last chance to see him busted open, as it seems WWE is willing to let those two legends do whatever they want, regardless of the era we're in.
42. Brandon Bishop
Photo from punkassphotos.com
Colorado-based independent promotion Asylum Championship Wrestling is owned by one of its wrestlers, one Brandon "Blood" Bishop.
He lives up to his nickname in this photo. Few fans saw this live, but the power of the Internet exposes many more people to Bishop's oozing face.
You will see more widespread blood on this list, but the thickness and deep color of Bishop's is disturbing. It has run into his mouth, and he's lucky not to have it flooding his eyes.
41. Terry Funk vs. Sabu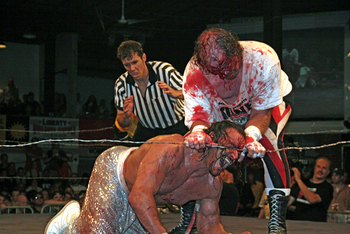 photo from moviefancentral.com
The Hardcore Legend went up against the Houdini of Hardcore in a barbed wire match and the blood came pouring.
Sabu's scarred body has a few drizzles of blood on it, but Funk's head is gushing and his shirt is sodden with it.
Factoring in the brutality these men are capable of and the type of match, this picture is tame compared to what it could be. Still, the ref can't help but become overwhelmed with revulsion.
He isn't even watching the action anymore, just trying to suppress his nausea.
40. Balls Mahoney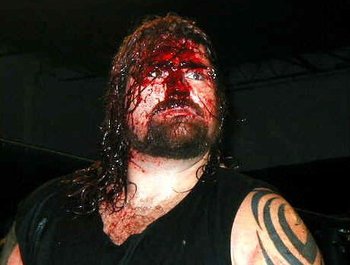 Known most for dishing out resounding chair shots, Balls Mahoney wrestled with ECW until it folded in 2001.
In this match, Mahoney's blood collects on his brow and darkens his hair.
The scarlet color of it is unsettling. Is that a sign of being unhealthy, or has it just had time to coagulate on his face?
Mahoney's career has trailed off with him mostly floating around the independents. Who knows then if we'll see many more matches with him or grisly photos like this one?
39. Jimmy Jacobs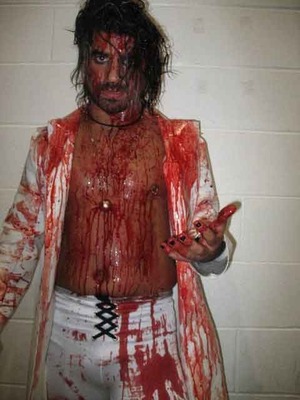 photo from wfig.proboards.com
This shot of Ring of Honor and Juggalo Championship Wrestling alum Jimmy Jacobs stirs up memories of Carrie. It wasn't pig blood that's been poured on him, though, but Jay Briscoe's.
In a controversial angle, the Age of the Fall stable attacked the Briscoe brothers and dripped Jay's blood all over Jacobs.
ROH later edited out the bloodiest moments from that match, but this evidence of the carnage still floats around the Internet.
With this much blood, you'd think it'd be even viler looking than it does. The fact that Jacobs looks so calm here and that the blood looks thin like Kool-Aid takes it down a notch.
38. Superstar Billy Graham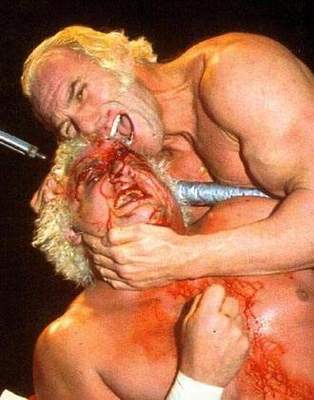 In 1977 and 1978, Billy Graham and Dusty Rhodes had an enthralling, bloody feud. They fought in a Texas Deathmatch and a bull rope match at Madison Square Garden.
Many of their bouts ended with blood covering most of the ring.
Here, Graham takes a bite out of Dusty Rhodes to find out what the American Dream tastes like. How happy he seems to be in tearing Rhodes' head open has Graham coming off as psychotic.
Rhodes looks to be in extreme pain, blood spreading out on his chest and face.
37. Ric Flair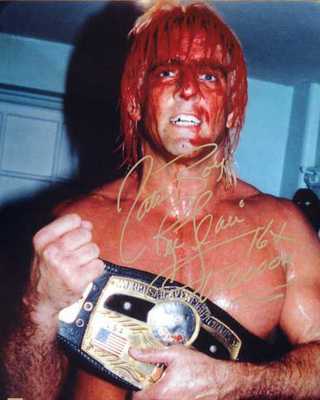 photo from wrestlingsuperstore.com
The first of many Ric Flair photos on this list is a classic. His face streaked red, his hair wet with blood, he poses triumphant backstage.
It seems that as many times as we've seen Flair hoist up a championship title, we've seen him just as often bloodied.
Taking away from the horror of this picture is Flair's calm, content expression. He doesn't seem to be in any pain, already comfortable with the wet of blood against his skin.
36. New Jack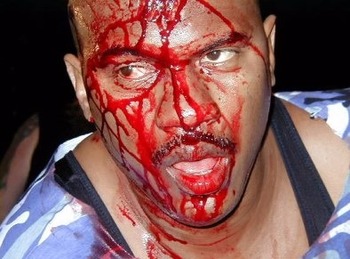 photo from members.fortunecity.com
Famous for his days in ECW, New Jack is a man accustomed to making men bleed more often than bleeding himself.
But here he's made a sizable gash in his already heavily scarred forehead.
It has cascaded down his face, staining his shirt and seeping into his right eye.
What saves this from being truly gruesome is that his blood is so thin that it looks a bit like Halloween prop blood.
35. Rhett Titus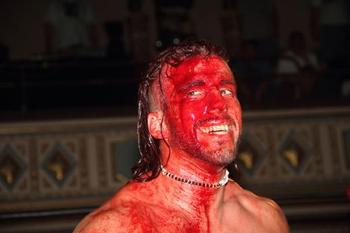 photo from rohwrestling.com
During ROH's Death Before Dishonor IX event, Rhett Titus (with Kenny King) battled the Briscoe Brothers in a ladder match for the tag titles.
The butchery pictured here is a result of that match.
Titus is so evenly covered in blood that it's hard to tell where the wound is. It shines under the lights and he grins in spite of the pain.
Titus has referred to himself as the "Sexiest Man Alive." This is not the photo to prove it.
34. Vince McMahon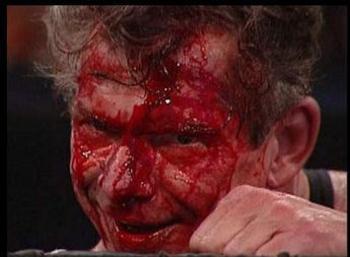 You have to give Vince McMahon credit. There's no way Roger Goodell would ever put on a helmet and let Patrick Willis clock him.
McMahon, on the other hand, is eager to elevate his product to the point where he'll gladly be stuffed in a garbage can and be elbow dropped through a table.
He's also been no stranger to bleeding. He's been this covered in blood more than a few times.
His demented grin adds to the creepiness factor, big time.
33. Jun Kusai
photo from wrestlechat.net
Jun Kusai is a deathmatch regular in Japan, mostly with Big Japan Pro Wrestling.
He is known for willing to do just about anything to himself and for having an inordinate amount of scars on his body.
You can see many of them on his torso, covered in fresh blood.
With his belly coated with blood, his wrist tape soaked in it and his face wet with it, you'd only expect him to be so jubilant about it if you knew him.
Anyone willing to participate in a Razor Deathmatch has to be comfortable with seeing their own blood.
32. Ivan Koloff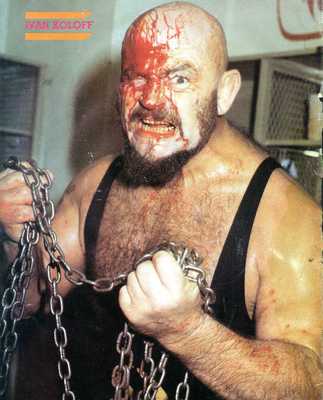 The Russian Bear has been torn open. Goopy blood stretches from his scarred head down to his chest hair and is sprinkled on his arm.
If his right eye wasn't closed, it'd be filled with blood.
This is clearly a posed picture, but that doesn't take away from the realness of the gash above his eye or the blood escaping from it.
With the chains in his hands, the snarl on his face, Koloff looks a bloodied madman.
31. MASADA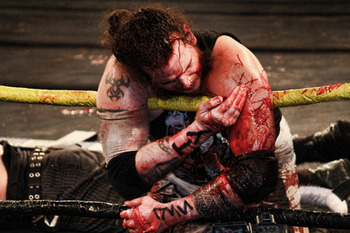 CZW mainstay MASADA has wrestled against a who's who of blood spillers: Necro Butcher, Jun Kasai, Jerry Lynn and Ryuji Ito.
During his career, he's had many moments like this one, picking glass or razor wire from his flesh.
His elbow pad and wrist tape are drenched. His blood stains the ring ropes.
The gashes on his arm look like some maniacal message carved onto him.
30. Sabu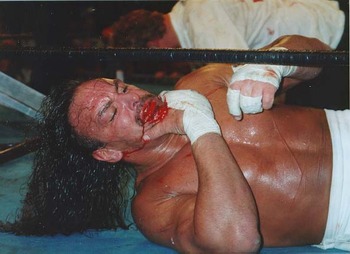 photo from lethalwrestling.com
While there's not nearly as much blood in this photo as most of the others, the fact that it's coming from his mouth heightens the gore level.
Fans have seen a bloody brow so often that it barely fazes them.
We're fully aware that it's planned and relatively safe. Seeing Sabu ooze blood from his mouth makes us wonder if he has internal bleeding or bit some of his tongue off.
And even though he's crashed through countless tables and bears bold scars all over his body, he looks highly concerned here.
29. Undertaker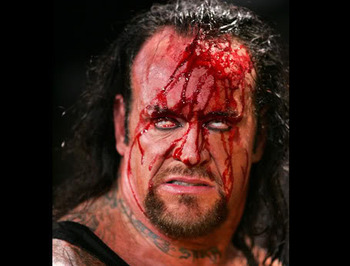 photo from universsalwwe.es
Generally, the Undertaker is the one dishing out the punishment. Ask anyone who has taken one of his stiff chair shots.
Here, the Dead Man has opened a nasty gash on his forehead.
His trademark scary eyes are tinged with his blood as it drains down his face. It stretches from brow to chin like red vines.
Many guys look like victims while covered in their own blood; Undertaker manages to be even more terrifying than usual.
28. Abdullah the Butcher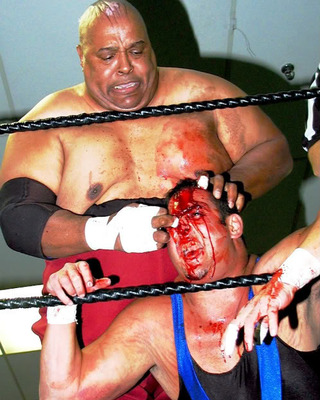 Photo from wikipedia.org
The Madman from the Sudan's first entry on this list is his Wikipedia photo.
Andy Ellison was surely in tremendous pain here with a finger in his eye, tasting his own blood. At least he's a gained a trivial amount of fame because of it.
He remains the victim everyone sees when they look up the Butcher. It's an iconic image that sums up Abdullah's career quite well.
Like this photo, his career was brutal and hard to look away from.
27. Sting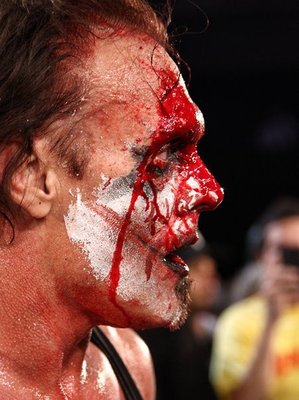 photo from droptoehold.com
With his face paint mostly sweated off, Sting feels blood drip down his cheek and stick to his hair. It's goopy and gross and seems to be sliding into his mouth.
Sting is not known to be a bleeder like his long-time rival, Flair. But he is captured here in gory glory.
TNA has tried to take advantage of WWE's no blading policy, trying to fill the fans' thirst for blood.
It's likely that we'll see more pics like this as Sting and other TNA others stars try to counterbalance WWE's PG status with bloody violence.
26. Hulk Hogan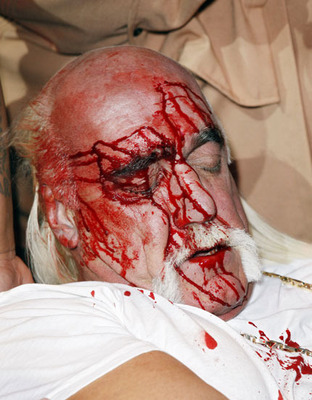 photo from entertainmentwise.com
To promote a match with Ric Flair on their Australian tour, Hogan was cut open at a press conference.
While in theory a great way to nab attention from the media, the scene saw Flair barely slap Hogan before this gory scene awaited the photographers.
As silly as that looked, the aftermath is still a violent wonder to look at.
Red rain covers Hogan's face. It's smeared on his cheeks and staining his shirt. Years from now, when the memory of the Flair slap fades, this photo will remain as a misleading image.
25. Cholita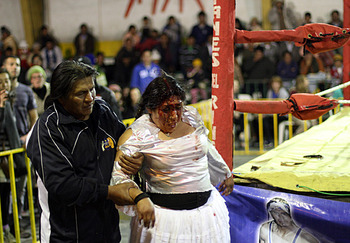 photo from boliviafor91days.com
While WWE refuses to let their women have more than three-minute matches and perform but a handful of vanilla moves, Bolivian women called "cholitas" are bleeding just like the men.
The Cholitas dress in traditional Bolivian clothing, often long, flowing dresses.
This wrestler's dress is spotted with her own blood, while a pool of it forms at the top of her head.
This isn't as brutal as many of the other photos, but the fact that this is a female, especially someone who doesn't look like a wrestler to us, makes this more shocking.
24. CM Punk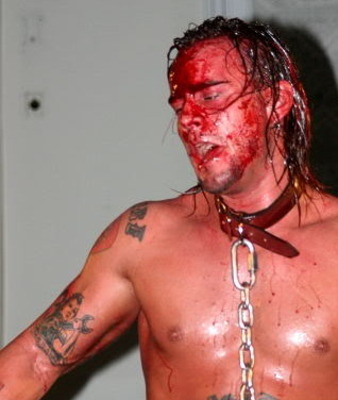 In his indy days, pre-chest tattoos, CM Punk was obviously not as established a star as he is now. He had to do more to win the crowd over.
Punk was clearly willing to cut himself open to accomplish that.
Blood has soaked his hair, it has dripped a bit on his chest, but the majority of it is pooling on his brow. He even looks woozy after what looks like someone has attacked him with a knife.
Unless Punk for some reason decides to leave the comforts of WWE, we'll likely never see a photo of him like this again.
23. Terry Funk vs. Shane Douglas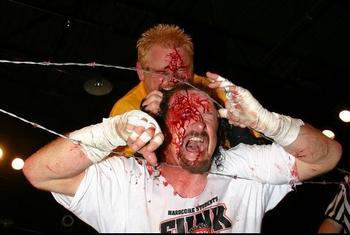 photo from hardcorelegends.tripod.com
When American fans think of barbed wire matches, they often think first of Terry Funk. He spent a good chunk of his career getting mutilated.
ECW's initial momentum and success had a lot to do with these two men.
Shane Douglas' throwing down of the NWA title after winning the ECW version caused a buzz in the industry.
He and Funk went on to have numerous matches like this one where their heads were split open, blood sneaking into their eyes.
22. Stone Cold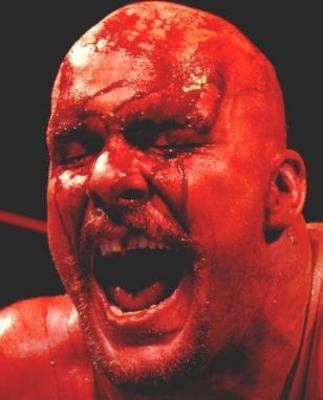 photo from ewoforums.com
When fans think of blood in wrestling, they often think of the pivotal match between Steve Austin and Bret Hart at WrestleMania 13.
Stone Cold's superstardom was built on the climax of that match; Austin struggling to escape from the Sharpshooter, his bald head covered in blood.
Austin did a fantastic job making it look like he was in excruciating pain, but his bloody face elevated the drama.
It made it tons more believable that Austin would pass out, and it made Austin look like that much more of a tough guy.
21. Abdullah Kobayashi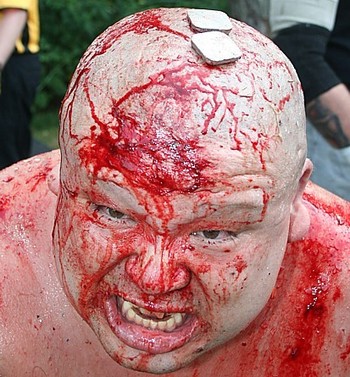 photo from bjw-usa-news.blog.players.tv
The fact that Kobayashi took the first part of his ring name from brutality legend Abdullah the Butcher says a lot about the type of wrestling he's interested in.
Light tubes, glass and fire have all played a part in his matches.
This photo captures him after he's been impaled by two large tacks. An animalistic snarl on his reddened face, he looks more like a bizarre gargoyle than an athlete.
His namesake and trainer would be proud.
20. Ric Flair II
photo from bestweekever.tv
The Nature Boy appears again—this time, flat on his back, his brow deep red, a web of blood hanging down his face. Even his chest is smeared with it.
In his prime, Flair never hesitated to bleed in matches, but as he has grown older and slower, it seems that he has more often turned to blading.
It once seemed valiant for Flair to bleed, proof that he was willing to do anything to win and to impress. But now it's disturbing to see a grandfather hold desperately to his fading career, using blood as a crutch.
19. Bruno Sammartino vs. Billy Graham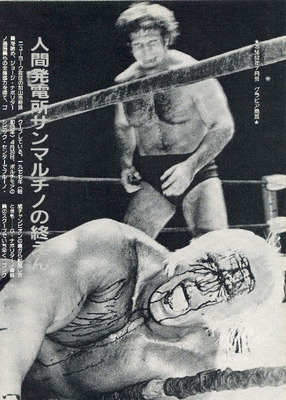 photo from ewoforums.com
The legendary Bruno Sammartino is not known for making men bleed or turning his matches into crime scenes like many wrestlers who came after him.
Neither did he wrestle in an era where bloodshed was as common as it was during the Attitude Era.
So imagine the reaction of fans seeing Billy Graham do his best imitation of a horror movie victim.
Graham's pained expression adds to the intensity, but he doesn't need much help. The blood flows well past his chest.
18. Perro Aguayo Jr.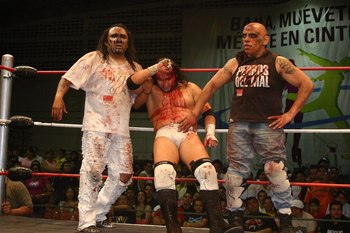 photo from rderudooficial.blogspot.com
His legs apparently given out, Aguayo depends on his Perros Del Mal pals to hold him up. Blood slides down his chest and is smudged in everyone's clothes.
Aguayo's father, Perro Aguayo Sr., was a big draw in Mexico for several years, famous for brawling and bleeding.
His son has clearly decided to continue the family tradition.
He has made a name for himself, but if he wants to catch up to his father in battle scars, he has a long way to go.
17. Ric Flair, TNA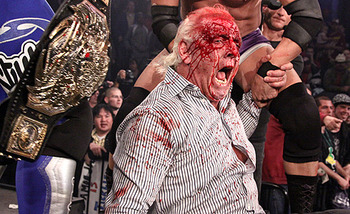 photo from wehappyfewcomdeyd.com
The Nature's Boy's expression in this photo is how many fans feel about this latest chapter in his career. We've seen perhaps the greatest wrestler ever tarnish his legacy with tepid wrestling and the overuse of blood.
TNA features Flair well past the twilight of his career, seemingly busted open every few moments.
Here, his hair is pink from blood and his face a splattered mess.
Had we seen him bloodied a few less times, this photo would be more powerful and less expected.
16. Mick Foley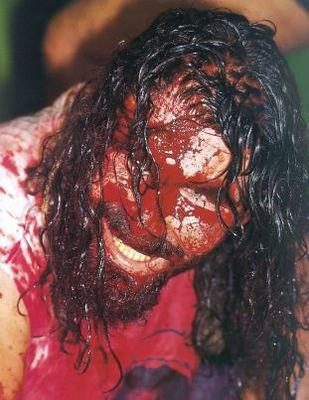 photo from g-pop.net
One of the more famous shots of Foley bleeding has him looking like he's wearing a liquid masquerade mask.
His eyes pop through the gore. The blood weighs down his hair.
And of course, he's smiling.
From his Texas Death Match against Vader at Halloween Havoc 1993, to his infamous Death Match against Terry Funk where C4 exploded in the ring, to every barbed wire gash he suffered or doled out, Foley has time and time again proven himself to be the king of the macabre.
This photo is perfect proof of that.
15. Jun Kusai (Tube)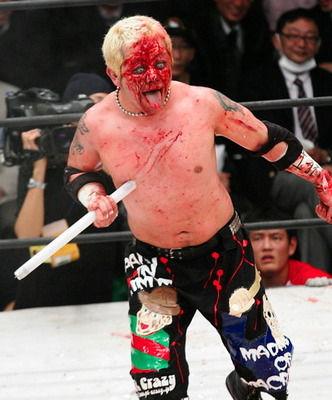 photo from darklight-spirit.blogspot.com
The man known as Crazy Monkey appears again with an even more demonic and crazed look on his bleeding face.
His feline-like eyes jut out from the wall of red.
Seeing him rake the light tube across his bloody chest elevates the grotesqueness of the photo. Like the movie villains on his pants, Kusai comes off as a bloodthirsty sociopath.
He's having too much fun for being that wounded.
14. Ric Flair, Still Champ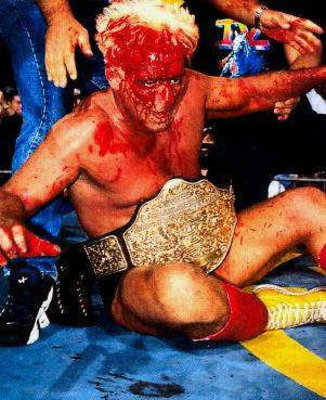 photo from docriotblogspot.com
No one in wrestling history has been better at making his opponent look like the baddest man on the planet, win or lose, than Ric Flair.
Many times that was aided by blood.
He used blading to make himself valiant and his opponent mighty. Flair has stained his blonde locks so often with blood that it's surprising that it isn't permanent.
There's enough blood sticking to his forehead to make several donations at the blood bank.
13. Abdullah vs. Pondo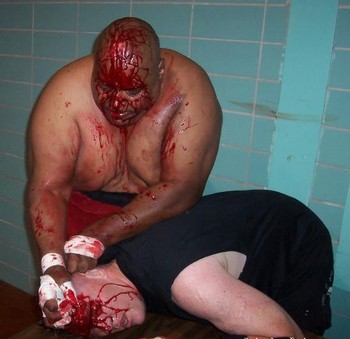 photo from redpac.com
Mad Man Pondo faced off against Abdullah the Butcher and was most likely feeling starstruck and faint from loss of blood.
Both men's brows are dripping with bright red blood.
Pondo and the Butcher have fought in a number of vicious No DQ battles in IWA-MS and Juggalo Championship Wrestling. This one produced this horrific photo op.
Imagine stumbling onto this without context; it looks like two psychos are just wailing on each other at a soup kitchen.
12. Daniel Bryan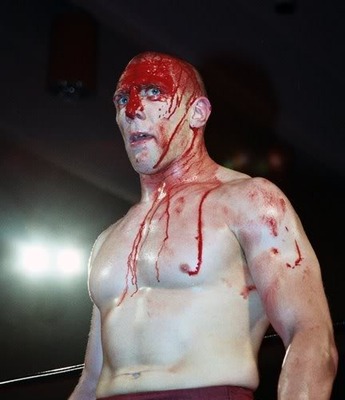 photo from ewoforums.com
You may be wondering if Daniel Bryan's head exploded. It only appears that way.
During his indy days, Bryan gave the crowd a horror show. The blood trails down his chest like strands of long hair.
It's viscous and dark, contrasting against his pale skin.
Not particularly famous for bloody matches, Bryan is a tough wrestler who is dedicated to his craft. He's willing to put everything into stealing the show, including, apparently, a pint of blood.
11. Dory Funk Jr.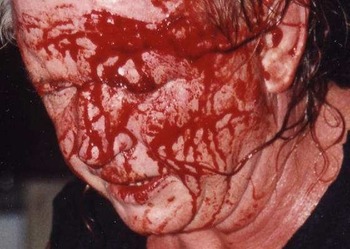 photo from dory-funk.com
His brother, Terry, is far more famous for bloody and brutal matches, but here Dory Funk Jr. is seen diving into that crazy world.
An explosion of blood covers his face.
The blood also slides into his wrinkles and scars. Out of context, his tights and the ring out of view, Funk Jr. looks like an old man who got caught in a riot.
Funk Jr. is known for the many wrestlers he's trained. I wonder if he gives them advice on blading, or if he shows them this photo as an example of cutting too deeply.
10. Randy Savage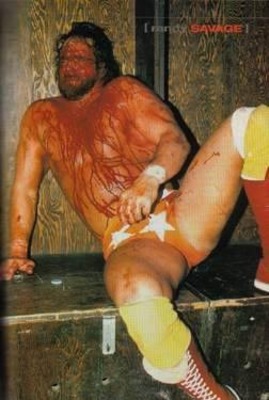 photo from ewoforums.com
Someone please get the Macho Man a towel.
Randy Savage looks like he should be in the back of an ambulance rather than in the dressing room. It's hard to even see his intense grimace under the blood on his face.
What looks like red cracks are spread across his chest and stomach.
Savage didn't bleed as often as a lot of other guys, perhaps because he was afraid of this much of it spilling out of him.
9. Tarzan Tyler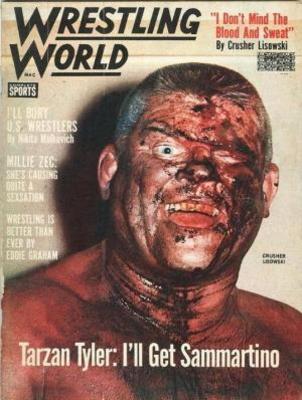 photo from docriot.blogspot.com
Looking like a battered movie zombie, Tarzan Tyler's face is covered in dried blood and gunk. He laughs in spite of that.
It's hard to look scarier in a photo without wielding a knife.
Tyler was one-half of the first-ever WWE Tag Team champions and competed in high-profile matches for various world titles.
Unfortunately, for whatever reason, he's one of the wrestlers whose history fades further than others over time. Few fans today know who he is.
But even if every memory of his matches fizzles out, there will always be this photo.
8. Keiji Mutoh
photo from actfigsstuff.blogspot.com
In a photo that may keep you up all night, the Great Muta aka Keiji Mutoh looks demented.
He stares at the camera wearing a demonic mask as he clamps his arm around his victim. A curtain of blood hangs over hair and flesh.
Mutoh's excessively bloody match with Hirsoshi Hase inspired the scale that measures the bloodiness of a match—the Muta Scale.
Undoubtedly, this match and this image rank highly on it.
7. Sgt. Slaughter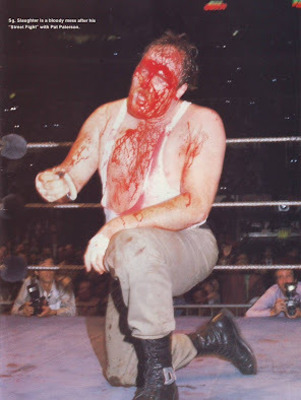 photo from docriot.blogspot.com
In 1981, at the wrestling and entertainment mecca, Madison Square Garden, Sgt. Slaughter and Pat Patterson looked to settle their feud in an Alley Fight.
As vicious and brutal as it was, it didn't end up being the end of their rivalry, but it produced a spectacularly bloody match.
When Slaughter was this bloody, his manager, the Grand Wizard, threw in the towel. He couldn't have lost much more blood before passing out.
It's hard to even recognize him behind all that juice.
6. Abdullah vs. Bruiser Brody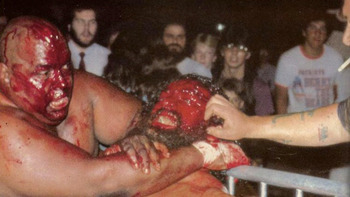 photo from deadspin.com
It doesn't even look real.
Bruiser Brody's face is so totally covered in blood that only the whites of his eyes and his teeth poke out. It looks more like he's covered in wet paint.
Abdullah doesn't look too great, either. His trademark scars are oozing some goopy stuff for the fans.
Perhaps no two men have combined to spill more blood together than Brody and the Butcher. This is their goriest photo, but it's likely even bloodier messes of theirs have been created but not captured on film.
5. Masashi Takeda vs. Ryuji Ito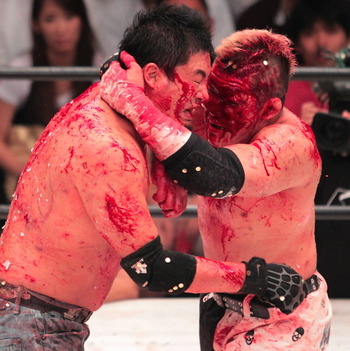 photo from puroesufan.com
Ryuji Ito normally looks like a pop star, handsome features, product in his hair. He doesn't look like a person who frequently fights in deathmatches, bleeding and bleeding for the world to see.
He appears here on the left, getting forearmed by Masahi Takeda. Glass protrudes from his back; blood is smeared down his face like a sideburn.
But as horrible a state as he is in, Takeda looks far worse.
His face looks like he's been bobbing for apples in a bucket of blood.
Both have made a name for themselves by being willing to subject themselves to this level of violence. And this photo will live on long after their bodies are worn down by all that misuse.
4. Bobby Heenan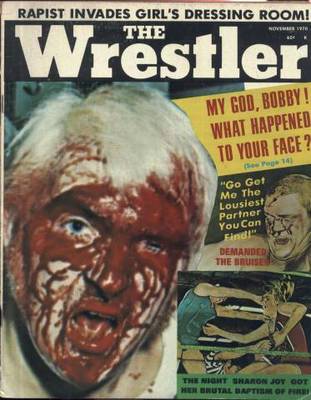 photo from cagesideseats.com
The blood on Bobby Heenan's face is viscous and bright, angry red.
The cover of this issue of The Wrestler is a frightening eye-catcher. Imagine seeing this on a newsstand, Heenan's eyes staring through that crimson mask.
The fact that it's Heenan, not normally a wrestler, worsens this. Seeing Flair or Foley dripping with blood is a common enough sight that we've grown somewhat accustom to it.
For the Brain to be busted open this badly is completely unexpected.
The fact that this magazine came out in 1970 makes it that much more startling.
3. Butcher vs. Butcher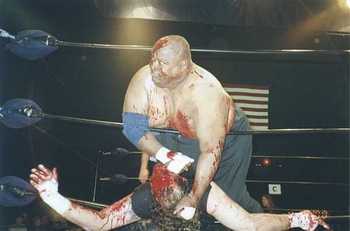 Necro Butcher went up against one of the most notorious bloodletters in wrestling history. The results were predictable.
Abdullah the Butcher lives up to his ring name here, looking like he's calmly carving a slab of flesh. Necro no doubt enjoyed the notoriety that came with being that slab.
Nearly every visible part of both men's anatomies is soiled with blood, from Necro's taped hands to Abdullah's love handle.
At this point, it no longer looks like a wrestling match, but a crime scene.
2. Nick Mondo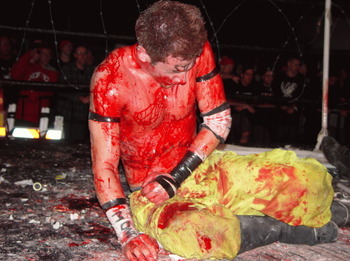 photo from deviantart.com
Sick Nick Mondo was a CZW mainstay until injuries sustained from taking crazy bumps forced him to retire in 2003.
The fact that he had more than one match like the one in this photo makes it no surprise that his career ended at age 23.
It seems like he might have more blood on the outside of the body than on the inside.
Mondo's been hit with glass, barbed wire and a weed whacker, all in the name of entertainment.
For fans who are turned off by CZW's over-the-top violence, this photo is proof of how that company goes too far, too often. For fans who welcome this kind of carnage, this photo might make a great poster for their room.
1. John Cena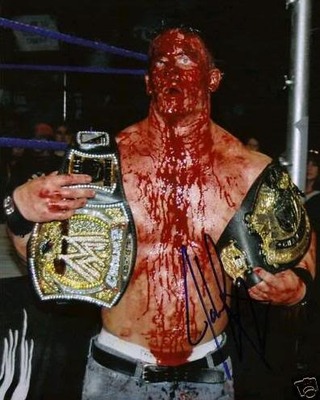 photo from ewoforums.com
If John Cena was not holding some title belts and the ring wasn't visible in the background, you'd think this was a still from a slasher film.
A waterfall of blood covers his body, even drenching the waistband on his underwear.
As much as hardcore fans despise Cena, they have to respect how much of himself he's given to the industry.
We know of all the sweat and tears he's put into wrestling, but this amount of blood, well, not many people are asking for that.
Keep Reading