Liverpool FC: Is It Time for Jamie Carragher to Retire?
March 6, 2012

Clive Mason/Getty Images
Jamie Carragher is Mr. Liverpool.
"We all dream of a team of Carraghers" is the saying that reverberates when Liverpool fans congregate.
But is it time for Mr. Liverpool to bring down the curtain on a fabulous career?
Certainly the man himself has come out saying that he wants to add to the medals that he has already collected.
Liverpool's 34-year-old No. 23 has so far amassed winners medals from two FA Cups, three League Cups, two UEFA Super Cups, two FA Community Shields, one UEFA Cup and a Champions League.
This is an impressive list no doubt, but is it time for Carragher to gracefully step aside?
This season has seen the partnership of Martin Skrtel and Daniel Agger flourish, and in particular Skrtel has improved in leaps and bounds and is a candidate for the Reds' Player of the Year.
Carragher has found his appearances becoming more and more limited to Cup matches or when either of Kenny Dalglish's first-choice pairing are injured.
This was the case in Liverpool's latest Premier League match at home to Arsenal; Agger was not available and Carragher stepped in to deputise.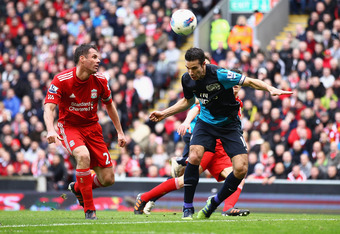 Clive Mason/Getty Images
But Liverpool's No. 23 came up against the most deadly striker in the league.
Robin Van Persie has been in electric form and this, quite possibly, was the reason why Carragher really looked his age and long in the tooth.
For Van Persie's first goal, the Arsenal striker outmaneuvered Carragher and got in his header, when a few seasons ago the Liverpool defender would have reacted quicker and cleared the danger with little fuss.
Van Persie's second was a stunning volley from a lofted through ball. It was Carragher who seemed to react just that split second too slowly allowing the Dutchman the space to beat Pepe Reina.
This is not a "Carra-bashing" article, not matter how much it seems to read as such. I am a huge fan of Carragher's and have seen him be the rock of the Liverpool defense for so many years.
But, first and foremost, I am a Liverpool fan and want the best for the club and all Liverpool fans know that this is what Carra himself wants too.
Although Carragher has come out saying he is far from considering retirement, maybe it is time for our No. 23 to hang up his boots and let the likes of Skrtel, Agger and Sebastian Coates take over the position that he has so wonderfully dominated for so many years.