Big East Tournament 2012: Breaking Down Odds for Each Team to Win It All
March 4, 2012

Mike Lawrie/Getty Images
With the 2012 Big East Tournament almost ready to kick off, the excitement over where this season's conference battles and the NCAA tourney will be heading is palpable.
Teams like Syracuse and Marquette will steal the headlines, but stellar teams like Notre Dame, Georgetown and Cincinnati will not go gently into that good night.
Every team in the conference has a chance to win it all, but some teams more than others.
This is how the percentages shake out.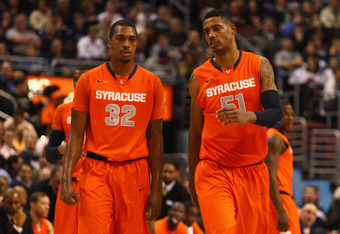 Chris Chambers/Getty Images
No. 2 Syracuse: 40 percent

The Syracuse Orange are the clear favorites in the Big East Tournament, coming into the event only losing one game all season.
If they can continue to keep their cast of characters playing well at the same time, they will run through this tournament fairly easy.
No. 7 Marquette: 15 percent

The Marquette Golden Eagles are a perennial contender in this conference and always come to play when the games matter most. Look for Marquette to lean heavily on Jae Crowder when the game is on the line on the offensive and defensive ends of the court.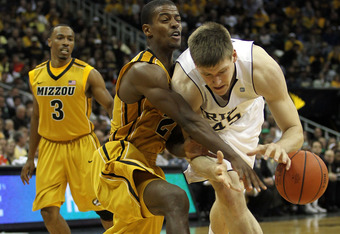 Jamie Squire/Getty Images
No. 19 Notre Dame: 13 percent

After a slow start to the season, the Notre Dame Fighting Irish have mounted a stellar campaign that includes handing Syracuse their only loss. The Irish need to get the ball to forward Jack Cooley, who can get the offense running or move the ball if needed.
No. 12 Georgetown: 10 percent

After an amazing first half of the season, the Georgetown Bulldogs came back to Earth in the second half. With that said, impressive showings against top teams helped them to No. 12 in the nation and into a position to be a serious threat for the Big East title.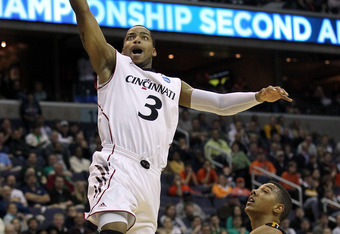 Nick Laham/Getty Images
Cincinnati: 10 percent

One team that is getting no credit in the conference or across the nation is the Bearcats of Cincinnati.
The tandem of Dion Dixon and Yancy Gates must continue to play with a chip on their shoulder if they want to make a run at the conference championship.
No. 18 Louisville: 7 percent

While the Cardinals offense is lackluster at times, their stellar team defense is enough to keep them in any and every game they play. If Syracuse can get Kyle Kuric going early offensively, it will open a floodgate that could see them chocking the conference.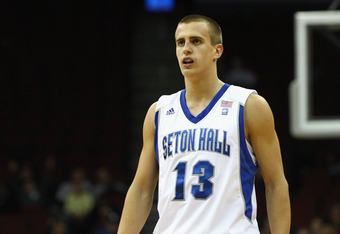 Chris Chambers/Getty Images
The Rest: 5 percent

With teams like South Florida, West Virginia, Seton Hall and Connecticut all with at least 18 wins on the season, the depth in the Big East shows why this is one of the best conferences in college sports.
If there was ever a conference where a team toward the bottom of the standings would win it all, it would be the Big East.
Check back for more on the NCAA Basketball as it comes, and check out Bleacher Report's College Basketball Page to get your fill of college basketball.