Arsenal 2-1 Liverpool: 5 Things Learned from the North/South Rivalry
Clive Mason/Getty Images

Arsenal upended Liverpool at Anfield 2-1 with a late goal from in-form striker Robin van Persie. Liverpool dominated the run of play, but it was the Gunners that made the most of their chances to move three points clear of Chelsea for fourth place in the league.
Arsenal keeper Wojciech Szczesny was in top form early, on as he kept out a Dirk Kuyt penalty as well as the rebound attempt in the 19th minute.
However, he was unable to keep out Laurent Koscielny's misplaced clearance four minutes later. Liverpool were on the break, and a low cross by Jordan Henderson should have been dealt with easily by the French defender. Instead he lost concentration in the last moment and directed it into his own net.
Fifteen minutes from the break, Golden Boot favorite Robin van Persie tied it up for the visitors. Against the run of play, a seemingly simple cross into the box by Bacary Sagna found van Persie, who was able to shake off Jamie Carragher to head it home from four yards out.
The teams emerged from the break with not much changing. Liverpool still dominated play but squandered chance after chance to pull ahead.
A good save by Pepe Reina halfway through the second kept the score level, and more brilliance out of Szczesny was needed to give Arsenal hope.
Arsenal would capture the victory three minutes into stoppage time, as van Persie would find the net for the second time in the 93rd minute.
Liverpool are all but mathematically eliminated from Champions League contention, as they now sit 10 points back of Arsenal for the final spot.
Here are five things we learned from the match.
Begin Slideshow

»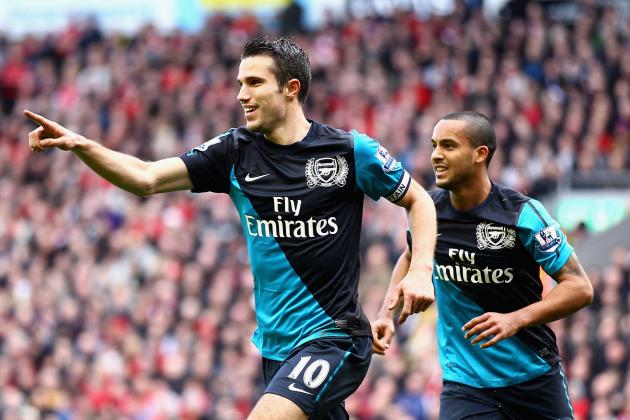 Clive Mason/Getty Images

Coming off what was an absolutely sensational performance against Tottenham, van Persie's performance today was somewhat of a letdown. But it was also an example of why he will win the Golden Boot and is arguably the best player in the league.
Isolated up front, he did not get the ball much, and with Liverpool dominating possession and the flow, you could see frustration growing. But in what can only be a poor performance by the striker, he still had the deciding goal(s).
Two shots. Two goals. Perfect efficiency and the ideal kind of player you want up top.
This has been van Persie all season and the reason that they are currently sitting in fourth above Chelsea. Their London neighbors do not have any kind of player who can do what van Persie has done all year. Right now the Blues would kill to have someone who was only half as efficient as the Dutchman.
So while this match will not feature on van Persie's highlight reel, it will reflect greatly come the end of the season should Arsenal qualify for Champions League.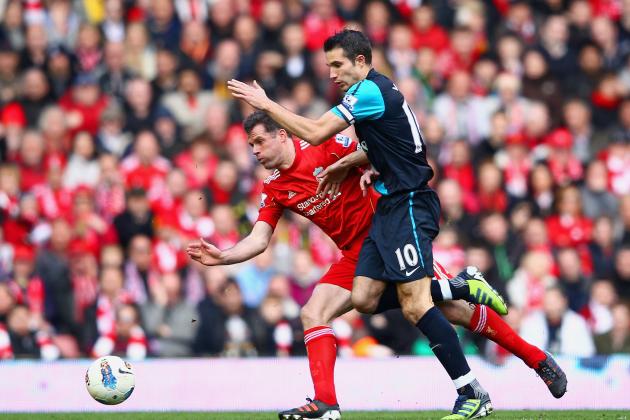 Clive Mason/Getty Images

Liverpool have no one to blame for this tie other than themselves. They had every opportunity to pull out the win, creating chance after chance and not getting the goal they needed. Their only two defensive lapses resulted in the two goals against.
They missed a penalty, a rebound, hit the post twice and always looked like a threat to score until the final touch.
As things got more and more desperate, tempers flared and the players got selfish, barked at the refs and lost composure in tackles.
Ultimately they had all the chances to win it, but never actually deserved to.
Since Liverpool dropped out of the top four two seasons ago, this has been their curse. They have been streaky at best and at worst downright pitiful. They were once a team that had an aura about them that no matter what the score, if there was time left on the clock, they could pull out a result.
This mystique is gone, and they are no more than just another club.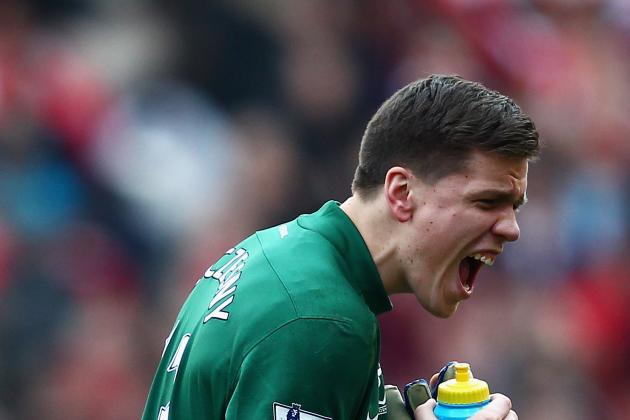 Clive Mason/Getty Images

It feels like Arsenal fans are still in a desperate search to find their next Jens Lehmann. Since Manuel Almunia took over the responsibilities in 2007, they have tried four different netminders, and none have been able to really claim the position.
But Szczesny could finally be the answer.
Szczesny had an active day in the net, having to make four saves on the day, and all of them were excellent. His penalty save on Kuyt and excellent dive on the rebound kept Arsenal in the match, as the goal would have almost surely opened the floodgates for the Reds, who were better on the day.
He does show a bit of over-zealousness at times that can get him in trouble, but at 21 years old he has plenty of time to work it out and come into this own. But even right now he has been overlooked, as Arsenal's season has been a disappointment. The Premier League's EA Sports Player Performance Index currently has him as the fourth-rated keeper in the league.
Whether he can sustain this over time is yet to be seen, but for right now he is playing at a level you want out of your last line of defense.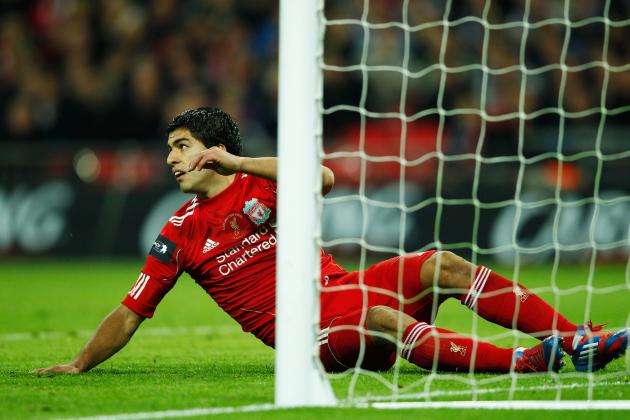 Paul Gilham/Getty Images

There is little doubt that Luis Suarez was the best player on the pitch today. His slaloming run earned the penalty. Another forced an excellent save out of Szczesny, and nearly every attack Liverpool had ran through him.
However, his inability to find the net is what cost his team.
Since his return from his suspension, he has only scored one goal in the league. But it is not because he has been in poor form. On the contrary, most of his games were performances like today's. But he has just not been able to actually produce out of it.
I am not a believer in karma or any kind of extemporaneous force that controls us, but something must be going on here to help explain why one of the league's better forwards is doing everything right except the one thing he should be.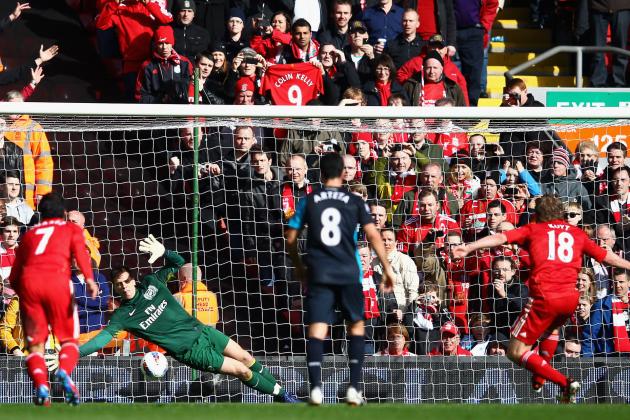 Clive Mason/Getty Images

Arsenal had no business being involved in today's game. They were out-possessed, out-shot and outplayed.
However, they had a few moments of brilliance that they capitalized on, and it made all the difference. This is the recipe for success in the English Premier League.
Sir Alex Ferguson and his boys at Old Trafford have been the best for decades using this exact recipe. It is not about being able to win when you are at your best. If that were the case, then it would be all about acquiring talent. It is really about being able to win when you are at your worst—that is the mark of a great side.
Arsenal is not really there yet, but last week and today proved that they can do both. Last week they were perfect and they won 5-2 at home. This week they were less so but were able to scrape it out 2-1 away.
In all honesty, this game is much more telling of who they are than last week's.
Chelsea are their biggest rivals for that fourth-place spot, and right now they do this better than their local rivals. In the end it should be enough to see them in Europe next season.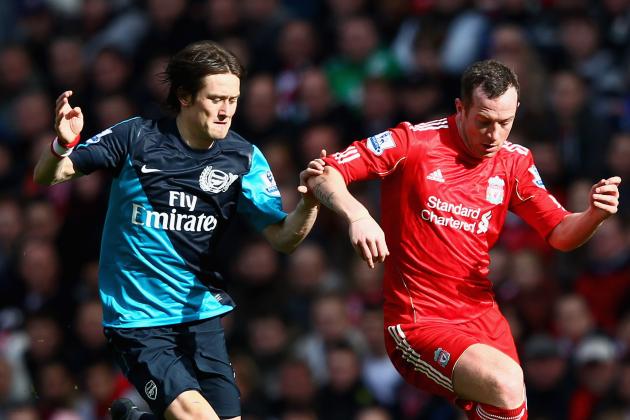 Clive Mason/Getty Images

Arsenal now hold their Champions League fate in their own hands, and Liverpool are almost surely out. But other than that, what did you come away from the match knowing?
Follow me on Twitter: @thecriterionman