Ronda Rousey and Meisha Tate Verbally Attack Each Other at Strikeforce Presser
March 2, 2012
Women's bantamweight champion Meisha Tate and title-contender Ronda Rousey verbally attacked each other at the Strikeforce press conference, which is in conjunction with their main-event title clash this Saturday.
Tate drew first blood:
I don't care for Ronda's personality. I've fought people I haven't liked before but not to this extent. But I'm careful not to be overzealous and let tempers change my game plan. Ronda is a self-righteous person. She cares more about herself than the sport. She talked her way into a title fight. Clearly, she doesn't deserve it. She's not the No. 1 contender. She hasn't even fought at this weight before. I mean, she's 4-0 and has been moderately impressive, but she hasn't faced anyone like me.
Rousey responded in kind:
I wasn't looking to make friends in this sport. I just wanted to make a living so I didn't have to catch coins. But it doesn't matter if people don't like me because it's mostly current or former champs who think everyone should throw petals at their feet. Honestly, I don't care if a bunch of girls I don't know don't like me. I'm doing this to support myself and not work night shifts at the gym. I don't have respect for Miesha's inconsistency. One minute it's about the sport, the next she is wearing booty shorts on her website, and it's the entertainment business.
Tate (12-2 MMA), has been plying her trade as a professional mixed martial artist since 2007. It was in November of the same year that she won her first bout—a decision victory over Jan Finney in the BodogFight 2007 women's bantamweight tourney quarterfinals.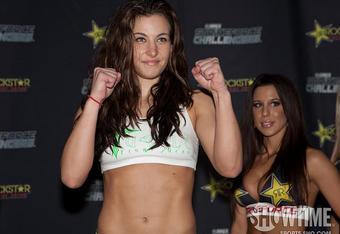 It was also the same night she suffered her first defeat—a first-round KO courtesy of Kaitlin Young in the semi-finals of the aforementioned tournament.
Following that loss, "Takedown" went on a five-fight winning streak whilst capturing the FCF women's 135-lb title in the process.
However, the 25-year-old Team Alpha Male-trained fighter was upended in her next outing against former Strikeforce bantamweight title-holder Sarah Kaufmann.
In July of 2011, the world's No. 3 ranked female fighter unseated Marloes Coenen as the bantamweight queenpin, and hasn't tasted defeat since.
Also, Tate who was honoured with the 2011 World MMA Female Fighter of the Year award has scored five submissions and three KO's thus far.
In addition to her pro career, the Tacoma native compiled a 5-1 record in the amateur ranks as well as winning a silver medal at the 2008 FILA Grappling World Championships.
Conversely, Rousey (4-0 MMA), an Olympic bronze medallist and accomplished judoka, only began participating in the professional ranks as of 2011—a year she also registered four victories, all via armbar submission and all under one minute.
Furthermore, "Rowdy" has an amateur record of three wins, all of which came by armbar submission. In both her pro and amateur career, it has taken the 25-year-old Californian all of four minutes and one second to end her seven fights.
If there was any doubt about her mental toughness, they were put to rest at Strikeforce Challengers: Britt vs. Sayers.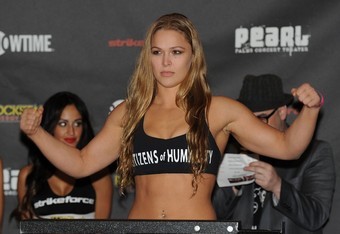 In her second outing for the San Jose-based promotion, Rousey displayed a ruthless streak—locking in an armbar and dislocating Julia Budd's elbow in the process
Since Gina "Conviction" Carano, the former face of women's MMA, decided to take a furlough from the sport to pursue an acting career, her shoes have been left empty.
That could all be about to change when Tate and Rousey contest the championship, as both possess the looks as well as the marketability factor (more so the latter due to her rhetorical skills) to propel them and women's mixed martial arts to the next phase apropos viewing figures and popularity.
Strikeforce: Tate vs. Rousey is scheduled for Mar. 3, 2012, at the Nationwide Arena in Columbus, Ohio.
Original quotes reported by MMAmania.
For additional information, follow Nedu Obi on Twitter.