NCAA Tournament: Gus Johnson's Top 10 Broadcasting Calls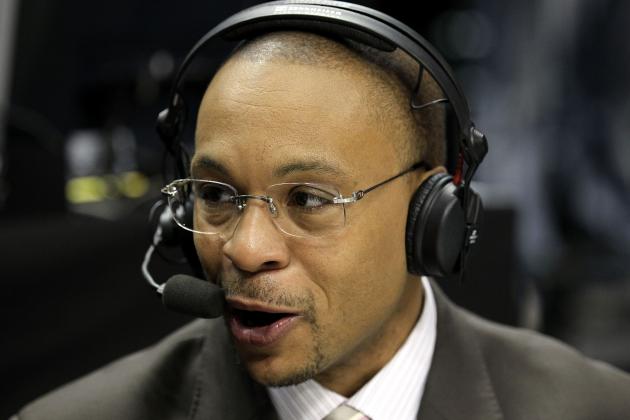 Andy Lyons/Getty Images

Losing Gus Johnson as the main broadcaster for the 2012 NCAA Men's Basketball Tournament might be the only thing that can put a damper on this year's edition of March Madness.
After all, this is the guy who successfully used the phrase "He's got getting-away-from-the-cops speed" during a sporting event on live television.
Luckily, Johnson's charisma—which is a nice way of saying that he frequently loses his mind while on the air—works just as well in professional sports as it does in collegiate athletics.
Unfortunately, that's just a small consolation. We all know Johnson is best-suited to calling tournament games in March. I mean, the man is at cult-icon status when it comes to sports personalities.
When the news came down after last year's NCAA Tournament that Johnson would no longer broadcast games televised on the CBS Network, it broke the hearts of millions of people across the country.
And no, I don't think that's an overstatement.
A contract dispute with the network ensured that Johnson wouldn't be on the mic for this year's tournament games, leaving America without its favorite broadcaster at the worst possible time.
Sports fans—college basketball fans in particular—look forward to March Madness with the same eagerness that children have when looking forward to Christmas.
I think I speak for everyone when I say that I was more upset when I heard that Johnson left CBS than I was when my parents told me Santa wasn't real. But rather than harp on how Johnson won't be calling tournament games this year, let's take a look at—and listen to—some of his most memorable calls.
(Quick note: Some clips are marked with time stamps to indicate the portion of the video being described.)
Begin Slideshow

»
He ends the call with his trademark "HA-HAAA" and a classic "THIS, is MARCH MADNESS."
Vintage Gus Johnson right there.
It might not be from the NCAA Tournament, but this is definitely classic Gus Johnson: a whole lot of screaming and yelling.
The best part? When his voice cracks while he's yelling, "He HIT it!"
Even if it's not an NCAA Tournament call, this one is awesome because it's not even the end of a game. Gus Johnson is losing his mind at halftime of a game being televised on the Big Ten Network.
Think about that for a second.
I'm pretty sure Gus could make a routine dental check-up sound exciting.
I can't understand what Gus Johnson is screaming into the microphone after the three-pointer goes in, but it doesn't even matter.
The combination of Gus Johnson's trademark, "Rise and fire...COUNT IT!" and "THAT'S the guy who should shoot it!" are lethal back-to-back calls.
Bear with me, I know this clip isn't the best quality.
Gus Johnson knows the lineups of the teams better than the coaches do.
Hearing Johnson call out Marquette head coach Buzz Williams for bringing Burke off the bench instead of putting him in the starting lineup is pure comedy.
Even Greg Gumbel acknowledges that Gus Johnson can occasionally go a little over the top on his calls.
After Gus Johnson loses his voice—and likely passes out—after Gonzaga's Adam Morrison's shot goes in, his broadcast partner Bill Raftery is right there with the assist: "And when you're SLEEPLESS in Seattle...why not get, a little kiss?"
No it's not from an NCAA basketball game, but hear me out.
This call probably made NBA commissioner David Stern go ballistic. And it was likely the last time Gus Johnson was allowed to broadcast an NBA game (since, you know, the whole Stern-going-ballistic thing).
Also, it earned Al Harrington the nickname "Buckets" from his teammates. What's not to like about that?
If you watch the clip closely, you can see Gus Johnson starting to stand up at the press table—he's at the mid-court line, wearing a white shirt—which automatically throws any concept of objectivity out the window.
Also, when Washington's Isaiah Thomas runs over to celebrate his game-winning shot, you can catch a glimpse of Johnson going absolutely insane—he's actually fist-pumping at Thomas during the celebration.
And let's not forget the best part: Johnson screaming, "COLD BLOODED!" without any hesitation. He clearly had that line in his back pocket all game.
Did I miss any of Johnson's great calls? Add them in the comments section with a link to the clip. Because we can all agree, there's no such thing as too much Gus.