NBA Rumors: Brandon Roy Would Face Uphill Battle in Comeback Attempt
February 28, 2012

Jonathan Ferrey/Getty Images
Brandon Roy is contemplating a return to basketball.
After the 27-year-old was forced to walk away from the game due to chronic knee issues during the offseason, Roy is giving thought to attempting a comeback.
Roy indicated that there were more than just health concerns at the heart of his decision to retire.
According to sources close to the player, regardless of his knee problems, Roy's decision to retire wasn't all health related.

"There's something to it, but it's not the right time for me to get into it right now," Roy said.

"I've been doing some treatment and I'm trying to leave the window open to returning to basketball."
Watching a player as talented as Roy be so limited toward the end of his playing career was incredibly tough to watch.
But even though the injury saga got continually worse for both Roy and the Trail Blazers, Roy doesn't sound like someone who is ready to give up on the game of basketball forever.
"It's the truth. It's really hard being so far away from the game. I spend time watching Jamal (Crawford) and following all of his games..."
"...so it's driving me to wanna come back out there. If the treatment I've been looking into can work, I believe there's a good chance you will see Brandon Roy back hoopin'."
Does that sound like someone who was prepared to walk away from the game he loves forever?
Roy is careful not to divulge too many details about the possibility of his return, nor does he give too much insight into exactly what type of treatment he is looking into going forward.
But he does sound like someone giving serious consideration at making an attempt to return to the NBA.
Roy is a competitive player by nature. He's always been filled with passion when it comes to talking about anything related to basketball.
His life has been all about basketball, and it's not surprising to learn that he misses the game.
It's hard to know what Roy might have left in the tank.
What we do know is that it will take an unbelievable procedure in order for Roy's knee troubles to go away forever.
He could pursue something similar to what Kobe Bryant had done over the summer of 2011, but even then, it's not a slam dunk that Roy would be able to return.
And it's definitely not certain Roy would be able to come back and play at the same level as he did earlier in his career.
Roy was the sixth-overall pick of the 2006 draft and was instantly an impact player for Portland.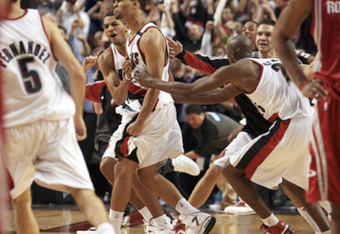 He averaged double-digit scoring every season he played (including two years of 20-plus points per game), but Roy never played in a full slate of regular season games at any point during the course of his career.
Constantly rushing his way back from injuries in order to get back onto the court, there is certainly no doubting the type of commitment Roy has for the game.
But will his body allow him to continue a career that he was previously forced to cut short?
It's important to remember that Roy said he was "trying" to leave the window open to return, indicating that there is a chance it might not work out.
He understands that he faces an enormous challenge in attempting to come back, and he's going to have to scale a mountain that many might think is insurmountable to successfully return.
It would be great to see him back on the hardwood where he's such a beloved contributor, but not if it's at the expense of his health and jeopardizes the long-term outlook of his already ailing knees.
There is life beyond basketball, even if it is difficult for Roy to cope with the idea that his playing days may have concluded.