The Rock vs John Cena: Latest on WrestleMania 28 Headline Match
February 27, 2012

WWE took a different approach with the WrestleMania 28 main event between The Rock and John Cena. The match has been set for an entire year, allowing the anticipation to begin early and keep growing with each passing day. 
Tonight, after three months away, The Rock makes his triumphant return to Raw. The Great One is going to answer everything that Cena and, presumably, everyone else has been saying about him behind his back. 
We wanted to get you ready for Raw and WrestleMania by putting together a timeline of all the news and information that you need for the epic clash between two titans in the sports entertainment world. 
FEBRUARY-MARCH 2011
THE ROCK RETURNS TO HOST WRESTLEMANIA
Just one year ago, The Rock made WrestleMania into a huge mainstream event when he was announced as host for WrestleMania 27.
After a seven-year absence, the Great One cut a 20 minute promo on everything that had happened while he was away. He called out Cena and The Miz, though no one really cared about the latter. 
Just like that, a rivalry was born. 
CENA AND ROCK VERBALLY SPAR
After Rock came back, Cena decided that it was time to play with the big boys of the promo department. He even used his old rap persona to try and, as he put it, end this once and for all. 
The rap flopped, and Cena looked like a random geek off the street for the first time ever. 
Rock, on the other hand, wasn't always there due to film commitments, but he still managed to tape vignettes that ripped the Doctor of Thuganomics a new one. 
The best part of all the vignettes was the little kid dressed up as Cena. He was given a box of Fruity Pebbles, which made him feel better. 
CENA DECIDES TO GET PHYSICAL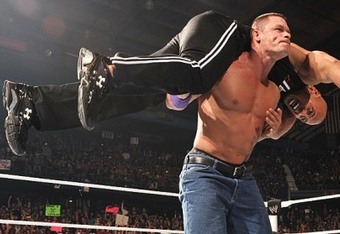 After weeks of tension and build, which is hilarious since he was wrestling Miz, Cena had finally had enough. On the go-home episode of Raw for WrestleMania 27, he hoisted Rock onto his shoulders and delivered an Attitude Adjustment. 
Fans everywhere were screaming because it gave them hope that Cena might actually turn heel soon. One year later, they are still talking about it, even though it will never happen. 
APRIL 2011
ROCK GETS HIS REVENGE AT WRESTLEMANIA
After a lackluster WWE Championship match between John Cena and The Miz that originally ended in a double-countout, Rock came out to tell the people that the show would not end that way. 
The match was immediately restarted, with Cena getting back in the ring. Rock snuck up behind him and nailed him with a rock bottom that led to Miz retaining the title.
Since WrestleMania has to have a happy ending. Rock gave Miz a People's Elbow just for good measure. 
IT'S OFFICIAL
Speculation about a possible in-ring return for Rock grew after WrestleMania.
The day after the show, he and Cena ended that by setting a date for one of the biggest matches in WWE history: April 1, 2012.
It was an interesting promo that they cut before making the match official. Despite being at each other's throats for the previous six weeks, they tried to talk about how much respect there was between them.
No one wanted to hear that. 
OCTOBER 2011
TWITTER TELLS ROCK TO TEAM WITH JOHN CENA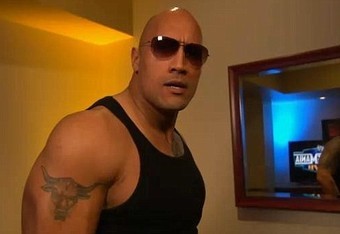 After being away from WWE for a long time, save for a birthday bash in May, Rock decided that the perfect opportunity for him to return would be at Survivor Series. 
And what better way for Rock to return than...teaming with Cena? That was the brilliant storyline that we were given. It didn't help that Rock said he accepted simply because Twitter told him to, or that Miz and R-Truth were nothing but comedy acts in this whole thing. 
Very few stars in wrestling history have the presence on the microphone that Rock does, but not even he could sell the idea that he and Cena teaming would be a good thing. It was proven with the much-lower-than-expected buyrate for the show. 
NOVEMBER 2011
RAW GETS ROCKED
Before the Survivor Series took place, Rock made his return to Raw on a three-hour spectacular called "Raw Gets Rocked."
This was the episode that featured the memorable--for all the wrong reasons--segment with Mick Foley presenting John Cena with his own version of "This is Your Life." Thankfully, Rock was watching, saw how terrible it was and came out just to give Foley a rock bottom. 
The show ended with Rock, Cena, Miz and R-Truth playing a game of "Whose Catchphrase is Going to Annoy You More?"
It was a close contest, but Rock came out on top with "Boots to Asses" and getting "Cena's Lady Parts" to trend on Twitter. 
Not a banner day for the Rock-Cena feud or WWE. 
MADISON SQUARE GARDEN WELCOMES ROCK BACK
Even though no one cared enough to see Rock and Cena teaming against a pair of dorks, New York was more than happy to welcome the People's Champion back to the WWE ring.
He was given a thunderous ovation throughout, and Cena could do nothing to earn the sympathy of the fans. The match probably would have worked better if it was just Rock against Miz and R-Truth. 
The best part of the match was seeing how Rock looked in a ring after seven years away. He wasn't asked to do much, but he looked much faster and more nimble than he did when he left in 2004.
FEBRUARY 20, 2012
CENA LAYS IT ALL OUT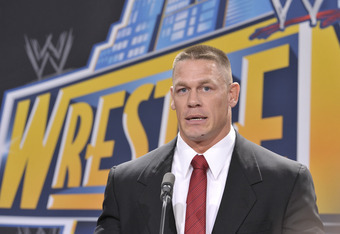 Michael N. Todaro/Getty Images
For the first time in years, Cena actually cut a promo that wasn't riddled with cheap catchphrases, gimmicks or horrible comedy that no one laughs at. His awful feud with Kane was over, so all that was left is to tell Rock how it is before he returned. 
It was not a revolutionary promo--in fact, he basically said the same things he has been saying for a year--but the way Cena told Rock that he didn't respect him and had to beat him to prove something to himself. 
Let's hope that this was not a one-time aberration for Cena, and that he keeps acting serious. When he wants to sell a match, he can. This proved it. 
ROCK'S RESPONSE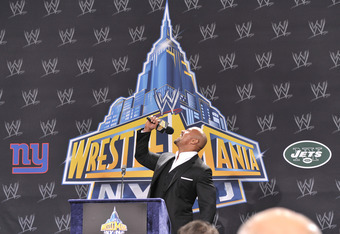 Michael N. Todaro/Getty Images
Tonight is the night.
There are no more gimmicks, no Twitter battles or YouTube promos. This is when Rock responds to everything that Cena, and others, said about him last week. 
While Rock has gotten lost at times in a sea of self-promotion for Twitter or Facebook or "Boots to Asses", he always steps up with a promo that can shut everyone up. 
Even though Cena and everyone else in WWE likes to live in a bubble, they should remember that Rock doesn't have to be wrestling. He is making them a lot of money by doing so. 
We shall see how things go tonight on Raw from Portland, Ore. 
Check back for more on the WWE as it comes, and check out Bleacher Report's Wrestling Page to get your fill of the WWE. For more WWE talk, check out Ring Rust Radio for all of the hot topics you just can't miss.
Listen to internet radio with RingRustRadio on Blog Talk Radio