Undefeated Oscars: High School Football Film Wins Best Documentary
February 27, 2012

It's nice to see high school football and sports getting their due respect on Hollywood's biggest stage, and that's exactly what we witnessed when Undefeated won the Oscar for best documentary.
The Oscars, or Academy Awards, is a night in Hollywood unlike anything else. All of the biggest starts like Brad Pitt and George Clooney are out, and all of the starlets are looking as dazzling as humanly possible.
It's a time where the luminaries of the film world get together to celebrate some of the best movies, actors, actresses and soundtracks of the year.
To win an Oscar is the greatest honor in film, and that's why it's so cool to see the sports world being represented in this awesome documentary on high school football.
The documentary is about a inner city school in Memphis, Tennessee, with the whole world seemingly against them.
If follows their team and the coach as they go through the struggles of a season, the struggles of life and bond together as a group. They learn to grow, they learn to push themselves and most importantly—they learn to believe.
Undefeated was produced by ESPN college football analyst Ed Cunningham, as as this tweet from ESPN's Bill Hofheimer goes a long ways towards describing the pride the sports world felt in it: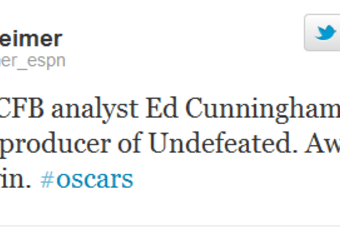 It's an inspirational journey that is truly worth the Oscar.
It displayed what we all love about sports. Yes, it's about competition and fun, but in the end there is something so much deeper.
Sports are about camaraderie, strength and the bond that we build because of them.
This documentary does an incredible job reminding us of that.