Alabama Recruiting: Crimson Tide Flexing Its Muscle in Peach State
February 27, 2012

Kevin C. Cox/Getty Images
Making yourself feel comfortable in a neighbor's residence is normally a customary tradition.  
In the world of college football recruiting, it's an act that is the first step to getting a rival coach a spot on an unemployment line.  
While Georgia head coach Mark Richt earned himself some breathing room after winning the SEC East last season, Bulldog supporters cannot turn a blind eye to losing its highly-coveted homegrown talent to Alabama.  
With Nick Saban basically walking into Richt's kitchen and helping himself to the Peach State's top talent, the battle lines have been drawn.  
Eight members of Alabama's top-rated 2012 recruiting class hail from Georgia, including three of the top 5 prospects in the state, according to ESPN.  
To put that in perspective, the Tide landed more players from Georgia than they did from anywhere else—including their home state (only seven players in the 2012 class are from Alabama).  
The raid of the Peach State may just be getting started.  
If fans of Georgia and Georgia Tech were thinking last year was an anomaly, Alabama has struck a pair of body blows for the 2013 class with two highly-touted commitments from its neighbors to the east (Georgia's top linebacker and top running back, according to 247 Sports).  
Add another pair of hotly pursued studs—likely the nation's top prospect, Robert Nkemdiche, and running back Alvin Kumara, who Saban seems to really want—and clearly the Crimson Tide are making their presence known in a neighboring state loaded with talent.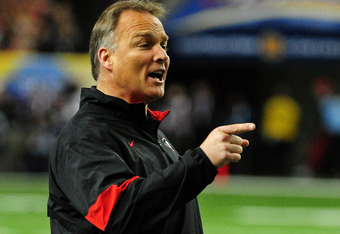 Scott Cunningham/Getty Images
It is worth noting that Alabama signed multiple prospects from Florida and Louisiana—and picked up studs from Virginia, Maryland, Tennessee, Texas, and Maryland amongst others—something that is not uncommon for a school that is on top of the college football world.  
However, Saban and his staff have clearly targeted the state of Georgia as an area they want to gain a foothold in. 
Considering the success they have enjoyed heading over the fence east of their border, look for the Tide to continue rolling in their neighbor's backyard.